About This Program
Contact Information
(315) 792-3006
General Information
Utica Excellence, Utica Value
Health Care Management at Utica
Career Opportunities
Prepare for rewarding careers in the field of marketing, finance, human resources, insurance and risk management, accounting, and patient care services with positions that include, but are not limited to:
Health Care Manager/Administrator
Assistant Health Care Manager/Administrator
Assistant Health Services Administrator
HR Coordinator
Care Management Associate
Know Your Worth
The median salary in 2019 for medical and health service managers was $100,980, according to the Bureau of Labor Statistics.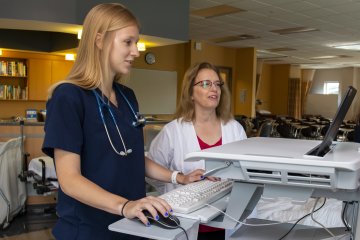 Ready to Lead
A program designed specifically for students who plan to enter the health or health-related professions in a managerial capacity.
What You'll Learn
The Health Care Management major features core study in management, accounting, finance, economics, management, law, statistics, and business math. Also included are:
Courses in health studies, gerontology, and psychology help to deepen students' understanding of the physical and psychological needs of patients and clients
Economics courses provide a basis for understanding the effect of economic behavior at the level of the firm.
Courses in anthropology and social studies develop an awareness of how the U.S. health care system operates, and of the broader social and cultural context for health and health care delivery.
A Course in ethics provides an opportunity to explore fully the ethical principles involved in health care.
The Health Care Management major gives students a multidisciplinary foundation and advanced knowledge that will prepare you for professional opportunities as an administrator in a variety of fields relating to human health and wellness.

Health Care Management Faculty
A Degree That Works
The health care management major prepares you for rewarding careers in hospital administration, corporate management, public health, education, and other fields. Graduates of Utica University's management program have taken leadership positions at:
New York City Department of Education
MEDITECH, Inc.
Faxton-St. Luke's Healthcare
NYU Langone Medical Center