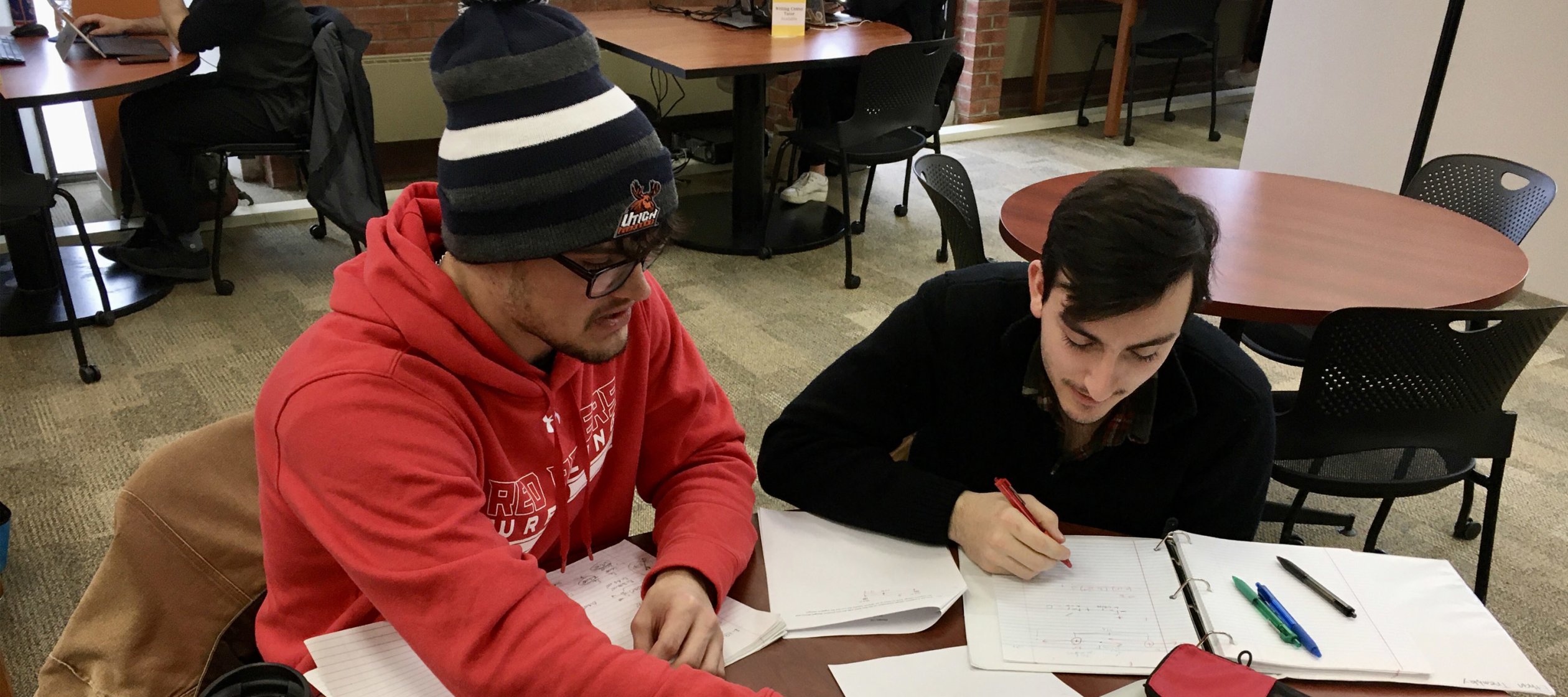 Tutoring Services at the Learning Commons
The Learning Commons welcomes you!
Coronavirus: Tutoring Updates

Is tutoring still available?
Yes!   All Drop-In and By Appointment tutoring has been moved online and will continue to be available as usual, only remotely.
How can I access tutoring?
Drop-In Tutoring: writing and subject drop-in tutors can be located using this Google Spreadsheet.  On the spreadsheet, you can look up tutors' hours and email addresses by subject.  Send an email to your tutor during their drop-in hours, asking them to invite you to their virtual Google Hangouts tutoring session.  Your tutor will email you back with the Google Hangouts information, and you can then begin your online tutoring session. 
By Appointment Tutoring:  Send an email to your tutor if you haven't heard from them already in order to confirm your plan for continued tutoring.  Your tutoring arrangement (date and time) can continue as normal, except that you will be meeting online via Google Hangouts.  Your tutor will email you an invitation to the online tutoring session five minutes before your appointment time.  If you need to make changes to your appointment schedule, please get in touch with your tutor to work out a mutually agreed-upon tutoring plan.
I need tutoring in a course not currently listed. How can I get help? 
The first step you should take is use Smarthinking 24/7 online tutoring. Smarthinking offers online tutoring in more than 150 subject areas. In most subjects, you can get one-on-one help in minutes. You can also make an appointment in advance, or you can leave a question and come back later for your online tutor's answer. Smarthinking offers robust writing support, too. To access Smarthinking, log in with your UC username and password at this link: https://smarthinking.utica.edu/.
If you cannot find any tutoring help for your course through Smarthinking, please fill out this Tutoring Request Form. The Learning Commons attempts to hire tutors for a variety of classes.  In the event that we do not have a tutor for a requested class, we will try our best to recruit one for you, but please be patient because this process will take several weeks.
Who can answer my questions about tutoring?
If you have any questions, please contact Lena Moser, Director of Tutoring Services, at tutoring@utica.edu or (315) 792-3369.
---
The Learning Commons employs peer tutors to provide academic support in UC courses.  Learning Commons peer tutors are fellow students who possess not only strong content knowledge but also an enthusiasm for helping their fellow classmates.  Tutors are selected and trained through the Learning Commons.  
All matriculated students may access tutoring services for free during their time at UC.  Resources available include individual, by appointment tutoring and small-group, drop-in tutoring.  Students have access to both course-specific content tutoring, as well as one-on-one writing support.  Also, with the Smarthinking 24/7 online tutoring service, students can work with a live tutor in a variety of subject areas or submit a writing assignment for review by a writing specialist.
Peer tutors are selected based on academic achievement, supportive faculty recommendations, and an application and interview process.  Peer tutors are also trained on how to be effective in their role, how to conduct successful tutoring sessions, and how to engage tutees in active learning and study skills development.
Current tutor availability is found in the links below, where you can search for drop-in sessions and schedule individual appointments.  You may also contact the Learning Commons at (315) 792-3369.  If tutoring is not currently available in a particular subject, you are encouraged to submit a request using this form HERE.

I would like to see logins and resources for:
For a general list of frequently used logins, you can also visit our logins page.