Campus Safety
PERSONAL SAFETY
UC Alert:
TEXT / EMAIL ALERT SYSTEM
Utica College keeps the campus community informed about safety concerns viaUC Alert - an Emergency Text and E-mail Alert system. The system alerts all users by cell phone text message and/or by e-mail in the event of:
• Weather-related closings
• Public safety concerns
... and other circumstances that might affect members of the campus community.

**Registration is automatic for students and Utica College staff members**
All students and working staff members at UC are automatically subscribed to the system.
Although you are automatically enrolled in UC Alert, we advise
ALL
members of the campus community to
verify the contact information used by UC Alert
. The information we have for you may be incomplete, out of date, or incorrect. You can
easily
check your registration
by visiting
https://www.getrave.com/login/utica
. Once here, simply use your college username and password to login and you will see the information currently on file. If the information is outdated/incorrect please update it using the "edit" feature. As an extra measure of security, you can test the alert system using the yellow "test" button.
Questions? We can help.
If you have questions about UC Alert, please contact:
Wayne Sullivan
Director Campus Safety
wasullivan@utica.edu
(
Note:
Standard cell phone text messaging fees may apply. Contact your carrier for details.)
Title IX:
Utica College works hard to ensure that all students feel safe and comfortable on campus. Title IX prohibits any sex discrimination of students or employees of the school. It is taken very seriously and there is an intricate process for investigating and taking action in these cases. If anyone feels they are being threatened, mistreated, or discriminated against in ways that are disrupting their safety and ability to lead comfortable lives on campus they are encouraged to seek help.
More information can be found
here
, on the college's page for Title IX.
---
To Reach A Safety Officer
Campus Safety Officers are available 24 hours a day and may be reached at the following numbers:


On Campus:

3046
or
611
Off Campus & Cell Phones:

315-792-3046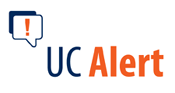 Get The (Text) Message.

UC Alert
helps keep you informed about safety concerns as they emerge.
Learn more →