The world is their classroom: students and faculty travel to Egypt
The world is their classroom: students and faculty travel to Egypt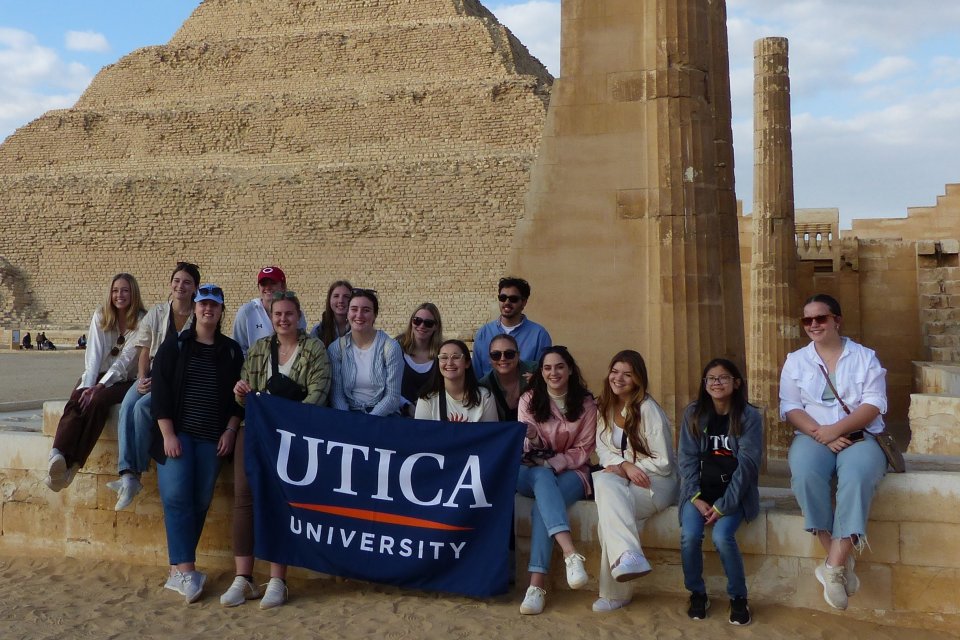 "In every place we visited there was history at our feet that stretched farther back than any other place on Earth."
 
Adventure is the best way to learn.
In early January, 14 Utica University students from a range of health profession majors joined Doctors Thomas Crist, Ashraf Elmarakby, and Ellen Smith on a trip to Cairo, Egypt. This marked the first international offering of the Interprofessional Education program, which was implemented by Dean of Health Professions and Education Dr. Ahmed Radwan, to promote collaborative work experiences and professionalism among healthcare practitioners.
"Dr. Radwan and Dr. Ellen Smith, director of the IPE program, have pursued the delivery of the IPE 505 course in international sites as a means to provide students with unique cultural contexts for learning about interprofessional practice," explained Associate Provost Daniel Kratochvil. 
These programs are being developed in conjunction with the Office of International Education under the direction of Associate Provost Kratochvil.
DPT student Emily Joss '24, described the experience as stepping into a time machine - with moments both pointing to a storied past and others that seemed to be a step into the future. "In every place we visited there was history at our feet that stretched farther back than any other place on Earth, and that was so unbelievably surreal," she explains. "Then there were other times that we were alongside doctors, creators and students who were quite literally changing the world with the desert sand." 
Based at the new campus of the prestigious American University in Cairo (a partner of Utica University), several lectures were provided by AUC professors on topics such as healthcare coordination and the Egyptian healthcare sector, plus a roundtable discussion with graduate students from the Institute of Global Health and Human Ecology.
"Every place we went, we were welcomed by people that expressed excitement and compassion like I've never felt before," Emily says. "At every turn their excitement to share with me their country was something I won't forget. I am grateful for everything I was taught, shown, and given during my time there."
In addition, several site visits gave the Utica students the opportunity to see firsthand healthcare and social service provision in the Cairo area. These educational opportunities were interwoven with visits to cultural and historical sites such as the pyramids of Giza, the Coptic Hanging Church, and the National Museum of Egyptian Civilization.
"Exploratory trips for developing additional IPE courses in Ghana and Ecuador have already been completed," says Associate Provost Dr. Kratochvil. "It is anticipated that these courses can run in conjunction with a variety of courses from other departments at the University, including the major in Africana Studies."
I would like to see logins and resources for:
For a general list of frequently used logins, you can also visit our logins page.