Three awarded special faculty awards
Three awarded special faculty awards
The awards recognize the contributions these Utica College faculty members have made, which extend beyond their commitment to the classroom.
Todd Pfannestiel, Utica College provost and senior vice president for academic affairs, has announced three special faculty awards.
Clemmie Harris, assistant professor of history, has received the inaugural Paul C. Young Award for Distinguished Faculty Service. Doug Croft '03, lecturer of communication arts, and Jennifer Herzog '97, adjunct professor of biology, have won Utica College's 2020 Adjunct Faculty Teaching Awards for on-ground and online lecture, respectively. 
The awards recognize the contributions these Utica College faculty members have made, which extend beyond their commitment to the classroom. This year's winners add quality to the UC community personally, socially, culturally and intellectually, reflecting on everyone who has the pleasure of working with or being around them.
Harris has been an innovator in the history department at the College, recognized by his colleagues and the community alike. In just three years since joining UC, Harris has created a program in Africana Studies which stems from his devotion to address issues of diversity and equity, along with developing a curriculum that meets the needs of the College's diverse student body.
Harris's expertise reaches beyond the UC community, as demonstrated by invitations to talk and engage with local radio stations, National Public Radio, at various conferences, and at other institutions. 
One of Clemmie's colleagues wrote, "Clem has become far more than an instructor; he is seen as a mentor to students both in history and across campus. As Clem is well known for stating to his students, he is here to train leaders."
The award is named for the late Paul Young, assistant professor of history, who passed away in 2012.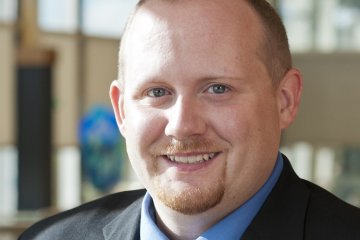 Outside of the classroom, Croft has worked as the chief operator and adviser for the College radio station, WPNR-FM, since 2006, holding responsibilities including training, supervising, and educating students along with being a liaison to all academic, admissions, athletic and other operations.
Croft's commitment to excellence is reflected in his accomplishments within the past decade including the Serving New York Award from the New York State Broadcasters Association in 2019, the Adviser of the Year Award from UC in 2015, and Dean Robert Woods Student Life Award from the College in 2014. 
Herzog has been a model of giving back. A teaching assistant for several years while a biology major at UC, she went on to earn a master's degree from Yale. Her accomplishments within the classroom include her drive to create an internet-based course for human genetics designed for non-biology core requirements, which developed into a premier course for students in the RN to BS Nursing Program.
"Please join us in celebrating these accomplishments," Pfannestiel said. "To Clemmie, Doug and Jennifer, our community is enriched by your presence, and these awards can only touch a portion of the impact you all leave on students, faculty, and staff here at Utica College."
I would like to see logins and resources for:
For a general list of frequently used logins, you can also visit our logins page.