Students Reaching Their Full Potential With Help of UC's Care Teams
Students Reaching Their Full Potential With Help of UC's Care Teams
"Students feel like they are being heard, taken care of and being helped right away."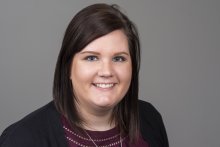 Research has shown that students are more likely to succeed when the right conditions are in place to make it possible. That's why every undergraduate, main campus Utica College student is served by an individualized Care Team that's here and ready to help, consisting of a Career Coach, Financial Aid Counselor, Faculty Academic Advisor, and Success Coach.
A main component of the UC Care Teams is the Center for Student Success and its team of Success Coaches. 
"Oftentimes, Success Coaches are the first stop for students when they have questions, concerns, need to talk, or are looking for information," explains Director of Student Success Bethany Samuels. "The Success Coach role is to assist the student with all aspects of academic life. This includes academic coaching, communication assistance, course registration, referrals to other campus offices and serving as a liaison between the faculty and student."
Whether it's a first-year student finding their way at the start of their academic journey, or a senior figuring out what's to come post-graduation, students at all academic levels utilize the various aspects of the Care Team depending on their need or questions. With Care Teams made up of individuals from various offices and aspects of Utica College, each one is able to provide different services - services which can vary depending on the student's academic level. 
According to Samuels, Academic Coaching and Course Registration assistance are some of the most frequent issues the Care Teams find themselves helping students navigate. 
"The Success Coaches help students with basic academic skills such as time management, organization, study skills, test taking strategies, and communication skills," she explains. "We spend a lot of time assisting students individually and working on a skill they need to succeed. We also spend a great deal of time helping students and faculty advisors with course registration. Success Coaches are able to help students register for courses and create course schedules. During registration season, we are very busy with assisting students one on one." 
The Care Team is designed to meet the needs of students and help them students find answers, solve problems, and receive assistance quickly. In order to do that, Bethany says, communication and efficiency is key. 
"Because of both personal and professional networking amongst faculty and staff we are able to serve students better," she says. "Students feel like they are being heard, taken care of and being helped right away." 
With more than 3,000 students enrolled at Utica College, the Care Teams are playing integral roles in the lives of students every single day.
"One example is how we are able to work with our undeclared students," Samuels explains. "When a student comes in undeclared they are assigned a Success Coach immediately.  They are then connected to the Center for Career and Professional Development right away to begin career exploration. In their first semester the Success Coach, Career Coach, and student all work together to build a schedule based on what the student would like to explore or experience before choosing a major. This is beneficial for the student because they can sample the courses before solidifying their major. If the student has questions both the Career and Success Coach are able to answer questions, process with the student and assist one on one. To help serve the student we use EAB Navigate to store notes, keep track of records and appointments. This allows for transparency between the staff members and the student." 
But as the saying goes, "It takes a village…" and Samuels quick to credit the many individuals who make up the Care Teams for helping Utica College students reach their full potential.
"The success of the Care Team is largely credited to the dedication amongst the staff and faculty," she says. "Each person in the Care Team provides vital services and assistance to the student. It is because of the level of care, compassion, and our holistic care that makes the Care Team successful. In addition to the four areas, we do have additional offices that are also vital members of the Care Team. This includes the Office of Learning Services, Athletic Coaches, Registrar, our Library Team and Opportunity Programs. I personally would like to thank everyone who helps to meet the needs of our students. Thank you!" 
I would like to see logins and resources for:
For a general list of frequently used logins, you can also visit our logins page.