"Smiling Eyes" spread joy, comfort from under masks
"Smiling Eyes" spread joy, comfort from under masks
"Smile with your eyes and/or through the mask, verbalize your smile. I cannot count the times a smile made me feel more comfortable with my surroundings"
If it's true that the eyes are the gateway to the soul, then the masked faces on campus and around the world amid the COVID-19 pandemic has perhaps provided us the opportunity to peek a little deeper at those we pass on the street and sidewalk.
And thanks to the efforts of Utica College Students Stacey Webb G '21 and Erin Taylor '24, those eyes offer something else in such strange times - comfort.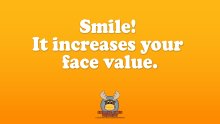 It's called the Smiling Eyes campaign - an initiative of encouragement, support, solidarity, and social healing.
"It is one of the small things we can do as individuals to immediately and fundamentally change our situation and both feel better about—and make others feel better about who and what we are," says Stacey. "Who: A single race of people (the human race). What: a community with diverse interests, perspectives, and aspirations."
"It was brought to life to give others a smile during a dark and lonely time," Erin adds. "It was intended to bring a more optimistic atmosphere around campus, and get rid of the COVID blues."
A nursing major from Syracuse, New York, Erin said that walking around campus in a time when the pandemic showed no signs of slowing, and the world-at-large changed at every step, it was hard not to notice what she calls "a very dismal atmosphere" everyone was just trying to make their way through each day.
"It was destructive to the learning environment and I know that for myself it made it harder to leave my dorm room," Erin explained. 
Stacey, who enjoyed 10 years as a commissioned officer in the U.S. Army after earning his Bachelor of Science from Howard University in 1997 and a Master of Science in Healthcare Service Administration from Central Michigan University in 2007, agreed. He is now a graduate student in Cybersecurity at Utica College, specializing in Computer Forensics. For someone who has felt the joys of traveling Europe and parts of Asia during his time in the Army and continued travel around the globe to places such as Israel, Australia and Scotland after finishing his time with the Army, COVID-19 left a visible mark on the world around him.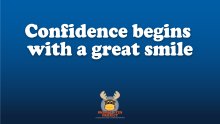 "Heaviness, melancholia, depression, and general mental strain has consumed us as a world. Political, Health, Social, Spiritual stress has consumed us as a nation," Stacey says. "2020 has put a serious strain on our students, thus compounding the stress already felt at the local and national levels. No one really has the solution, but every little bit helps."
So how does one convey a sense of warmth and friendship without the aid of one's own mouth?
"Smile with your eyes and/or through the mask, verbalize your smile. I cannot count the times a smile made me feel more comfortable with my surroundings," Stacey says. "A smile has given me signals that I am welcome and safe in a place. A smile gives me the confirmation that I am among friends and friendly people who want me in their common space. We can all use a smile. A smile is easy and cheap but invaluable. It's healthy, contagious, and a cure for so many ailments."
Together, this duo of students from different phases of life, presented their common idea during Utica College's Leadership Weekend, a development program where student leaders interact with their peers, improve their skills, and brainstorm ways to improve campus life, presenting their ideas to campus administrators. 
"I think that I am still in shock with how well our idea was received, but it's a nice feeling to know that we have a chance to bring a smile to someone's face," says Erin.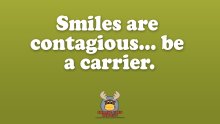 "Imagine fireworks emanating from your heart into your throat," Stacey says, describing the feeling upon their idea's acceptance and implementation. "The headrush made me speechless and choked up. Suddenly, we were contacted to have follow-up meetings with some of the executives present at the presentation to discuss ways to expand the idea and fold in technology and creativity. Then the big call came. That call initiated a real campus-wide movement with budgetary and media support."
It's been a tough year for many, from the Utica College community to beyond.
"I found it abnormally hard to get motivated to do things, like schoolwork or even getting outside to get some fresh air," says Erin. 
"The social withdrawal and isolation has made a real impression on me," Stacey says. "Almost any struggle is made bearable with a friend or "battle buddy".  Almost any situation is endurable if an endpoint is known.  When one has neither, it can be the deepest darkness one can experience.  I was astounded by how quickly my spirits would lift at the sight of a smile.  In the open air during a walk, even at 12 feet away, a smile scattered the darkness.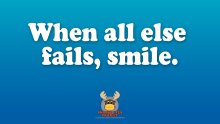 While you may see signs on campus giving you a reminder to do so, when you pass that person on your walk through the hall or the sidewalk, don't forget to flash a smile. They may not be able to see it right now, but your eyes can tell the whole story.
"My hope is that it makes a better atmosphere on campus not only for the students but also for faculty and staff, that it helps someone get through these times with a smile," Erin says. 
"Change a mind. Lift one's spirits. Cause someone to smile at or to themselves. Cause some to share smiling eyes," adds Stacey. "Empower every student with a mechanism to make a real difference immediately."
I would like to see logins and resources for:
For a general list of frequently used logins, you can also visit our logins page.