Nexus Center rebranded as Utica University Nexus Center
Nexus Center rebranded as Utica University Nexus Center
"This destination facility was built on the successful revitalization that is occurring across our region and the promise for more to come."
The Upper Mohawk Valley Memorial Auditorium Authority, Oneida County and Utica University announced Thursday that the new $64 million, state-of-the-art Nexus Center in downtown Utica will be rebranded as the Utica University Nexus Center through an exclusive naming rights partnership.
The university's investment in this partnership, which will be entirely donor funded, is approximately $150,000 annually for ten years, with a five-year renewal option.
The Utica University Nexus Center will attract nearly 400,000 visitors annually for amateur hockey, soccer, and lacrosse tournaments as well as a variety of other high profile events. The state-of-the-art venue also hosts the Utica University women's and Utica Jr. Comets Junior A hockey teams, and serves as a practice and training facility for the American Hockey League's Utica Comets.
"It gives me great pleasure in saying for the last time, 'Welcome to the Nexus Center.' It will now be, 'Welcome to the Utica University Nexus Center,'" says Carl Annese, chairman of the Upper Mohawk Valley Auditorium Authority. "As the partnership grows between Utica University and the Auditorium Authority, so do the possibilities."
"When Oneida County committed $47 million to bring the Nexus Center to downtown Utica, we knew it was going to transform the region, and it has done just that," says Oneida County Executive Anthony J. Picente Jr. "The teams and families it has drawn for youth sports are packing our hotels, restaurants and businesses, and along with the Adirondack Bank Center, is leading to further development in and around the area. Through its hockey and sports management programs, Utica University has been with us every step of the way, and the new possibilities this naming partnership brings with it are endless."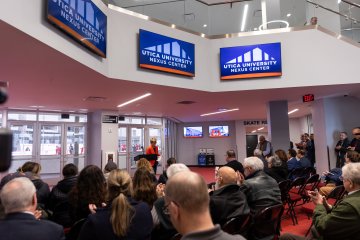 "The benefits of this naming partnership go far beyond the significant marketing return on investment that it will generate," says Utica University President Dr. Laura Casamento. "This destination facility was built on the successful revitalization that is occurring across our region and the promise for more to come. We are excited and proud to be closely associated not only with this state-of-the-art venue, but with the amazing synergy and passion for progress that have made it all possible."
This investment further demonstrates Utica University's commitment to a project from which its students will benefit tremendously – athletically and academically. In addition to becoming the new home for the Utica Pioneers women's hockey team and providing practice ice for the University's men's and women's teams, the facility has expanded experiential learning opportunities for Utica students. The facility, which houses classroom, faculty office, and conference room/collaboration space dedicated to the University's sport management program, will function as a living laboratory providing students a distinctive, hands-on experience operating a destination sports venue. Through this partnership, the University hopes to create similar future opportunities for students in other academic programs, including but not limited to physical therapy, dietetics and nutrition, and exercise and wellness studies.
Moreover, this partnership reinforces the University's contributions to the revitalization of downtown Utica as a vibrant social district, innovation hub, and economic center. The Auditorium Authority and Utica University helped facilitate a $600,000 New York State and Municipal Facilities Grant secured by Assemblywoman Marianne Buttenschon to outfit the third floor for the University's sport management program. This further brings to fruition the vision of the Assemblywoman and many others.   
As a marketing initiative alone, this partnership presents a unique opportunity to display the Utica University brand exclusively in front of its primary prospective student audience. The destination venue presents a captive audience not available through traditional advertising channels. In addition to the building name and exterior, interior, and highway signage, the Utica University brand will be featured on all print, digital, and broadcasting promotional marketing and advertising, associated social media and digital platforms, press releases, apparel, stationery, ticket stock and envelopes, and in-ice logos.
As part of the agreement, the University also plans to host select large-scale gymnastics, wrestling, or e-sports competitions inside the new venue, further expanding the venue's and Oneida County's reach and reputation as a nationally recognized destination sports complex.
I would like to see logins and resources for:
For a general list of frequently used logins, you can also visit our logins page.