New Name, New Colors
New Name, New Colors
EDITOR'S NOTE: Don't fret, traditionalists. This story was posted on April 1, 2022, a.k.a. April Fools' Day. We hope it made you laugh. Long live the orange and blue!
Out with the old, in with the new.
That seems to be the motto for Utica University these days, with its recent transition to University status prompting a complete branding overhaul, including the adoption of two unexpected school colors.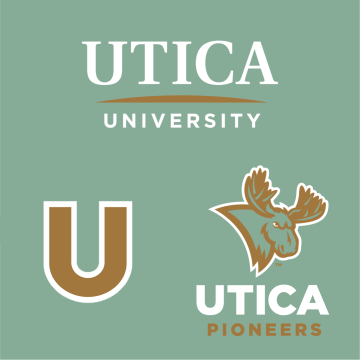 In place of the University's longstanding navy blue and orange, a pale blue-green, which the school is calling "seafoam," has been paired with a muted rusty brown, dubbed "peat moss." President Laura Casamento announced the new branding at an early morning news conference on Friday, April 1.
The new colors are the brainchild of A. Prilfeuls, an eccentric New York City-based painter and performance artist hired by the University as an "image consultant" in early 2022.
"Utica University is bold, unexpected, and fresh," says Prilfeuls. "A rich, luscious seafoam and a deep, earthy peat moss are the perfect colors to represent this forward-thinking institution."
"Are they the most appealing colors in the world? No, absolutely not," says Gates.
Jeffery Gates, Utica's Senior Vice President for Student Life and Enrollment, admits that the President's Cabinet was wary when Prilfeuls first introduced the colors in a January 2022 meeting, citing comparisons to "baby poop" and "mold." But a lengthy PowerPoint presentation from Prilfeuls helped attitudes shift.
"Are they the most appealing colors in the world? No, absolutely not," says Gates. "But seafoam and peat moss will definitely help separate Utica University from our peers. Probably. I mean, I don't know, they're really ugly."
Learn more and purchase Utica gear with the new colors here.
I would like to see logins and resources for:
For a general list of frequently used logins, you can also visit our logins page.