Late Utica University Students Alyssa Parrino and John Paul 'JP' Ramel Honored with Posthumous Degrees
Late Utica University Students Alyssa Parrino and John Paul 'JP' Ramel Honored with Posthumous Degrees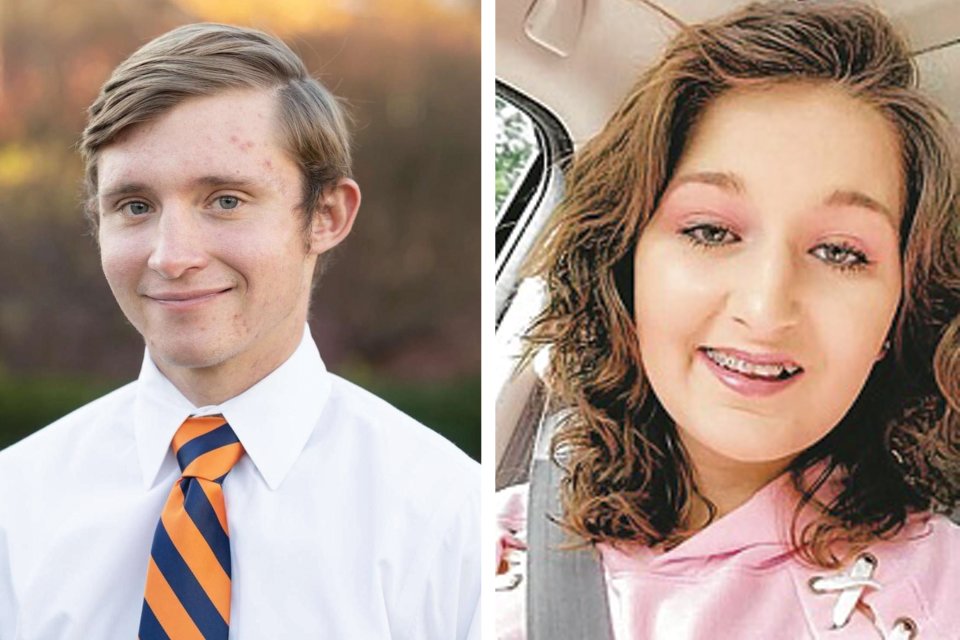 "And while our hearts are heavy with the knowledge that they will not cross this stage today, we will now duly honor their memory by bestowing upon them posthumously the degrees they earned as students of Utica University."
While commencement is a time of celebration, it is also an important time to reflect upon the lives and achievements of those who are unable to be present - such as two valued members of Utica University's student body who passed away over the course of the 2021-2022 academic year.
Two seats were reserved for Alyssa Parrino and John Paul "JP" Ramel in the front row of 2022 Undergraduate Commencement to represent the special place they hold in the thoughts of the Utica community. Family members and friends of these beloved Pioneers were present at the ceremony.
"And while our hearts are heavy with the knowledge that they will not cross this stage today, we will now duly honor their memory by bestowing upon them posthumously the degrees they earned as students of Utica University," said President Laura Casamento.
Alyssa Parrino
Alyssa Parrino passed away on December 20, 2021 after a hard-fought four-year battle with leukemia. A native of Fort Plain, New York, she attended Canajoharie High School and Fulton-Montgomery Community College before enrolling in Utica University's Psychology Child-Life program. Alyssa was a three-sport athlete and cheerleader in high school. She sang with the select chorus and played both violin and clarinet in school ensembles. She was a member of the National Society of Leadership and Success and the National Junior Honor Society.
She came to Utica with a desire to become a certified child life specialist. She was an active member of the Psychology-Child Life Society on campus, and helped plan many fundraisers and events for children and families in the area. 
Alyssa served as an administrative support assistant at Albany Med's The Birth Place, and was also a private caregiver for those in need in her community. She loved spending time with her nephew, Gage, and wanted nothing more than to watch him learn and grow.
Alyssa persisted in her studies at Utica despite the many challenges she faced through the course of her illness. 
One of her faculty mentors, Professor David Roberts, offered the following remembrance:
"Alyssa was a joy to have in class," said Professor David Roberts. "Despite her challenges due to her cancer diagnosis, she always displayed a positive attitude, an infectious smile, and genuine concern for those around her. She was the epitome of grace under pressure. Her outlook on life while constantly facing her own mortality, is something that will forever inspire me." 
"We celebrate Alyssa's life and work by awarding her Bachelor of Science degree in Psychology-Child Life posthumously, Utica University Class of 2022," said President Casamento. 
Alyssa's mother, Mrs. Karen Nurnberger, accepted Alyssa's diploma. 
John Paul "JP" Ramel 
John Paul "JP" Ramel passed away from a sudden illness on April 10, 2022. JP was a Construction Management major from Pipersville, Pennsylvania. He served as president of Utica University's student contractors association for three years, and was involved in countless activities and initiatives across campus, including the dedication of the veterans' flag pole.
JP was deeply motivated by the spirit of volunteerism. Back home, he was a distinguished member of the Plumstead Volunteer Fire Company, and served as a mutual aid volunteer on the New York Mills Fire Department. During his time at Utica, he also volunteered with Sleep in Heavenly Peace, a not-for-profit organization that builds and delivers beds for children without beds.
As accomplished as he was, JP was very personable and down-to-earth. He met success with humility, and always sought new challenges and new opportunities to make a difference.
As one of his faculty mentors, Professor Audrey Cross, put it, "I wish every one of us could take a page out of JP's book and strive always to be better."
"We celebrate JP's life and work by awarding him his Bachelor of Science degree in Construction Management, posthumously, Utica University class of 2022," said President Casamento. 
JP's aunt, Ms. Valerie Fadigan, accepted JP's diploma.
I would like to see logins and resources for:
For a general list of frequently used logins, you can also visit our logins page.