Inspiring Others on Their Fitness Journey: Brooke Riscica '23
Inspiring Others on Their Fitness Journey: Brooke Riscica '23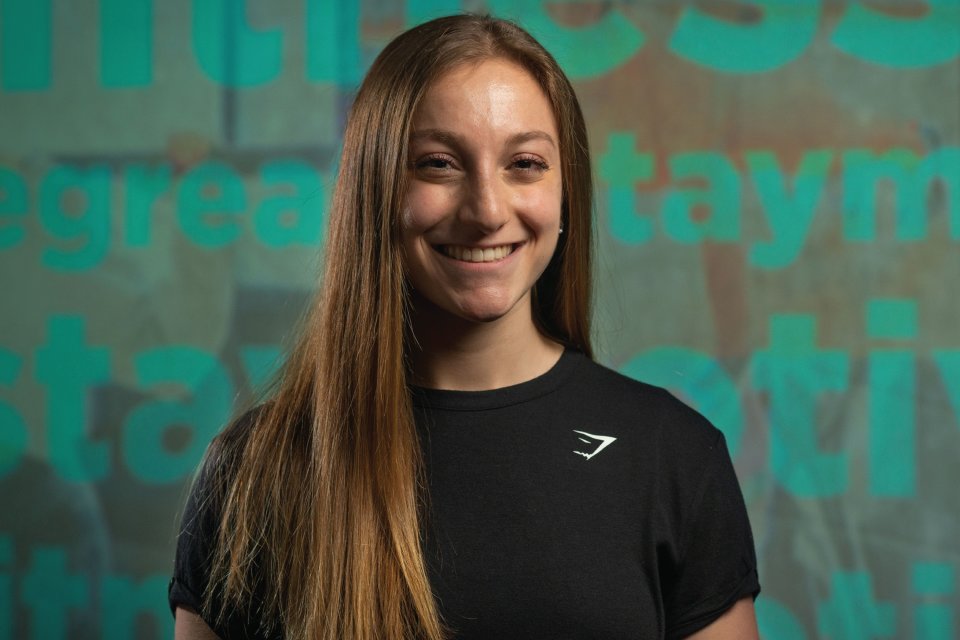 Utica College students who are living, learning, and inspiring others on social media.
It's been said that Generation Z lives on social media. But with hundreds of thousands of views and followers between them, some Utica College students, like Brooke Riscica '23,  are doing more than posting party pics. They're sharing their passions, developing career aspirations, and connecting with others in meaningful—and sometimes unexpected—ways. 
Brooke Riscica '23
Hometown: Utica, NY
Major: Criminal Intelligence Analysis
@brookeriscicafit on Instagram
Keeping It Real
"I started my account in June 2019 to inspire others to start their own fitness journeys. I hoped that sharing my experiences would provide a realistic look at what having a balanced lifestyle could look like. I do feel like these core goals are the same today, but I would say my approach in communicating these goals has changed over the last two years. For example, I find that it's extremely important to not only share what I do to get to a certain point, but also what goes on behind the scenes that is not always pleasant or 'Insta-worthy.' In a sense, my goal has evolved into inspiring and guiding others to make lifestyle changes that help them feel like the happiest and healthiest version of themselves."
Balancing Act
"I would describe my content as a blueprint for a balanced lifestyle. I post easy-to-follow workouts (both at the gym and at home), as well as healthy recipes, and photos or side-by-sides of me with motivational quotes."
Before and After 
"The photo that earned the most likes on my page was a before and after of my  progress over the last several years accompanied by a real, raw, and honest caption. Any time there is a drastic change in side-by-side photos, I think viewers are drawn in immediately. After reading about the actual experiences of someone—a real person who is putting it all out on the table—I think followers tend to form a bond with the person in the pictures. It's almost like they can relate to the caption and at the same time they are moved by the progress and inspired to make their own changes."
True Friends
"I have had the honor and privilege of connecting with so many people from all walks of life. I have had people be honest and vulnerable with me about their fears, putting their trust and confidence in me to help them start their own journey. What inspires me the most is knowing that I have helped even a small number of people choose health and happiness. I feel like I owe it to my followers to be there for them, even if it is only through a screen in their hand."
Biggest Social Media Pet Peeve
"There are a lot of nitpicky things that drive me insane on social media. However, one major pet peeve of mine is when someone blatantly copies someone else's content without giving credit to that person. Not only is it disrespectful, it also ruins the opportunity for you to build connections with new people."
Fitness Fam
"I consider my followers to be a part of my fitness family. Whether it's a quick suggestion, or a long conversation that requires me to create a potential workout split or meal-prep blueprint for someone, I am always willing to do what I can to make the smallest difference in someone's journey. My page holds me accountable and I do it for me, but I also like to think that every one of my followers is a part of my journey, too."
Legal Dreams
"My dream is to be a lawyer. I would love to work as a human rights lawyer or an immigration lawyer, especially after learning about the current state of our immigration system in the United States. I want to fight for justice and I want to advocate for those whose voices are not being heard. However, helping people in the health and wellness community has become a central part of my life, and I do not plan to close this part of my life off in the future."
I would like to see logins and resources for:
For a general list of frequently used logins, you can also visit our logins page.