Utica Recognized as a College of Distinction for Equity and Inclusion
Utica Recognized as a College of Distinction for Equity and Inclusion
National College Resource Notes Utica for Exceptional Student Support Initiatives
Utica University has received national recognition as one of the renowned Colleges of Distinction for its commitment to equity and inclusion, and providing a unique opportunity for students to learn and grow in an environment welcoming to a variety of cultures, backgrounds, and experiences.
Founded in 2000, Colleges of Distinction (CoD) is committed to honoring schools throughout the U.S. for true excellence in higher education. The member schools within the Colleges of Distinction consortium distinguish themselves through their dedicated focus on the undergraduate experience.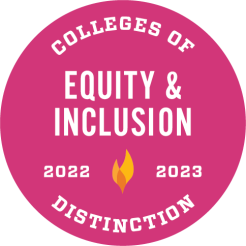 According to CoD, Utica has distinguished itself as a community dedicated to equal opportunity for all students, faculty, and staff. As an Equity & Inclusion College of Distinction, Utica University understands that inclusion is just as important as diversity, ensuring that all students are given equal opportunity to thrive academically, personally, and professionally. 
No matter the population breakdown, Utica educates its faculty and staff so that they can treat students fairly and with a conscious acknowledgment of their needs. 
Among the numerous and notable resources for student support is the Utica Diversity, Equity, and Inclusion Division and its ongoing work to increase the awareness and appreciation of diversity on campus and in society at large. Through the implementation of programs, activities, and events, the DEI at Utica endeavors to build a sense of unity within and across cultures. 
Another notable resource is The SafeZone program at Utica, whose goal is to increase the campus community's knowledge, understanding, and awareness about lesbian, gay, bisexual, transgender, and questioning (LGBTQ) issues.  This program aims to enhance our campus's sense of community while providing information and resources to individuals in order for them to create their own SafeZone, in which they can provide a supportive and welcoming environment to others. 
According to Colleges of Distinction, along with its welcoming community, Utica exceeds expectations from a student's recruitment, throughout school, and beyond the completion of their degree.
"Utica  has created a welcoming environment for underserved students," said Tyson Schritter, chief operating officer at Colleges of Distinction. "It's a tremendous opportunity to highlight the noteworthy support offered for students who might not otherwise study and thrive on a college campus."
The Utica University Mission and Values Statement includes a commitment to fostering diversity in perspective, background, and experience within an environment that is dedicated to the freedom of expression and the open sharing of ideas.
I would like to see logins and resources for:
For a general list of frequently used logins, you can also visit our logins page.