Committed activist and honored faculty spouse Kate Oser always went where help was needed
Committed activist and honored faculty spouse Kate Oser always went where help was needed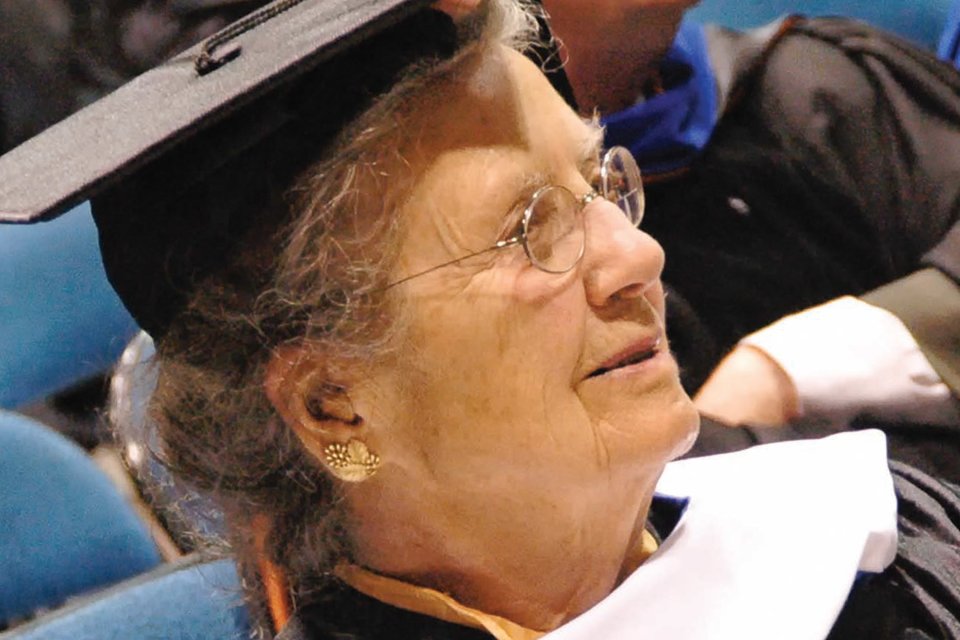 "When one issue gets tended to, another comes up that needs to be tended to. Ever forward."
To label her merely as a liberal would be to demean the breadth and depth of her compassion for the human condition. Her passion for the righteousness of simple human dignity transcended politics. While on their face, her ideals and values clearly coincided with the left on the political spectrum, her passion for all humans precluded her from advocating for any cause simply for political gain. That's not to say Kate Oser, who passed away on September 8, 2009 at the age of 91, didn't involve in the occasional political donnybrook, but the intersection of her humanism with the political orbits of particular parties was clearly a matter of happenstance.
Oser, wife of the late Jacob Oser, professor emeritus of economics, began her life of activism in the mid-1930s when she joined other Boston-area college students at a rally protesting fascist leader Benito Mussolini's invasion of Ethiopia. "I think it was the first rally I went to," Oser said in late August at the Utica-area assisted living facility where she had been residing for the past year. "I was really self-conscious because I had never been to a rally before and any new thing you get a little jittery about, but it was the right thing to do. And there I was," she added with a little laugh.
While slowed by age and physically hampered by a stroke she suffered in 2006, Oser still recalled in wistful tones the part she played at particular stops along the path of history. She arrived in the Utica area in the early 1950s when Jake accepted a position at the College, and wasted little time in getting involved int he community. In Clinton, where she and Jake settled, there was a sizable migrant farm worker population, and these seasonal workers form the South, most of whom were African-American, endured poor working conditions and meager pay. Added to that was the overt and covert racism of the day. Oser, naturally, set about to help.
"They were very hard-working people and I don't think people appreciated the work they were doing. Their life wasn't easy," Oser recalled. "They were given a chit every time they filled a bushel of peas or beans. They only got 30 cents a bushel. It takes an awful lot of peas to fill a bushel basket."
Oser enrolled the workers in Federal assistance programs. "We were trying to bring these programs to the people; they could get free butter, milk and cheese and I even think they got cereal. This would help them get through when they had very little cash. It was very valuable to them."
She would take the women to area clinics for exams and help with birth control. Child care, summer schools, evening adult education, and even inter-camp baseball games were also started by Oser and the many other volunteers.
Often, Oser was viewed with disdain by some of her neighbors. She remembered one woman was absolutely horrified when Oser told her she was going to visit the camps. "People were mystified. One woman gave a screech of horror and exclaimed,'You're going to a camp where there are black men?' She couldn't believe it," Oser recalled, chuckling at the memory.
National and Global Causes
From these humble beginnings of simply helping her seasonal neighbors, Oser soon was advocating for national action on a range of issues. She was an early advocate for civil rights and pushed for passage of the various civil rights laws debated in the early 1960s. She still remembered with clarity the ripples on the reflecting pool across from the Lincoln Memorial when she attended Martin Luther King Jr's "I Have a Dream" speech. "I was up on the platform. That whole area was just jammed with people, and I remember how impressive that was," she said.
She visited Washington many times over the years because there were so many issues she felt required popular action. After the civil rights movement came protests against the war in Vietnam and then the struggle for equal rights for women in the 1970s. Oser advocated strongly for passage of the Equal Rights Amendment. In the 1980s she spoke out in favor of protecting women's reproductive rights and against Reagan's forays into Central America, apartheid, and the nuclear arms race with the Soviets. In the 1990s, she became involved in the fight against AIDS and the attendant discrimination it wrought. Wherever the dignity of even a single human being was threatened, Oser had to act. "When one issue gets tended to, another comes up that needs to be tended to. Ever forward," she said.
Dick Emmert, professor emeritus of political science, often ran into Kate at various political events in the area. He was a Democratic Party activist locally, and there were times when he and Oser would cross paths. "I don't think she had a driving interest in politics. I think she had a driving interest in people. Politics was a means of rectifying wrongs," he says.
Friends and Strangers
Kim Landon, associate professor of journalism, met Oser when Landon was a wide-eyed freshman at UC in the fall of 1971. Landon attended a rally for the Equal Rights Amendment in Strebel and afterward Oser approached the budding activist. "I remember walking out and Kate stopping me, talking to me, and being remarkable and a little scary, as she always was. Kate trolled for activists. And once she identified you, you needed to understand you were now in her army - forever," Landon recalls with a laugh. "You were now on her calling list for the cause du jour - to show up for a rally, or not to eat lettuce from California. She always knew who was organizing the next bus trip to Washington, who was picketing where, who to vote for or not vote for. That's the role Kate played for many years in my life - in many people's lives."
But Landon remembers Oser was dedicated to many different causes. "Her causes and her activism were so wide and so deep and so esoteric I can't even remember them all," Landon says. She remembers a visit from Oser after the birth of Landon's first child. "We were sitting at my dining room table, and I had a pest strip hanging from the ceiling. The pest strip caught Kate's eye and she just laid me out for having that in my house when I had a baby in my house, and told me how poisonous it was. Needless to say I took the pest strip down and threw it away. I've never bought another one."
Oser also extended her kindness to those she didn't know. "Kate would take people under her wing. There was a student from Africa and she had no sponsorship," Landon recalls. "So, Kate hit up all of her friends for donations until she got the student support, a place to live, and a car. And if need be she would use her own money to get the car so the student could get to her classes. Her activism was global and personal and that's why I think people loved her."
Landon remembers Oser was the "original" recycler, too. "Activism just pervaded her life, it was in every cell of her body. She did not do anything that was not for a cause or a principle," Landon says. Landon related a story about Oser when she first moved in to an assisted living apartment. She moved from a single room to the apartment, and upon espying the full-sized refrigerator in the modest quarters immediately protested. "She said there is no way that a big, energy-using refrigerator running all day and night was necessary just for her," Landon says. When visitors would go to see Oser, they would sign a visitor book, and one of the things they would check was to see if the refrigerator was on.
John Johnsen, dean of the School of Arts and Sciences, has vivid memories of his interactions with Oser. Arriving at the College in 1977, Johnsen remembers meeting Oser at a New School picnic in Utica. "We got to know Kate and Jake very well. We had an infant at the time, and Kate loved babies and gravitated over to us," he remembers. It was the Citizen's Lobby, a non-profit organization, that brought them together next. "We worked on issues related to public power. There was an attempt at that time to bring municipal power to the city, but ultimately it failed," he says.
Johnsen says that the longer he worked with the Osers the closer they became. "We developed a very warm, almost family-like relationship with them. Our kids grew up calling her Grandma Kate," he says. After Jacob Oser passed away, the relationship became even closer.
"She and Jake had a son named David. He started school elsewhere, and eventually ended up at Utica College. I had him in class several times. I was kind of an informal adviser to him," says Johnsen. "David had a lot of issues growing up. One of the factors that was significant for him was that he was gay. Kate - as you would expect - was very, very supportive of David. She became active in gay and lesbian issues and activities. I think that was very important for her in terms of continuing her activism; it's exactly the kind of thing Kate would inevitable gravitate to. But I think it was also important in sustaining her relationship with David."
David contracted AIDS in the late 1980s and was living in San Francisco. "It was clear that he was dying so Kate went out and lived with him. She was there with David during his illness and when he died. She sustained that activism with gay and lesbian organizations when she returned," Johnsen remembers.
Johnsen notes Oser's activism wasn't confined to large causes; she also was an activist on a personal level. "She helped an enormous number of people, both in terms of her broad social activism and her one-on-one relationships with people," he says.
Supporting Campus Activism
Alane Varga, associate dean of student affairs, remembers working Oser at the Womyn's Resource Center on campus. "Kate was really involved when we started movements on campus like the Women's Collective and the Womyn's Resource Center. There was a national association she was part of, and she provided us with both contact people and information," Varga says. "She donated materials to the Resource Center, and invariably showed up to as many of our programs as possible. She really was one of the foremothers in the Resource Center's history."
Varga remembers that when Oser spoke to students, they were unaware of Oser's vast experience and her interaction with the young feminists at the Womyn's Resource Center often surprised and inspired them. "To have somebody come in and talk about some of these things, a real live person who had been there, was like experiencing a kind of living history," Varga says.
Polly Ginsberg, distinguished professor emerita of psychology, met Oser when Ginsberg came to campus in late 1982. "I think the first thing on campus I remember that involved Kate and me was that I had invited a speaker from Albany to come speak about women's issues in Africa. When the talk ended, the speaker didn't want to drive back to Albany, so without hesitation, Kate offered to put her up for the night - which was just like her to be spontaneously generous."
Ginsberg remembers how hen Oser's hearing began to deteriorate and she couldn't fully participate in meetings and events, she continued to support the cause by performing back office tasks at her home. "She had a brilliant mind and a big heart. She did it all with such grace," Ginsberg says.
When Ginsberg proposed awarding Oser an honorary doctorate in 2005, it garnered unanimous approval by the faculty. The citation read at Commencement that year noted, "Your commitment to and tireless work on behalf of the world's great causes - to peace, to intellectual freedom, to the well-being of the our planet, to the rights of all human beings regardless of gender, sexual orientation, ethnicity, socio-economic status, or national origin - have truly made this a better world in which we live."
For nearly three quarters of a century, Kate Oser was a clarion voice for many causes both great and small. And even when her protestations were whispers or screams, she remained undaunted. Her activism informed the intellectual conversation at UC for more than 50 years. Her positive example of how to make the world a better place, even if only by a little bit, inspired both students and professors alike, despite a life dotted with personal tragedies and some unrealized aspirations.
Oser was too modest to make a big deal out of her activism. But those who knew her and benefited from her endless generosity know the world would be a sadder and harder place without her good works.
"It was just programmed in me to go anyplace where help is needed. It's a religious kind of thing, though I'm not a religious person," Oser said. "It's dedication to caring, but I'm not doing it because God wants me to do it. I'm doing it because it needs to be done."
Indeed.
I would like to see logins and resources for:
For a general list of frequently used logins, you can also visit our logins page.