Career Professional
Career Professional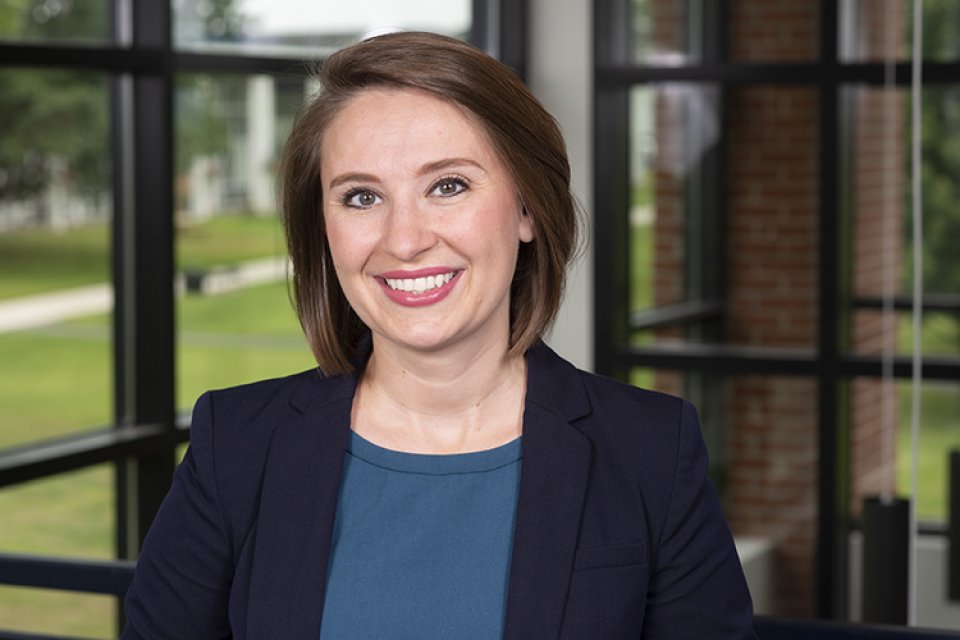 "My favorite part about working here is the opportunity I have to collaborate with faculty and staff colleagues on a range of institutional issues, all with the central focus of improving the student experience."
Halina Lotyczewski, Executive Director of the Center for Career and Professional Development, talks about the exciting developments in the Center in its ongoing mission to help students prepare for their careers beyond Utica College, as well as how a year in Poland at the age of 13 helped shape and expand her worldview.
Q: Tell us a little about yourself.
A: I'm originally from Palmyra, NY, a classic Erie Canal village just outside Rochester. While it boasted small town charm, I was eager to expand my horizons and find new experiences to shape my worldview. At the age of 13, I managed to convince my parents to allow me to travel to Poland by myself and live with relatives there for a year. It was a kind of family exchange program orchestrated by my grandmother, as a year later I returned with a cousin who resided with my family for a year. Living in rural Poland just a few years after the fall of their Communist government was a revelatory experience, and it in part led me to study sociology at SUNY Geneseo. I then went to Fordham University for a master's degree in social work with concentrations in both research and administration. While at Fordham, I participated in a year-long internship at Hoffmann – La Roche Pharmaceuticals, where I designed staff development programs, some of which centered around career development. After graduation, I concentrated my job search to this field, and that ultimately led me to UC. I wanted to work in a setting where I would have the ability to make an impact, and I haven't been disappointed. My favorite part about working here is the opportunity I have to collaborate with faculty and staff colleagues on a range of institutional issues, all with the central focus of improving the student experience.
As a closeted introvert, I spend time outside of work reading, usually some form of narrative or expository non-fiction. When the weather cooperates, I enjoy hiking with my husband, Scott, and spirited rescue pup, Stella. I also work regularly with two Sudanese refugees on strengthening their English language skills – those women are my heroes.
Q: What is your current job title and what does your position entail?
A: I'm the executive director of the Center for Career and Professional Development. Essentially, I lead the operations of the center's three functional areas: career coaching, employer relations and campus employment. I also like to say that it's my job to tell my office's story, articulating where we've been, where we're going, and how we're going to get there. This requires me to engage in meaningful assessment, advocate effectively, and build mutually beneficial partnerships with all of our stakeholders. The ultimate goal, of course, is to advance our students' interests and support them with their career and professional development.
Q: Tell us about the expanding scope and duties of your department; what services does your department offer to students?
A: There have been a number of exciting developments within my area. We now have three career coaches, one for each school. The coaches meet with students on a number of topics, including career exploration, job and internship searches, and application support (resume, cover letters, interviewing). In the fall semester alone, we recorded 865 meetings. Additionally, we have two employer relations staff who source and engage with employers, encouraging them to hire UC students. To accomplish this, they coordinate fairs, networking events and site visits. Last semester, they brought more than 60 employers to campus, and that will double by the end of the year. Finally, campus employment is a newly acquired operation for The Center. We have 650 students working on campus, and staff in this area coordinate those experiences. One exciting initiative out of the area is the Professional Readiness Employment Program. PREP is designed to be a high-impact practice that gives students meaningful, challenging work in a mentored setting. The opportunities are specifically created to develop the skills and abilities that employers want most in entry-level talent: communication skills, critical thinking, intercultural fluency, teamwork and leadership. It's no coincidence that these are also the skills that we teach here at UC. At this point, 20 students employed in both faculty and staff departments are part of PREP, and we'd like to grow that number.
Q: How can faculty and staff take an active role in recommending that students use the services that your department provides?
A: I think that awareness of our services, resources and events is key. There are a number of ways that we communicate information: in-class presentations, our website, our social media presence, targeted emails, etc. Because we also have employers who specifically request UC students for their opportunities, we need to rely on faculty and staff to help us source candidates. We're eager to listen to people's ideas, too, as we regularly tailor our services to accommodate specific requests. We take pride in our communicative nature and accessibility, and we're always ready to collaborate and try new things.
Q: What further changes and improvements to your department do you hope to see in the next five years?
A: We'd like to broaden our work with employers to include new on ground and virtual networking events; expand on ground and virtual interviews; and develop a job shadow program to support students' career exploration. We're also conducting a technology audit to assess if our existing software and web-based resources best support our office's and stakeholders' needs, and I expect to see some improvements made there in the future. And, to scale our career coaching and reach more students, we're also moving in the direction of developing more video-based content. The next 5 years has a lot in store for us, but I'm thankful to have such innovative and dedicated staff who are ready to take it on with me!
I would like to see logins and resources for:
For a general list of frequently used logins, you can also visit our logins page.