Career Mentor Program at Utica University is a collaboration between the Division for Diversity, Equity, and Inclusion and Student Transitions, the Division of Advancement, and the Black Alumni Association.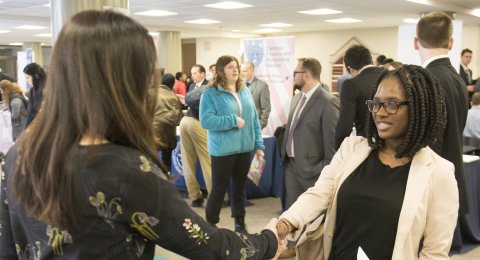 The year-long program pairs sophomores, juniors, and seniors with alumni mentors. Participants will be diverse and inclusive to ensure that the program reflects the goals and ideals set forth in both the Strategic Plan and the Diversity, Equity and Inclusion Operational plan to create a campus climate, including programs and resources, that are welcoming, inclusive, and equitable.
Students - if you are matched with an alumni mentor, you'll receive:
Advice for transitioning from university to career
Information about career fields and industry trends
Professional connections and networking
Support in launching your internship or job search
With mentors' inside knowledge of how the industry works, there is no one better positioned to give you that guidance!
Students - are you interested in joining the Career Mentor Program to help you grow personally and professionally?  Complete our interest form and let's connect you with a mentor that complements you and your interests:
Career Mentor Program Interest Form
If you are matched, you will then participate in an orientation, sign a commitment statement, receive a program guidebook, and will be introduced to your mentor via e-mail.
Have questions? Contact Us!
Reach out to Kailea Murray using the contact information below.  Alumni with questions may reach out to Ashlea Schad using the contact information below.
Contact Us
Director, Career Readiness
Maria Araujo '99

Maria Araujo '99
Member, Utica Alumni Council; Student Relations Chair, Black Alumni Association
Vice President for Diversity, Equity, and Inclusion and Student Transitions/Chief Diversity Officer
Executive Director of Diversity, Equity, and Inclusion/ Coordinator for Community Relations
I would like to see logins and resources for:
For a general list of frequently used logins, you can also visit our logins page.