About This Program
You know how life-changing knowledge can be. You thrive when you're sharing information and ideas with others. You want a career that gives you the power to influence the future. Education may be the program for you.
Why Utica College
The undergraduate education program at Utica College enables students to develop critical, high-level teaching skills in preparation for attaining New York State Certification and embarking on a fulfilling career as an educator in any of a number of different disciplinary areas.  Supported by an exceptional faculty of seasoned professional teachers and administrators, UC's education program is offered in combination with your academic major.
Contact Information
(315) 792-3006
General Information
Track
Undergraduate Teacher Preparation
Degree
Utica Excellence, Utica Value
Education at Utica
Career Opportunities
Real-World Experience
Courses include observation and work in the public schools as well as regular course work.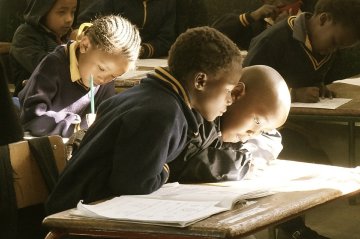 Choices
Utica College offers 13 different program options within its Educator Preparation programs to help find the best fit for you and your plans.
Opportunity
Student teaching opportunities are available at 35 area schools, providing hands-on experience in the classroom.
What You'll Learn
Utica College's education programs feature a strong focus on methodology and practical application, with opportunities for student-teaching and other real-world experiences. Courses include observation and work in the public schools as well as regular course work. The practical application of the theory and principles of teaching and learning culminates in an assignment to area schools for student teaching in the senior year. It is necessary for students to make plans to set aside one of the semesters of the senior year to devote entirely to student teaching.
Program options include:
Opportunities for dual certification in:
A Degree That Works
The education program prepares you for a range of fulfilling career options as an educator, as well as graduate study in education. Utica College also offers master's degree and CAS programs in education. UC education program alumni have distinguished themselves as educators and administrators in school districts throughout New York State and across the country.
Student Voices: Nicole Quinn
A brief conversation with liberal studies major Nicole Quinn about her studies, her experience in the education program, and her plans to earn a master's degree and start her career as a special education teacher.
Easing the Teacher Shortage
In response to an unprecedented teacher shortage in New York State, Utica College has created an accelerated Teacher Certification Program that allows aspiring teachers to secure full-time employment in local schools via an alternative pathway to certification.
Student Voices: Azure Garrett
A brief conversation with Azure Garrett, a liberal studies major in UC's undergraduate education program, about her experience at UC, her interest in theatre, and her passion for making a difference.
Student Teaching in NYC
A new partnership with the New York City Department of Education's "Pre-K for All" initiative allows students to fulfill student teaching requirement in New York City.
Student Voices: Noah Howard
A brief conversation with history major Noah Howard about his professors, his research internship, and his plans for the future.
Education at Utica College