School of Health Professions and Education
Program Details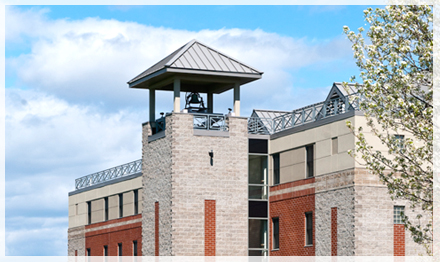 U
ndergraduate education programs at Utica College
provide course work in education, including student teaching, for students wishing to teach at the elementary or secondary level. Students combine education courses with a major in a liberal arts or science field. A business or computer science major is available for those wishing to teach business at the secondary level. Students who have completed a bachelor's degree and wish to become eligible for certification may enroll in one of UC's graduate education programs.
Note:
Utica College also offers graduate programs in education.
Graduate Education Programs
Undergraduate Programs

UC offers the following undergraduate programs in education:

Opportunities for dual certification in:


General Program Details
Utica College offers programs in teacher education that lead to certification in several different teaching areas. In order to be certified to teach in New York state, prospective teachers are required to complete a bachelor's degree, including the education program requirements, to pass the mandatory New York State Teacher Certification Examinations, and to meet all other regulations of the New York State Commissioner of Education.
Students interested in a teaching career should plan to consult with an education adviser soon after matriculation to discuss career possibilities, procedures for admission to the education programs and the requirements for completion, and for information about the certification areas available. Some education courses require written permission of the chair for registration.
Courses in the education programs include observation and work in the public schools as well as regular course work. The practical application of the theory and principles of teaching and learning culminates in an assignment to area schools for student teaching in the senior year. It is necessary for students to make plans to set aside one of the semesters of the senior year to devote entirely to student teaching.
There are specific admission and retention criteria and policies, including a minimum 2.75 GPA requirement, for the education programs. There are also additional requirements associated with student teaching
Special Opportunities

The Utica College Educator Preparation program has partnership agreements with the Oriskany Central School District, New York Mills Free Union Schools and other local districts that provides on-site college courses for students as well as fieldwork opportunities.
The Young Scholars Liberty Partnership Program is a collaborative project, launched in 1993, between Utica College and the Utica City School District designed to meet the challenges of motivating middle- and high-school students to stay in school, earn a New York State Regents diploma, and pursue post-secondary education. This program provides the opportunity for education students to work with students, faculty, staff, and youth advocates at Donovan and Kennedy Middle Schools and Proctor High School.
Faculty

Learn more about UC's distinguished Teacher Education faculty on the Undergraduate Education program landing page:
Education Program Home Page
Facilities

Utica College maintains seven academic computer laboratories on campus. These labs contain either IBM-compatible or Apple Macintosh computers. Classes are taught in some of the computer labs; all labs are accessible to any UC student during published hours. The labs are equipped with laser printers, and the computers have word processing, spreadsheet, and database programs. Student assistants and a Computer Help Desk provide any assistance that students need.
Career Opportunities

Students who successfully complete a bachelor's degree and the education program at UC, and who take the requisite New York state examinations, are eligible for provisional teacher certification in New York at the PreK-6 or 7-12 level. By interstate agreement, they also are eligible for provisional certification in most other states. Since requirements differ from state to state, however, students are advised to obtain information from the state in which they wish to teach.
Graduates of UC's education programs teach in area schools and all over the United States. Many of those who remain in the area maintain close contact with UC by serving on the Teacher Education Advisory Committee.
---
*According to figures from the New York State Education Department, in the 2007 – 2008 academic year, a total of 270 undergraduate students and 141 graduate students were enrolled in the program. Of 80 eligible provisional certificate program completers, 64(80 percent) took the Professional Knowledge/Pedagogy NYSTCE Assessment of Teaching Skills, with 64 (100 percent) passing, while 72 (90 percent) took the NYSTCE Liberal Arts and Sciences Test or both the NTE (Praxis II) Communications Skills Test and General Knowledge Test, with 72 (100 percent) passing. The average number of supervised student teaching hours required is 490 with a faculty-student ratio in the student teaching practice of 1:6.

For comparison purposes, the results of teacher certification testing for other New York institutions can be found on the New York State Education Office of Teaching Initiatives Web site at www.highered.nysed.gov.