"Let us tell the story of our College's pioneers, explorers, investigators, champions, entrepreneurs, and ambassadors.  Let us tell the stories of adversities overcome, and triumphs achieved. Let us share the spirit of Utica College, and in so doing, help the women and men who will be the future of this College to find their way here."
- Laura M. Casamento, Ninth President of Utica College
Inaugural Address, September 23, 2016
Utica College's Ninth Presidential Inauguration
Friday, September 23, 2016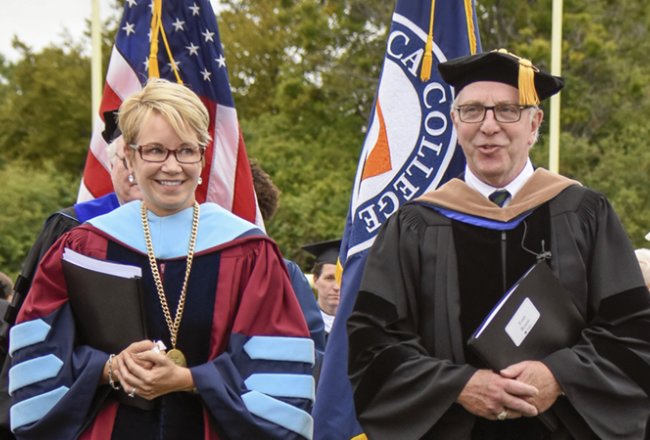 Inaugural Video
Watch the inaugural procession and installation ceremony of Utica College President Laura M. Casamento on September 23, 2016.
The Mace of Utica College
The mace is a symbol of the unique mission of Utica College. A gift of the Class of 1989, it was made by James F. Caron, professor of philosophy, with the collaboration of professors Randall Huta, Edward Jones, Stephen Peek, Ralph Fimmano, and David Moore.
Academic Regalia
Inherited from the medieval universities of the 11th and 12th centuries, the caps, gowns, and hoods were worn to keep students and professors warm and distinguish clerical and academic groups from laity. Academic regalia is worn today by those who play an academic role at celebrations of scholarly significance.
I would like to see logins and resources for:
For a general list of frequently used logins, you can also visit our logins page.