Utica College Names Top Students of 2019 Undergraduate Class
Utica College Names Top Students of 2019 Undergraduate Class
Valedictorian, Salutatorian both Canadian Ice Hockey Players
Utica College Provost Todd Pfannestiel announced its top students of the graduating undergraduate class of 2019. Justin Derlago has been named valedictorian and Gianluca Baggetta has been named salutatorian.
Derlago is a liberal studies major with a minor in English language and has earned a GPA of 3.99. Justin arrived at Utica College in the fall of 2015 and is a member of the UC Men's Varsity Ice Hockey team. Originally from Canada, Derlago plans to return to Manitoba and pursue his dream of becoming a teacher. He has also applied to the University of Winnipeg's Alter Degree Education Program, where he will continue his studies for two more years before receiving his teaching certification.
Derlago will be working as a landscaper and hockey coach over the summer, while completing some summer classes, before heading back to work at the Seven Oaks School Division in September. He is the son of Gregg and Desiree Derlago, grandson of Theodore and Mabel Derlago and Tilly and Hans Kraus, and the step-grandson of George Phillippi. He also has one brother named Riley.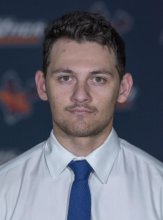 Baggetta is an accounting major and has earned a GPA of 3.99. He arrived at Utica College in the fall of 2016 and is also a member of the Men's Varsity Ice Hockey Team, as well as the Varsity Tennis Team. Baggetta is also originally from Canada and he is a graduate of Father Bressani Catholic High School.
He plans to return to Utica College in the summer to begin courses toward his MBA. Currently, he is an intern at Deloitte Forensic in Toronto, Canada. He is the son of Teresa and Vince Baggetta and the grandson of Mimi and Gino D'alimonte. He also has a sister named Alexia.
For more information about this year's graduation, visit  https://www.utica.edu/student/activities/commencement/index.cfm.
About Utica College - Utica College, founded in 1946, is a comprehensive private institution offering bachelors, masters and doctoral degrees. The College, located in upstate central New York, approximately 90 miles west of Albany and 50 miles east of Syracuse, currently enrolls more than 5,000 students in 42 undergraduate majors, 36 minors, 20 graduate programs and a number of pre-professional and special programs. For more information, visit www.utica.edu.