Past injury inspires Cassondra Wardle '22 to forge her future
Past injury inspires Cassondra Wardle '22 to forge her future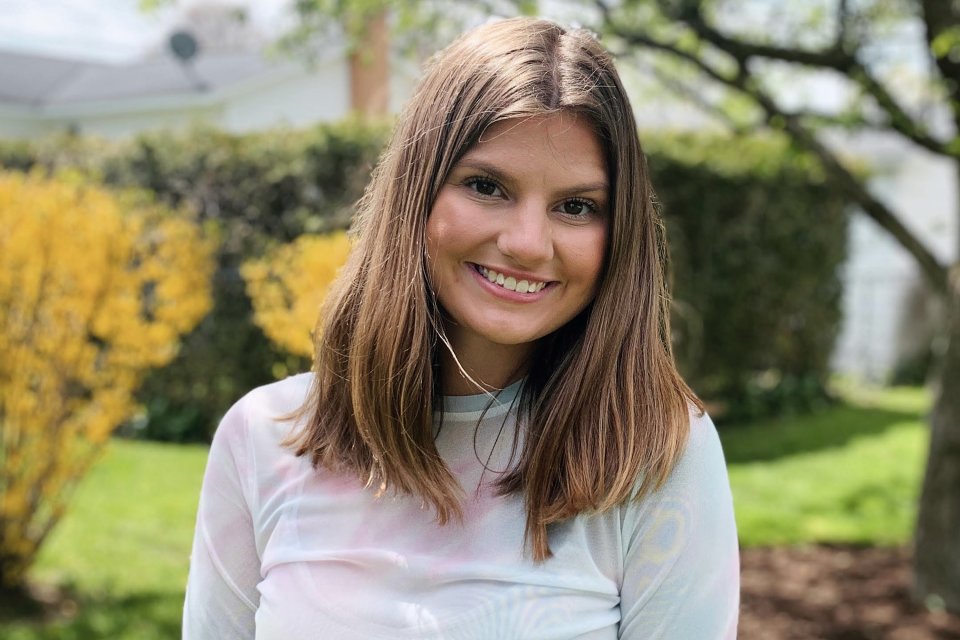 "There are so many great opportunities at Utica College and the options are endless."
When Cassondra Wardle '22 suffered a severe back injury in high school track and field, it could have been an incredible setback. Instead, the injury sent her to physical therapy for recovery and provided her with the blueprint for the years that followed.
"Without physical therapy, I couldn't have pictured ever being able to participate in sports again," she says. "I saw how much a physical therapist impacts peoples lives daily by working towards improvement everyday, and I became interested. Making positive changes in people's lives is something I strive to do."
She didn't have far to go to take her first steps on that journey. The Frankfort, N.Y. native says she only had to travel twenty minutes from her hometown to find the quality programs she was looking for, including the ability of having direct entry into the Physical Therapy program from the very start.
"This is important as you can get really comfortable with the Utica environment and you surround yourself with familiar faces through the years. It is really nice to be with people who have similar interests as you or similar majors like Physical Therapy, Occupational Therapy, Nursing, or Health Sciences. Another reason I chose Utica College was I wanted to stay close to home, so having a great program this close was perfect."
Now, the PT major with not one, but two minors - one in Entrepreneurship and the other in Aging Studies - will continue on to graduate study as she moves one step closer to her goal of becoming a physical therapist. She says it's those thoughts of where she's headed, the visualization of her future, that keeps her ever-motivated to move forward. 
"When I think about what my life will be like in a few years from now, working as a Physical Therapist, possibly owning my own business excites me. It makes it seem so much more realistic, and it clarifies why the hard work put in now is so important in the upcoming years."
Something else that keeps her motivated is the people she surrounds herself with.
"Having friends in the program is great because we encourage each other to work hard and work towards our goals. The professors are also so uplifting and encouraging as they want the best for us."
While her time at Utica College has offered much, she says some of the personal highlights have been the opportunities for involvement, such as being a part of being a part of the P.I.E.C.E.S. Leadership Program.
"I was lucky to be able to be one of the first students to complete level one of this program which included attending different leadership lectures and speakers and such to further my skills."
Likewise, the chance to be a part of the Health Sciences Student Society where she has served as President provided even more ways to develop her leadership skills as well as connections with students, professionals, and many other great people she came to know within the Utica College community.
"First off, professors at Utica College make it super easy to communicate with them and learn from them. Secondly, I met some great friends in the program, after being with them for three years now, we developed close friendships, which I consider a big highlight."
After completing the Physical Therapy program at Utica College, Cassondra says she plans on heading south to become a Physical Therapist.
"My whole family lives down south now and I would like to join them once I graduate. When I first move down south, I plan to get established as a Physical Therapist. A few years from then, I would like to open my own Physical Therapy business."
She's already at work making that happen from all fronts, whether it's the health background and expertise she's getting in the Physical Therapy program, or the skills she needs to create and manage her own business that she's honing in the entrepreneurship minor.
"[In the minor] I have basically created my business that I will launch in the year 2028," she explains. "The classes in this minor have been awesome, as there has been so much exposure to business concepts, financials, and business owners and professionals. Having this experience significantly helps my plan of opening my own business in the future. I have gained knowledge on marketing and management, and the creative process of it all which prepares me for the path I'm pursuing."
While her journey continues to move forward full steam ahead, she can't help but offer some advice to those just getting started on their dreams.
"There are so many great opportunities at Utica College and the options are endless. Being a part of the Health Sciences Physical Therapy Program has shown me so many experiences. The connections you make at UC is something that will always stand out. Being a part of societies and clubs leads you to even more chances to learn, develop, and connect with others of similar interests, which is the really neat part about it."
I would like to see logins and resources for:
For a general list of frequently used logins, you can also visit our logins page.