Master of Healthcare Administration (M.H.A.) (Online)
Excel in One of Healthcare's Most In-demand Professions
Lead, manage, and facilitate the best possible care with an online master's in healthcare administration (M.H.A.). Whether you currently work in health administration or want to enter the field, Utica University's 36-credit, master's in healthcare administration online degree program provides you with the knowledge and skills to pursue new and exciting advancement opportunities in a variety of health care organizations. 
You'll explore topics including new technologies, health care accounting, finance, and data analysis to transform data into actionable information, as well as be able to apply legal and ethical principles to create or modify processes and policy. You'll also graduate prepared to implement administrative, marketing, and leadership strategies, analyze health care accounting processes, develop health care staff, and execute organizational change. 
Gain the competencies and confidence you need to create change and help health care organizations flourish with the M.H.A. online program from Utica University. 
Master of Healthcare Administration Program Benefits 
32% job growth
Build advanced leadership skills
Unique capstone experiences
Accredited by the Accreditation Council for Business Schools and Programs (ACBSP)
Practitioner-based faculty of experts
Convenient eight-week courses
Prepare for an administrative role in settings across the health care continuum
 
Learn to Lead Health Care Organizations to an Efficient and Effective Future. 
The demand for medical and health care administrators is booming.
The demand for medical and health care administrators is booming. According to the Bureau of Labor Statistics, jobs in this field are expected to grow 28 percent between 2021 and 2031, much faster than the average for all occupations, due to an aging population and diversification in the industry. These roles are both rewarding and lucrative, with the 2021 median annual wage at $101,340 and the top 10 percent of positions earning more than $205,620 in 2021.1
► $205,620 Earned Annually
In 2021, the top 10% of health care administrators earned more than $205,620 annually3
---
► 28% Increase
28% job growth projected from 2021 to 20313
---
► 616,900 Job Opportunities
By 2031, total job opportunities for health care administrators are projected to reach 616,9003
With our online Master's in Healthcare Administration, you'll graduate ready to effectively coordinate health services, handle ongoing developments in the field, respond to external events, and ascend to upper-level leadership positions. Earning your M.H.A. online will prepare you to oversee the administrative aspects of a health care organization and to liaise with insurance companies, stakeholders, and the community. You'll also assist in the transition to paperless records, respond agilely to changing laws and regulations, advocate for patients, and recruit employees. In other words, you'll graduate ready to work as a versatile health care services manager. 
As a health care administrator, you could earn more than $101,340 on average and take advantage of 616,900 job opportunities by 2031.3 You'll be qualified for specific roles such as: 
Examples of Career Opportunities with a master's degree in Healthcare Administration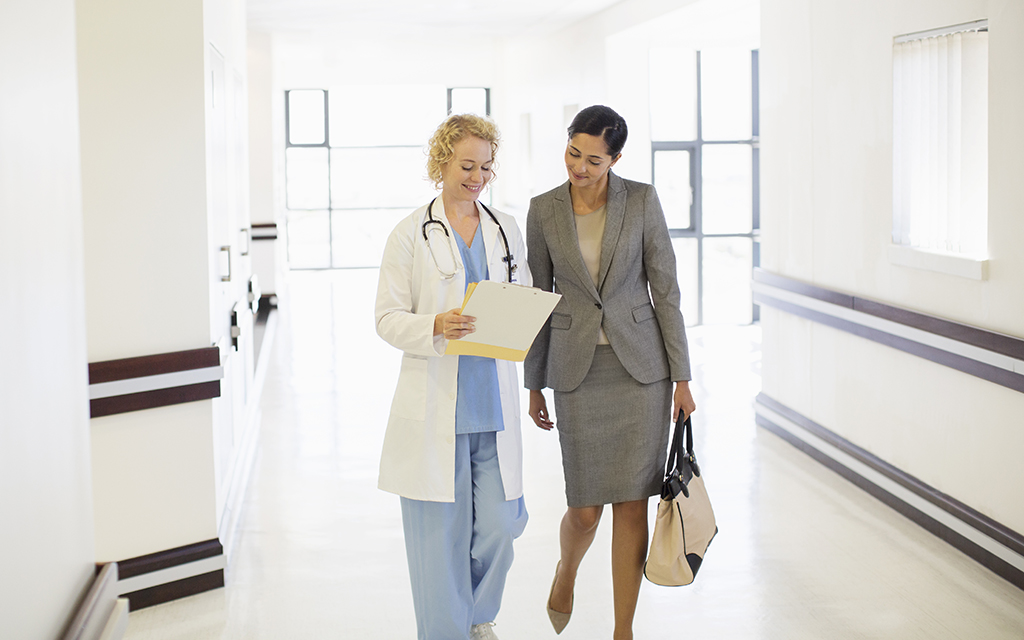 Ancillary Services Director
$107,821/year
Ancillary services directors are responsible for the oversight of multiple services/departments within an acute care facility. They are involved in strategy, business operations, fiscal/budgetary management, human resource management, regulatory compliance, and more.4
Clinical Project Manager
$100,009/year
Clinical project managers are responsible for planning and scoping projects, tracking project metrics, and developing and implementing project milestones. This can be in the context of clinical trials or other projects within a variety of service organization settings, including government, insurance, corporate, or research agencies.5
Nursing Home Administrator
$109,099/year
Nursing home administrators2 are responsible for overseeing the day-to-day operations of nursing homes. They manage and develop staff, budget and utilize operational resources, ensure compliance and professional standards are upheld, and more.6
Additional roles for MHA earners:
Direct Care Coordinator
Informatics Director
Compliance Officer
Research Director
Director of Nursing Services
Facilities Manager
Marketing Director
Sources:
 
1. Bureau of Labor Statistics. (2023). "Medical and Health Services Managers." Retrieved April 19, 2023, from https://www.bls.gov/ooh/management/medical-and-health-services-managers.htm
2. In some states, such as New York, the curriculum of Utica University's online Master of Healthcare Administration meets the course requirements for Nursing Home Administrator licensure. Potential applicants should check with their state's licensing agency or contact an Admissions Representative at (315) 732-2640 or toll-free at (866) 295-3106 to verify the necessary coursework. Faculty advisers are available to work with students to offer guidance and help them meet the academic requirements of this field. *View this grid to verify the licensure requirements in the state in which you plan to practice.
3. Medical and Health Services Managers. (2023). Retrieved April 19, 2023, from U.S. Bureau of Labor Statistics: https://www.bls.gov/ooh/management/medical-and-health-services-managers.htm
4. Director of Ancillary Services Salaries. (2023). Glassdoor. Retrieved April 19, 2023, from https://www.glassdoor.com/Salaries/ancillary-services-director-salary-SRCH_KO0,27.htm
5. Clinical Project Manager Salaries. (2023). Glassdoor. Retrieved April 19, 2023, from https://www.glassdoor.com/Career/clinical-project-manager-career_KO0,24.htm
6. Nursing Home Administrator Salaries. (2023). Glassdoor. Retrieved April 19, 2023, from https://www.glassdoor.com/Career/nursing-home-administrator-career_KO0,26.htm
---
Contact us today for more information
Online Master of Healthcare Administration Faculty Spotlights 
In the online Master of Healthcare Administration program, you'll gain practical knowledge and comprehensive skills from experts in the field of health care administration. From finance to human resources, and from telemedicine to nursing home administration, our M.H.A. faculty is made up of professionals with decades of experience leading health care organizations and serving a variety of stakeholders. 
Through your faculty's instruction, you'll gain firsthand insights, learn to bridge the gap between theory and practice, and graduate prepared to step into a health care administration leadership role. 
You'll also have the backing of your individualized CARE Team – Academic Advisor, Student Success Coach, Career Services, and more – to help you complete your degree and make the most of your achievements. 
James Brown, Ed.D.
Associate Professor, Management and Administrative Studies
MHA Program Director
Dr. James C. Brown is a tenured, Associate Professor of Management & Administrative Studies and Director of the Master's Degree in Healthcare Administration and Nursing Home Administrator Certificate of Advanced Studies (CAS) in the School of Business & Justice Studies; joining the full-time faculty in January of 2014 after serving multiple senior administrative roles at Utica University since 2005. Most recently Dr. Brown served as the Vice President for the School of Online & Extended Studies under President Emeritus Todd S. Hutton, before moving over to the full-time faculty in 2014. Dr. Brown has also served as Assistant Vice President for Marketing & Communications, Assistant Vice President for Academic Affairs & Dean of the School of Graduate & Extended Studies, and Vice President for Strategic Initiatives.
Dr. Brown also serves as an inpatient pulmonary team resident liaison at a children's hospital, supporting specialized pulmonary care teams including attending and resident physicians, fellows, advanced practice providers, pharmacists, and nursing teams charged with providing world class care to the complex medical needs of the kiddos and families that come through the hospital's doors.
Dr. Brown's diverse background includes a 30+ year full, part-time and volunteer public safety career in law enforcement and public administration as a police officer, police commander, and police administrator, as well as a volunteer firefighter and advanced cardiac emergency medical technician (NYS AEMT-III). Dr. Brown also served as the Oneida County STOP-DWI Program Administrator for eight years and as vice president for public relations, security and facilities for the former Herkimer County Trust.
Honors and Distinctions
Ed.D. in Educational Leadership, University of Phoenix School of Advanced Studies
Master's in Public Administration, Sage Graduate School
B.S. in Criminal Justice, Utica University
Selected Publications
Brown, J.C. & Philo, R.L. (2017). The Corr of the American criminal justice system: lessons & the anatomy of an American tragedy. Dubuque, Iowa. Kendall Hunt Publishing Company. ISBN: 978-1-5249-1417-2 
 
Brown, J.C., Philo, R.L., Callisto, A., & Smith, P.J. (2016). Command transitions in public administration: A quantitative and qualitative analysis of proactive strategies. Springer Briefs in Policing, 1(1), 1-57. doi: 10.1007/978-3-319-27844-5
 
Brown, J.C. (2007). Full- and part-time employee stress and job satisfaction at two upstate New York colleges. Dissertation Abstracts International, 68 (08), (UMI No. 3277201).
---
Tracy M. Balduzzi, Ed.D.
Adjunct Lecturer of Business
Dr. Tracy M. Balduzzi is the Associate Director of Strategic Initiatives at Syracuse University. She is responsible for researching and identifying opportunities to support the key initiatives of the institution. She also researches higher education learning experiences for neurodivergent students as well as using public pedagogy to personalize learning in educational settings.
Tracy earned her B.S. in organizational management from Keuka College, M.S. in Health Care Management from Utica University, and an Ed.D. from Wilmington University. In addition to her formal degrees, Tracy is a graduate of the Leadership Mohawk Valley and the Upstate Medical University Leadership Academy. She also serves on the St. Camillus Nursing Home board and the CNY Women's Fund Leadership Council.
Honors and Distinctions
Ed.D., Wilmington University
M.S. in Health Care Management, Utica University
B.S. in Organizational Management, Keuka College
---
Jessie D. Campbell, M.S.
Adjunct Lecturer of Sports Management
Professor Jessie D. Campbell was raised in the Utica area and the surrounding Mohawk Valley. He toured the country to great lengths taking up residence in a variety of locales for a period that exceeded the next fifteen years. Much of this time was spent traveling throughout the state of Colorado where he would go on to earn his M.S. in Marketing from the University of Colorado in 2009.
Professor Campbell's professional career was predominantly spent at various levels of the services industry, primarily in the fields of hospitality and lifestyle entertainment. He has performed in a variety of roles in the business sector that include, but are not limited to, marketing strategist, event planner, and in operations management demonstrated at the executive level. These occupations include working alongside several notable organizations that include Crocs, Winter Park Resorts, and the Tao Group of Las Vegas to name a few.
After some time, Professor Campbell returned to the Utica area where he was later invited to join Utica University (then Utica College) where he works in Sports Management with the School of Business & Justice Studies while providing course support in the fields of business management and marketing.
Honors and Distinctions
M.S. in Marketing, University of Colorado
---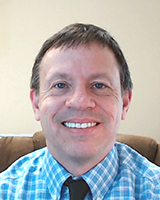 Bari L. Courts, Ph.D.
Adjunct Lecturer of Health Care Administration
Dr. Courts has been teaching online for 20 years, including courses in economics, management, organizational behavior, research methodology, and statistics. He has been fortunate to have been asked to guest lecturer at numerous international universities including in Vietnam, Romania, China, Argentina, Mexico, and Spain. Dr. Courts' professional background includes time in the insurance industry and a position as a project manager for a major ERP software implementation. He also owns a small self-storage business just outside of Cincinnati.
Dr. Courts' time in the Ph.D. program at Capella University was spent entirely online, thus familiarizing him with the time commitment and other issues associated with completing a degree online. Dr. Courts wants his students to understand that although not easy, the experience is very rewarding.
Dr. Courts is a board member of two organizations, and conducts presentations on various topics, as well as writing course curriculum. His research interests include writing about social media. Dr. Courts' most recent published article is titled The Influence of Social Media on 21st Century Leaders.
Dr. Courts' notes that his home life is somewhat unique. His family includes six children from three continents. He has an older son and an older daughter. In 2011 he added two little girls from Russia who are now ages 15 and 14. Four years later, he added two little boys from Africa (now ages 13 and 11). In his free time Dr. Courts stays active by playing soccer for exercise, and singing in both a barbershop chorus and barbershop quartet.
Honors and Distinctions
Ph.D. in Organizational Management, Capella University
M.S. in Global Business Blockchain, University of the Cumberlands
B.A. in Mathematics, Kenyon College
---
Thomas C. Curnow, Ed.D.
Adjunct Instructor of Health Care Administration
Dr. Thomas C. Curnow was the Executive Director of Herkimer County HealthNet (HCHN). HCHN works with healthcare systems, not-for-profit organizations, local and state government and private foundations to improve the health and well-being of children and adults in the Central NY region. The focus is on preventing chronic disease, improving access to healthcare and reducing healthcare disparity.
Dr. Curnow has held numerous leadership positions throughout his career. He served as the Chief Operating Officer for a not-for-profit organization in Westchester County, NY., Senior Vice President of Human Resources, Senior Vice President of Quality Development and Vice President of Residential Services. Dr. Curnow has worked in the healthcare, mental health, developmental disabilities and social services field for more than 30 years. Dr. Curnow has served as a Senior Reviewer with the Empire State Advantage: Excellence at Work program (Baldrige style quality program) and provides consulting services to organizations in strategic planning, performance improvement and leadership development.
Dr. Curnow has served as an adjunct faculty member in the HCA program since its inception. Dr. Curnow has served as an adjunct faculty member at Utica University in the Healthcare Administration graduate program since its inception. His teaching responsibilities include courses in organizational development and change, healthcare leadership, quality and performance improvement, marketing and strategic planning and Master's capstone.
---
Anthony E. Joseph, Jr., M.P.A.
Adjunct Professor of Health Care Administration
Professor Anthony Joseph retired as a nursing home administrator, after 40 years, in April of 2022. Professor Joseph's career included being a CEO at an area agency on aging. Working on various LTC Campuses, Professor Joseph's experiences included overseeing adult day care (medical and social models), child day care for employees' children, independent senior housing, and home care in addition to skilled nursing facilities. Professor Joseph has been teaching Nursing Home Administration, Gerontology and various Leadership Courses for 34 years.
Professor Joseph received his bachelor of arts degree (BA) from Utica University, his master's degree in social work (MSW) and master's degree in public administration from Syracuse University. Professor Joseph also received his certificate in gerontology from the All-University Gerontology Center at Syracuse University. He is also a licensed New York State Nursing Home Administrator.
Honors and Distinctions
M.S.W., Syracuse University
Master's in Public Administration, Syracuse University
B.A., Utica University
LeadingAgeNY James Sanderson Memorial Award: for Leadership in Long Term Care
Innovation of the Year Award for Innovative Programs that improve the lives of those in long-term care
Oneida County Office for the Aging Community Caregiver Award: given to the Administrator contributing the most to caregivers in Oneida County
National Council on Aging; recognized for the first distinct Parkinson's Residence in a nursing home
First in the nation Telemedicine Program for those with Parkinson's Disease affiliated with the University of Rochester and Johns Hopkins Neurology Departments
---
Marvee L. Marr, D.B.A
Associate Professor of Management
Dr. Marvee L. Marr is an accomplished educator in the field of business with over 25 years of experience teaching in online and in-person higher education settings. Dr. Marr has excellent applied knowledge of varied aspects of corporate management with an unparalleled ability to translate those real world experiences into engaging new curriculum in domestic and international classrooms. Dr. Marr is committed to improving student skill sets and collaborating on academic projects and research. She is a specialist in training/mentoring new professors and designing curriculum. Dr. Marr has also visited 94 countries and lived in 14.
Dr. Marr holds a Doctorate in Business Administration (International Business and Marketing) from Argosy University, a Master of Business Administration (Human Resources and Marketing) from InterAmerican University, a Master of Fine Arts (Creative Writing and Teaching of Writing) from Columbia College Chicago, and a Bachelor of Arts (Communications and Women Studies) from the University of Missouri-Columbia.
Honors and Distinctions
D.B.A. in Human Resources and Marketing, InterAmerican University
M.F.A. in Creative Writing and Teaching of Writing, Columbia College Chicago
B.A. in Communications and Women Studies, University of Missouri - Columbia
Selected Publications
Marr, M. (January, 2019). Virtual International Internships in an online international business program. IABRR: Academic Oasis. Key West, FL. 2-4.
 
Marr, M., Reed, L., & Swank, A. (2019). The Impact of Gender on International Assignment: Women's Quest for Expatriate Equality. The International Journal of Organizational Diversity, 19(2), 21–39. doi: 10.18848/2328-6261/cgp/v19i02/21-33
 
Reed, L., Marr, M., Swank, A. and Whitten, C. (2017). Coaching, mentoring, and leading: An undergrad virtual service learning experience. In Domínguez, N., Berkeley, B., Barka, N., Chrisman, T., Kelley, B., & Westfall, E. (Eds.). (2017). 10th annual mentoring conference proceedings (10th ed.): A Decade of Cultivating an Inclusive Mentoring Community [Special Issue 10]. The Chronicle of Mentoring and Coaching, 2(10). pp. 11-14.
 
Marr, M. (2014, January 1). Retention and Reality in the Hospitality Industry. Hotel Business Review. 11-13
 
Marr, M. (2011, August). Corporate Social Responsibility of U.S. Multinational Corporations Conducting Business in Central and Eastern Europe. Argosy University, Chicago, IL.
---
Michelle Sowich-Shanley, M.H.A.
Adjunct Professor in Gerontology
Michelle Sowich-Shanley has more than 30 years of experience in the healthcare industry and 20 years as a Registered Nurse. She has spent her career working with provider owned physician practices, hospitals, hospital owned physician practices, for profit organizations, not for profit organizations, large academic medical centers, community hospitals, payers, and skilled nursing facilities.
Michelle has extensive experience with the implementation of clinical, revenue cycle, laboratory and radiology software systems, network integration, design and implementation of care delivery system practices that include DSRIP and patient-centered medical homes. She has developed, managed, and maintained high performing teams in nursing, utilization and case management, health care informatics, and clinical information technology. Michelle is currently a health care consultant that advises clients across the United States on EHR vendor selection, implementation planning and execution, implementation support, change management, clinical and operational efficiency, post live optimization, and program management.
Michelle has a master's degree in healthcare administration from the State University of New York Institute of Technology, a baccalaureate from the State University of New York Institute of Technology in Healthcare Management, and a baccalaureate in Nursing. Currently, she is pursuing her PhD. Michelle is a Registered Nurse, Certified Medical Practice Executive (CMPE), and PROSCI Certified.
Frequently Asked Questions
Advancing your life and career with an online degree comes with lots of questions, and we want to ensure your search for answers is effortless. If you have a question we haven't covered, call 1-315-792-3333 to speak with an enrollment counselor.
Interested in our state authorizations? Learn more about state authorizations related to the M.H.A. program here.
You can complete the program in just two years. To learn more about the curriculum, view our courses page.
The online program is designed for professionals who work full-time and is offered part-time. This allows you to achieve a realistic balance between work, school, and personal commitments and gives you the opportunity to fully absorb what you learn. To see the curriculum, view our courses page.
Tuition for the Master of Healthcare Administration is $24,840. You need to complete 36 credits at $690 per credit hour. You can review all tuition costs here.
The program is offered in the business school, which is ACBSP-accredited. Utica University (formerly Utica College) is accredited by the Middle States Commission on Higher Education, so you can be confident you'll receive an exceptional and rigorously evaluated online education.
This program has been offered online for more than ten years. Utica University has been an innovator in online learning since the early 2000s.
Gain Expert Administrative Skills Through Our Career-focused Curriculum 
With Utica's two-year online Master of Healthcare Administration (M.H.A.) online program, you have the power to pursue your personal and professional goals by focusing on administration foundations and health care systems. Each core course of the online M.H.A. has been designed with management, leadership, and the continuum of health care in mind to help you merge foundational theories with best practices in health care. You'll also have the opportunity to select two electives. 
Students seeking academic requirements for Nursing Home Administrator licensure in New York should select AGE 503 and HCA 621 as their two program electives.
In some courses, you will have the opportunity to participate in synchronous "in-person" sessions using Zoom and other video conferencing platforms, which will allow you to virtually meet your peers and provide a more textured, three-dimensional experience. 
Online Master of Healthcare Administration Admission Requirements 
To apply for the online master's in healthcare administration program at Utica, you'll need the following:
Bachelor's degree with a GPA of 3.0 or higher
Official transcripts from all previous colleges and universities attended
Personal statement - A brief essay that outlines your qualifications, skills, work experience, and reasons for pursuing this profession
Résumé - A detailed work history that highlights any experience that may be relevant to this program
Get Started
Tuition and Financial Aid
This 36-credit program costs $690 per credit hour. Utica University is dedicated to making an advanced education accessible and affordable. Learn more about financial aid, including grants, student loans, and other options, on the Financial Aid tab of our Graduate Admissions page.
Learn more
Contact Our Admissions Team
Office of Admissions
I would like to see logins and resources for:
For a general list of frequently used logins, you can also visit our logins page.