About This Program
Contact Information
(315) 792-3006
Department Chair
(315) 792-3134
General Information
Utica Excellence, Utica Value
Geoscience at Utica
Career Opportunities
Graduates of Utica's geoscience program enter an expanding market for their skills, with above average job growth predicted for positions in:
Hydrology
Environmental Science
Oil & Gas Exploration and Development
Resource Management
Education
On the Rise
Relative to other fields of employment, the Bureau of Labor projects job opportunities in hydrology and environmental science will grow much faster than average.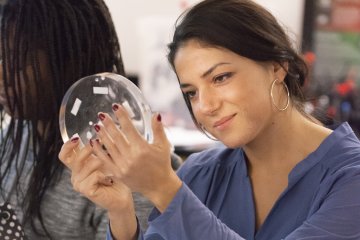 Options
Utica University offers two degree options (BA or BS) in Geoscience.
What You'll Learn
The geoscience major offers two degree options:
The Bachelor of Science option is designed to prepare students to work in applied earth and environmental science or pursue graduate studies in geoscience or related disciplines. A capstone experience such as a field course, directed research, or internship will be required of students receiving the B.S. to integrate liberal and professional study.
The Bachelor of Arts option is designed to provide substantial breadth in science preparation by also including coursework in biology, environmental issues, and astronomy, allowing students greater flexibility in tailoring the degree to meet their needs and interests.
Both degree programs offer students the benefit of an impressive suite of advanced instrumentation. Field study opportunities are enhanced by the University's proximity to a variety of earth and environmental resources, such as the Utica marsh, the Adirondack and Catskill mountains, and the Great Lakes region.
Adjunct Geoscience Faculty
A Degree That Works
Graduates of Utica's geoscience program enter an expanding market for their skills, with above average job growth predicted for positions in hydrology and environmental science. Geoscience majors are also prepared for careers in oil and gas exploration and development, resource management, and education, among others. Graduates of Utica's geoscience program have gone on to:
NYS Department of Environmental Conservation
FPM Remediations, Inc
EA Science, Engineering and Technology
Suez Environmental at Hinkley Water Treatment Plant
O'Brien & Gere P.C.
Arcadis
Crompco Environmental Services
Indium Corporation
Georgia Department of Transportation
Riverhawk Corporation
CNY School Districts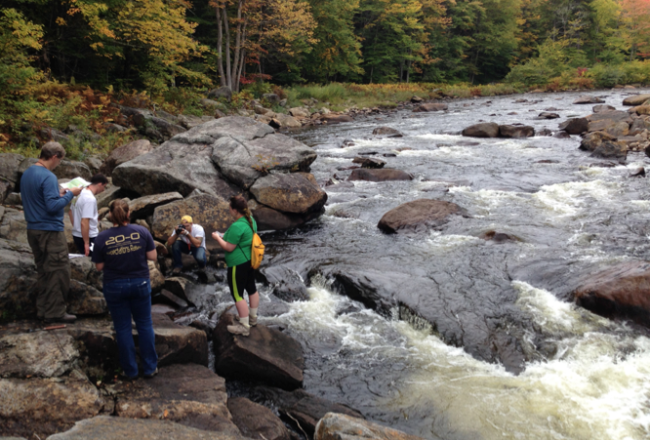 Experience It
Actively participate in your learning with abundant opportunities to interact with your professors and peers. Capstone projects may be an independent research, an internship, or completion of field camp. Classes are strongly infused with field experiences in the form of field trips, or as larger weekend trips to Vermont and the Adirondacks.
Learn More
Small Class Sizes
Form strong bonds with your classmates and work together to solve problems and complete projects assigned in class. Professors have time to work with you one-on-one both in and out of class, often available for questions and advice outside of class or office hours.
Internships
Utica University Geoscience majors gain hands-on learning experiences through internships at places such as Skidaway Institute of Oceanography in Savannah, Georgia,  Rogers Environmental Education Center in Sherburne, NY, as well as in the private sector such as performing groundwater monitoring with a private geoscience company.
Tools of the Trade
Equipment for sedimentological analysis, including sieves, a Ro-Tap shaker, and hydrometers, multiple current meters, stereo microscopes and a differential interference contrast microscope for microfossil analysis, rock cutting and thin-sectioning equipment and microscopes for petrographic analysis, and a collection of local- to continental-scale topographic and geologic maps and aerial photographs for structural geologic studies.
Science at Utica University