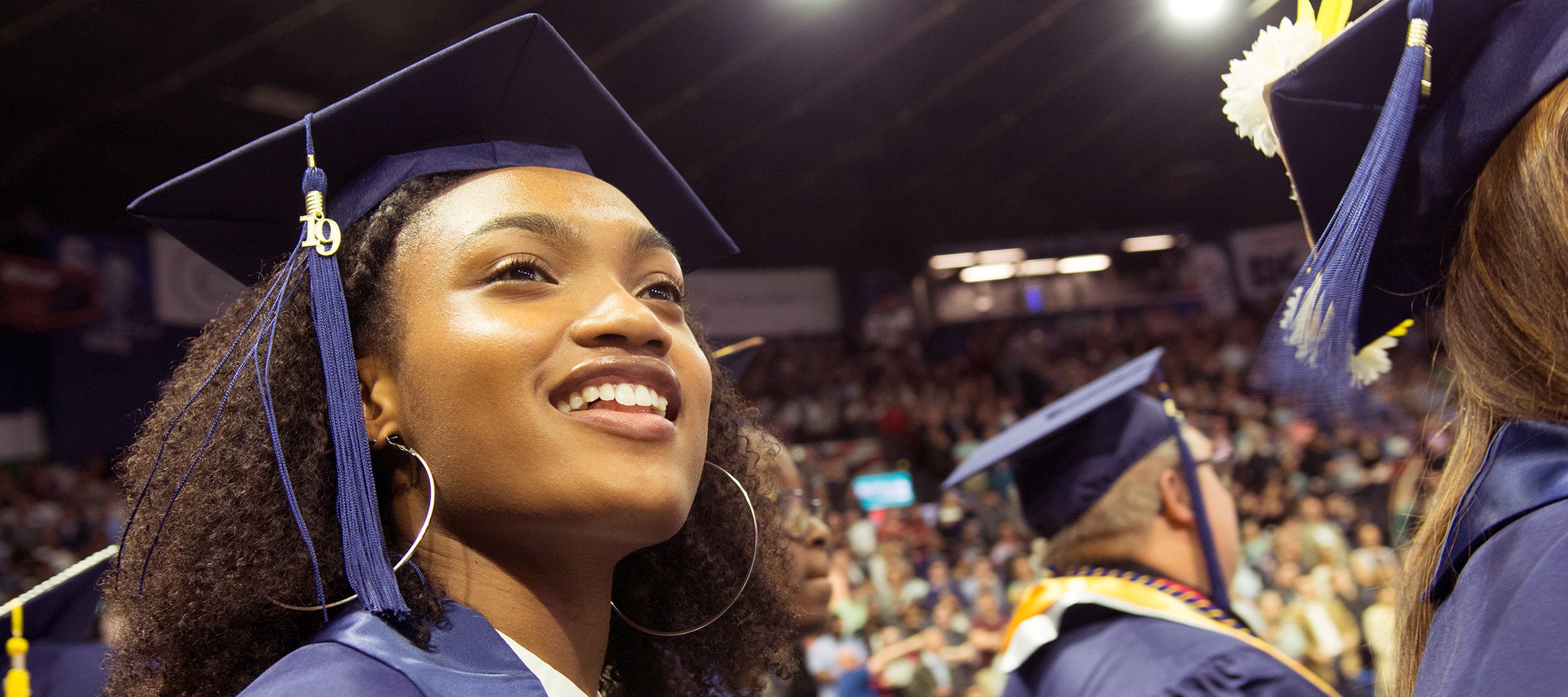 Undergraduate Commencement
Ceremony Details
DATE:  Thursday, May 12, 2022

TIME: 5 p.m.
If you are unsure of what school your major falls in, please review the list here:

LOCATION: 
The Adirondack Bank Center at the Utica Memorial Auditorium, 400 Oriskany Street West, Utica NY 13502
**Parking Information can be found lower on this page under the Parking and Transportation tab.

PLEASE NOTE:
This page is currently in the process of being updated. Some information, including dates, etc, may be subject to change in part to ensure compliance with public health requirements relating to the ongoing COVID-19 pandemic. When this page is fully updated, this message will no longer appear.
Thanks for your patience.
Celebrating Your Achievement
A joyous celebration and a milestone event for our graduates, Utica University Commencement ceremonies are held at the Adirondack Bank Center.
At this time, we anticipate holding one, large undergraduate Commencement ceremony.  Graduates, along with a limited number of invited family and guests, will be allowed to attend this year's ceremony.  All attendees must have a ticket to enter the Adirondack Bank Center.  Please note that Utica University will be closely monitoring public health guidelines related to the COVID-19 pandemic.  Please check this website often for any COVID-19 updates relative to Commencement.
Who Can Participate
Students completing one of the following degrees are eligible to participate in the Undergraduate Commencement Ceremony:
Bachelor of Arts
Bachelor of Business Administration
Bachelor of Science
Bachelor of Science in Nursing
DEFINITIONS:
"Graduation" is an academic process that involves the official conferral of your Bachelor's degree. It involves a careful review of your academic record and approval by the institution. This happens every May, August, and December.
"Commencement" is the annual ceremony where we celebrate our achievements and recognize our degree candidates. This happens once each year, in May.
Degree Application and Commencement Participation (RSVP) form    
Contact Us
Commencement Committee
I would like to see logins and resources for:
For a general list of frequently used logins, you can also visit our logins page.