Welcome to Utica College's Office of Learning Services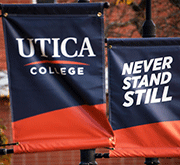 The Office of Learning Services provides advisement, advocacy, and academic support to students who identify themselves as having a disability and to students who are experiencing academic difficulties.
Contact Information
The Office of Learning Services has three professional staff members:
Judy C. Borner, Director of Learning Services
Audrey Caputo, Captionist
Deanna Putrello, Administrative Assistant
To contact the Office of Learning Services:
Telephone: 315-792-3032
E-mail: jcborner@utica.edu
Regular Mail:
Utica College
Office of Learning Services 109 Hubbard Hall
1600 Burrstone Road
Utica, N.Y. 13502

The Office of Learning Services is located in Hubbard Hall
Room 109. Office hours are from 8:30 – 5:00 during the academic calendar year.

For information about Accommodations and Services click here.

---
Mission Statement

Utica College recognizes its obligation under Section 504 of the Rehabilitation Act of 1973 and the Americans with Disability Act of 1990 to provide reasonable accommodations for students with documented disabilities. The mission of the Learning Services office is to ensure that students with disabilities have an equal educational opportunity with other students. Our philosophy is one that promotes self-awareness, self-determination, and self-advocacy for our students with disabilities. The Learning Services office is also committed to promoting access and awareness as a resource to all members of the Utica College community.