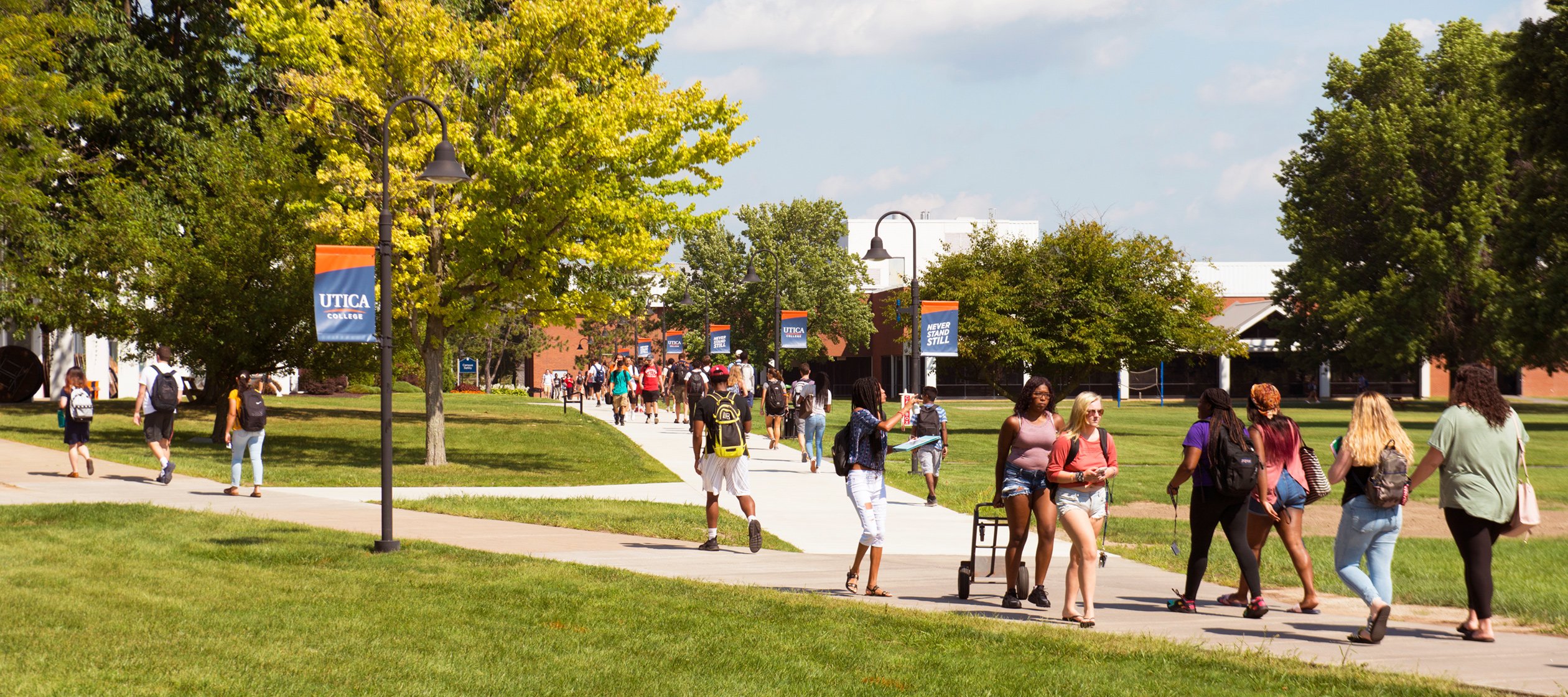 Each academic year, a number of students and student organizations are recognized with a range of awards, including Utica College's Dean Robert Woods Student Life Award.
Recognizing Our Students' Accomplishments
Since 1988, the Student Recognition Ceremony has taken place every spring to recognize our students' accomplishments in the classroom, outside of the classroom, through their involvement in clubs and organizations, and the contributions they have made both to Utica College and the broader community. 
Although we cannot gather in person as we usually would, we want to make sure to recognize these students for their achievements in the past year.  This webpage includes awards students received from academic departments, student organizations, or other campus entities.  Descriptions of these awards and the award recipients are listed below.
Criteria for Selection of Winners
The criteria for selection are stringent. Recipients will have demonstrated accomplishments in more than one of the following areas:
Academic achievement
Excellence in and/or significant contribution to at least one area of campus life and/or the local community
Extensive involvement over the course of their UC experience
Diversity and/or depth of leadership experience
Ability to serve as a role model and institutional ambassador
2020 Award Winners
History
The first Student Recognition Ceremony took place on April 24, 1988.  It was at that ceremony that the framed picture of Strebel Student Center was first awarded.  Seven students and one faculty member received this coveted Student Life Award that year.
The Student Life Award is now known as the Dean Robert Woods Student Life Award and is supported by an endowment.  The namesake for the Dean Robert Woods Student Life Award is Robert "Rob" Woods, who served as Utica College's vice president for student affairs and dean of students from 1987 until 2002.  There is a large plaque in the Dean of Students' office with the names of all of the recipients since 1987.
The winners of the 2020 Dean Robert Woods Student Life Award are:
The Inter-Greek Council Awards recognize the accomplishments that members of the Greek community have made during the academic year with three awards: the Award for Exceptional Campus Involvement, the Award for Exceptional Academic Performance, and the Award for Outstanding Individual in Greek Life.
The 2020 Winners are:
The Excellence in Fostering a Diverse Campus Community Certificate of Recognition recognizes the dedicated individuals who work tirelessly to promote diversity at Utica College by fostering a welcoming and inclusive campus community.
The 2020 Winners are:
Utica College EMS is an official NYS Certified Basic Life Support Agency. It is staffed and operated by students, faculty, and staff who volunteer thousands of hours being prepared to respond to any medical emergency on campus.  These certificates recognize the hard work of just a few of the EMTs who make this entire agency run every single day. 
The following students earned our Certificate of Recognition in 2020:
Dispirito Scholarship
Henry DiSpirito Memorial Scholarship was established by Delores and Theresa DiSpirito in memory of their father, Dr. Henry R. DiSpirito (Utica College Artist in Residence, May 1963 to February 2005).  This award is given to a full-time student in his/her junior or senior year who is majoring in the area of the arts.  Recipients must have a 3.0 GPA or better and demonstrate traits that will make them an asset to their profession and community. 
The 2020 Winner is:
Wasserman Scholarship
Mary Wasserman Fine Arts Scholarship was established by Arthur Wasserman, professor emeritus, in memory of his wife, and is awarded to a fine arts major or minor, with consideration given to the student's talent and exhibit of promise for benefiting from formal art education.
The 2020 Winners are:
Weiss Award
Jerome Weiss Outstanding Theatre Award was established by Professor Emeritus Jerome Weiss.  This award is presented to deserving students involved in the theatre arts while at Utica College.
The 2020 Winners are:
Broadway Theatre League - Pearle S. Nathan Scholarship
Established by the Broadway Theatre League in honor of the late President Emerita Pearle S. Nathan '59, this scholarship is awarded to a student majoring in Speech Communication and/or Dramatic Arts with a concentration in Theatre. Recipient must have a minimum GPA of 3.0. Preference will be given to candidates from the greater Utica area.  
 
The 2020 Winner is:
The Student Government Awards recognize student organizations and individuals who have demonstrated outstanding commitment, service and leadership on the Utica College campus.  The awards presented include:Outstanding Senator, DeEtta Ziemba Outstanding Individual, Transformation Award,  Outstanding Advisor, Outstanding Club Award, Outstanding Individual, Outstanding Class Award and the Utica College Student Friendly Business of the Year Award.
The 2020 Award Winners are:
DeEtta Ziemba Outstanding Individual: Shad Crowe
Outstanding Advisor: Austen Givens
Outstanding Club/Organization: Student Nursing Society
Outstanding  Senator: Jaydy Hernandez
Outstanding Individual: Casey Hourican and Anthony Scalise (tie)
Student-Friendly Business: Blaze Pizza
Transformation Award: Mark Kovacs  
Excellence in Student Governance Award recognizes a student leader with exceptional academic accomplishments and demonstrated leadership throughout their time at Utica College.  The student should also have made significant contributions to student governance as well as the Utica College community. 
The 2020 Winner is:
Commuter Award is given to a student that does not live on campus, has demonstrated leadership in co-curricular activities and student organizations, has achieved academically, and made significant contributions to the Utica College community and/or the surrounding community.
The 2020 Winner is:
Community Service Award is given to a student who has made significant contributions to the Utica College community as well as the surrounding community through their time, actions, talent and dedication. The honoree selected serves as a role model through the way in which they strive to make the world a better place.
The 2020 Winner is:
I would like to see logins and resources for:
For a general list of frequently used logins, you can also visit our logins page.