Please Note:
The grant period for this program has concluded, and services are being transitioned to other offices in Student Affairs. Please contact
the Student Counseling Center
for more information.
About This Program
Safe Trax is an effort to enhance prevention education and services to victims of sexual assault, domestic violence, dating violence and stalking (SADVS). The development and implementation of this program was made possible through a $298,330 grant from the Department of Justice's Reduce Sexual Assault, Domestic Violence, Dating Violence, and Stalking on Campus Program.
Safety Statement
If you are in immediate danger, please contact 911. Your safety is of the utmost importance. Once you are in a safe place, please reach out to one of our confidential or non-confidential resources:
Where To Get Help
Use the resources below or download our "Who To Call, Where To Go" brochure:
Utica Police Department
315.735.3301
New Hartford Police Department
315.724.7111
New York Mills Police
315.736.6623
New York State Police Campus Sexual Assault Victim's Unit
24/7 Hotline: 1.844.845.7269
Sr. Inv. James Goodman
james.goodman@troopers.ny.gov
Office: 315.366.6160
Cell: 315.408.2371
General Resources
Who To Call, Where To Go (Brochure)
Student Bill of Rights
Title IX Information
Sexual Misconduct Policy
Sexual Assault | Rape Resources
Sexual assault definitions
(See: Sexual Misconduct Policy)
Non-Consensual Sexual Intercourse
Sexual assault of this type includes the penetration, no matter how slight, of the vagina or anus with any body part or object, or oral penetration by a sex organ of another person, without the consent of the other person.
Non-Consensual Sexual Contact
This form of sexual assault includes any intentional touching, however slight, for purposes of sexual gratification, of the private body parts (including genitalia, anus, groin, breast, inner thigh, or buttocks) of another person, forcibly and/or against that person's will; or, not forcibly or against the person's will where the victim is incapable of giving consent because of their youth or because of their temporary or include nonpenetrative acts, touching directly  with an object, and/or touching the private body parts of another over clothing.
Incest
Non-forcible sexual intercourse between persons who are related to each other within the degrees wherein marriage is prohibited by law.
Statutory Rape
Non-forcible sexual intercourse with a person who is under the statutory age of consent. The statutory age in NY is 17 years old.
Affirmative Consent
In order for individuals to engage in sexual activity of any type with each other, there must be clear affirmative consent. Whenever the term consent is used in this policy, it should be understood to mean affirmative consent as defined here.
Affirmative consent is a knowing, voluntary and mutual decision among all participants to engage in sexual activity. Consent can be given by words or actions, as long as those words or actions create clear permission regarding willingness to engage in sexual activity. Silence or lack of resistance, in and of itself, does not demonstrate consent.
The definition of affirmative consent does not vary based on a participant's sex, sexual orientation, gender identity, or gender expression. Under this policy, "No" always means "No." At the same time, silence, or the absence of an explicit "no", cannot be assumed to indicate consent.
Consent to some form of sexual activity between or with any party cannot be automatically taken as consent to any other sexual activity.
Past consent to sexual activity cannot be presumed to be consent to engage in the same sexual activity in the future.
Consent is required regardless of whether the person initiating the act is under the influence of drugs and/or alcohol.
Consent can be withdrawn at any time by expressing in words or actions that the individual no longer wants the sexual activity to continue and, if that happens, the other person must stop immediately.
Affirmative consent cannot be obtained by use of force, compelling threats, intimidating behavior, or coercion. Consent cannot be given when a person is incapacitated, as defined below. Depending on the degree of intoxication, someone who is under the influence of alcohol, drugs, or other intoxicants may be incapacitated and therefore unable to consent.
Incapacitation
Incapacitation occurs when an individual lacks the ability to knowingly choose to participate in sexual activity. Incapacitation may be caused by the lack of consciousness, mental disability, being asleep, being involuntarily restrained, or if an individual otherwise cannot consent. In order to give affirmative consent, one must be of legal age, which is 17 in the state of New York. Use of alcohol or other drugs does not, in and of itself, negate a person's ability to give affirmative consent. However, depending on the degree of intoxication, someone who is under the influence of alcohol or drugs or other intoxicants may be incapacitated and therefore unable to consent.
A person who has been drinking or using drugs is still responsible for ensuring that the other person provides affirmative consent to engage in sexual activity. An individual's incapacity may also be caused by consuming "daterape" drugs. Possession, use, and/or distribution of any of these substances (including Rohypnol, Ketomine, GHB, Burundanga, and others) is prohibited, and administering any of these drugs to another person for  purpose of inducing one to consent to sexual activity is a violation of Utica College's Sexual Misconduct Policy.
Dating | Domestic Violence Resources
Dating Violence is violence (including but not limited to sexual or physical abuse or the threat of such abuse) committed by a person who is or has been in a social relationship of a romantic or intimate nature with the victim.
Forms of Abuse
Sexual Abuse
Sexual activity that occurs without willing, active, unimpaired consent, such as unwanted sexual touch, sexual assault, rape, or tampering with contraceptives.
Emotional / Verbal Abuse
Non-physical damaging behaviors like threats, insults, screaming, constant monitoring, or isolation.
Stalking
Being repeatedly watched, followed, monitored, or harassed. Can occur online or in-person and include giving unwanted gifts.
Physical Abuse
Any intentional use of physical touch to cause fear, injury, or assert control, such as hitting, shoving, and strangling.
Financial Abuse
Exerting power and control over a partner through their finances, such as taking or hiding money, or preventing a partner from earning money.
Digital Abuse
Using technology to bully, stalk, threaten, or intimidate a partner using texting, social media, apps, tracking, etc.
---
Abuse definitions © 2017 Break the Cycle
Domestic violence (also referred to as intimate partner violence (IPV), dating abuse, or relationship abuse) is a pattern of behaviors used by one partner to maintain power and control over another partner in an intimate relationship.
Domestic violence doesn't discriminate. People of any race, age, gender, sexuality, religion, education level, or economic status can be a victim — or perpetrator — of domestic violence. That includes behaviors that physically harm, intimidate, manipulate or control a partner, or otherwise force them to behave in ways they don't want to, including through physical violence, threats, emotional abuse, or financial control.
Multiple forms of abuse are usually present at the same time in abusive situations, and it's essential to understand how these behaviors interact so you know what to look for.
(Source: National Domestic Violence Hotline)
Stalking Resources
Stalking
A good behavioral definition of stalking is a pattern of behavior directed at a specific person that would cause a reasonable person to feel fear.
Stalking is a pattern of behavior that requires 2 or more behaviors.
Many different behaviors can be part of a stalking pattern.
Some stalking behaviors are criminal (for example, property damage)
Others are not crimes on their own (for example, sending gifts), but can become criminal when part of a stalking course of conduct.
Common stalking behaviors include (but are not limited to):

calling or texting excessively
following
spreading rumors
surveillance and tracking

Stalking is directed at a specific individual, not a group. However, stalkers may target other people close to the primary victim-like family members or a new boyfriend or girlfriend.
Fear is key to the definition of stalking.
---
Source: SPARC
Coordinated Community Response Team (CCRT)
The CCRT is a dedicated group of faculty and staff from the Utica University community working together to achieve the DOJ OVW Campus Grant goals outlined in the Strategic Plan.
CCRT Members:
Carl Lohmann, Director of Community Standards
Lisa Green, Title IX Coordinator
Musco Millner III, Director of Campus Safety
Marissa Finch, Director of SLCE
Ryan Clement, Project Manager
Jason Francey, Assistant Director for College Engagement
Prof. Jennifer Yanowitz, Psychology Professor
Kristin St. Hilaire, Head Women's Lacrosse Coach
Maria Klosek, YWCAMV Campus Advocate
Shad Crowe, VP for Emergency Management
Sr. Inv. James Goodman, NYS Trooper CSAVU Unit
Megan Hawley, Student Advisory Board Representative
Elaine Karagiannis, Student Advisory Board Representative
Ginamarie Pizza, Student Advisory Board Representative
The CCRT Student Advisory Board serves to provide critical direction, feedback, and suggestions for the CCRT. Their input helps to guide the CCRT on their progress to reach goals from the Strategic Plan.
Current Members:

Emmalyn Ylaya
Kelsey Carter
Elaine Karagiannis
Peter Gaughan
Abigail Rumney
Alyssa Winberg
Amara Clemente-Johnson
Alyssa Perez
Angeline Viti
Anais Jaikissoon
Braden Gokey
Ella Rockwell
Ginamarie Pizza
Haley Stickles
Isabella Mesturini
Jaydy Hernandez
Jessica Ostrowski
Katherine Hawley
Michenelle Delille
Megan Hawley
Natasia Quick
Nicole Herringshaw
Nadia Nelson
Rebecca Clifford
Ricki Nickens
Tegan Kurucz
Zhane McKnight
Education Programs
Utica University, through the Safe Trax Program and working with the Coordinated Community Response Team (CCRT) offer multiple approaches to prevention education and bystander intervention education.
If you want to learn more about prevention programming or wish to request a program, please contact the Student Counseling Center.
Contact Us
Executive Director for Student Health and Wellness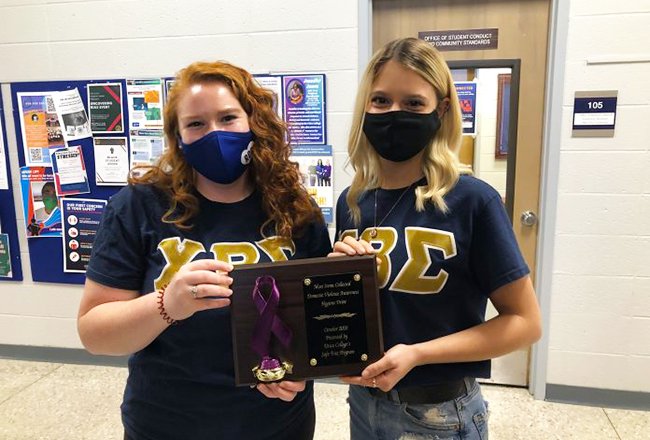 Domestic Violence Awareness Hygiene Drive
Read this Tangerine article about the Utica University Safe Trax program Domestic Violence Awareness Hygiene Drive for the month of October
View Story
I would like to see logins and resources for:
For a general list of frequently used logins, you can also visit our logins page.