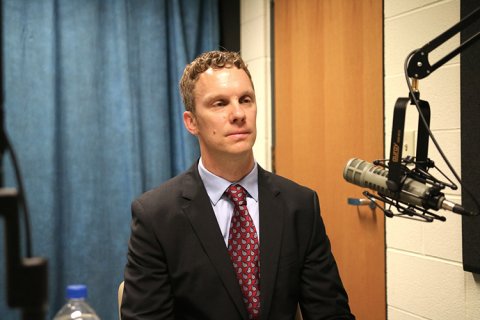 Position
Distinguished Professor of Political Science
Phone
(315) 223-2567
Email
Office
122 DePerno Hall
School of Arts & Sciences
Position type
Biography
Luke Perry is a Distinguished Professor of Political Science at Utica University. Perry was a graduate fellow at the University of Massachusetts where he earned an M.A. and Ph.D. in Political Science with expertise in American politics and comparative politics.
Dr. Perry is a passionate educator, raised by two public school teachers, who prioritizes experiential learning. Perry has taken students throughout the country, and the world, including serving as floor correspondents at national party conventions, attending trials at the International Criminal Court, and seeing the effects of climate change firsthand and serving as certified dog handlers at the Iditarod Dog Sled Race.
A devoted teacher-scholar, Perry's research focuses on equality and democracy, particularly in relation to civil rights, elections, and religion and politics. Perry's first book, Mormons in American Politics; From Persecution to Power (Praeger, 2012), provided a systematic account of how Mormons overcame being a persecuted religious group in America to fill prominent positions in American government. Perry's second book, Mitt Romney, Mormonism, and the 2012 Election (Palgrave MacMillan, 2014), examined what Romney's nomination meant for religious minorities, Mormons, and religion and politics in America.
Perry's third book, Religious Responses to Marriage Equality (Routledge, 2018), examined responses to the establishment of marriage equality through comparative case studies of religions across America's religious and political spectrum.

Perry's fourth book, Donald Trump and the 2018 Midterm Battle for Central New York (Palgrave, 2019), examined the impact of Donald Trump on the 2018 midterm campaign with case studies of NY-19, NY-21, NY-22, and NY-24.
Perry's fifth book, The 2020 Democratic Primary; Key Developments, Dynamics and Lessons for 2024 (Palgrave, 2021), and sixth book The 2020 Presidential Election; Key Issues and Regional Dynamics (Palgrave, 2022), were edited volumes that examined the dynamics of the 2020 presidential election.
A Fulbright Scholar, Dr. Perry has lectured at universities throughout Europe and served various organizations, including the Junior Statesmen of America, the Kellogg Foundation, the U.S. Peace Corps, and The Washington Center. Perry, the recipient of Utica University's Harold T. Clark Award for exampling the highest traditions of scholarship, is a public scholar who routinely shares his expertise for local, state, and national print, broadcast, and digital media outlets, including The New York Times, Wall St. Journal, The Washington Post, The LA Times, Associated Press, Politico, The Economist, and Yahoo News.
Dr. Perry has been a panelist for Ivory Tower on WCNY-PBS since 2018 and a regular contributor to Spectrum News since 2020. Perry was previously a public affairs columnist for Utica's Observer Dispatch from 2015 to 2020 and a political analyst for WKTV News Channel 2 from 2012 to 2020. He served as a correspondent at the Republican and Democratic National Conventions in 2016 and the presidential inauguration in 2017.
Perry founded The Utica University Center of Public Affairs and Election Research in 2018, which he directs. The Center has a global team of contributors who provide political analysis on state, national, and international politics. (Learn more at http://www.ucpublicaffairs.com )
Perry served in local government for six years as a two-term school board member in Clinton Central School District, where he lives with his wife and two children. Perry is director of Utica University's Masters in Public Administration, an interdisciplinary program he developed and directs to train current and aspiring public servants and non-profit practitioners.
Education
B.A. York College of Pennsylvania
M.A., Ph.D. University of Massachusetts
Awards and Recognition
Harold T. Clark Jr. Award, 2018
I would like to see logins and resources for:
For a general list of frequently used logins, you can also visit our logins page.