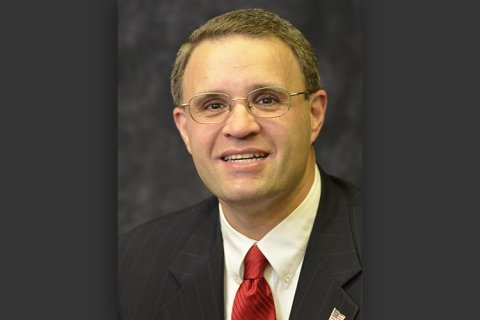 Position
Associate Professor of Management & Administrative Studies
Phone
(315) 792-3246
Email
Office
102 Bull Hall
School of Business & Justice
Position type
Learn more about Dr. Brown
Biography
Dr. James C. Brown is a tenured, Associate Professor of Management & Administrative Studies and Director of the Master's Degree in Healthcare Administration and Nursing Home Administrator Certificate of Advanced Studies (CAS) in the School of Business & Justice Studies; joining the full-time faculty in January of 2014 after serving multiple senior administrative roles at Utica University since 2005. Most recently Dr. Brown served as the Vice President for the School of Online & Extended Studies under President Emeritus Todd S. Hutton, before moving over to the full-time faculty in 2014. Dr. Brown has also served as Assistant Vice President for Marketing & Communications, Assistant Vice President for Academic Affairs & Dean of the School of Graduate & Extended Studies, and Vice President for Strategic Initiatives.
Dr. Brown also serves as an inpatient pulmonary team resident liaison at a children's hospital, supporting specialized pulmonary care teams including attending and resident physicians, fellows, advanced practice providers, pharmacists, and nursing teams charged with providing world class care to the complex medical needs of the kiddos and families that come through the hospital's doors.
Dr. Brown holds a bachelor's degree in criminal justice from Utica University (1988), a master's degree in public administration from Sage Graduate School in Albany (1994), where he was awarded the Outstanding Public Administration Student, and a doctorate in education from the University of Phoenix School of Advanced Studies in educational leadership (2007).
Dr. Brown's diverse background includes a 30+ year full, part-time and volunteer public safety career in law enforcement and public administration as a police officer, police commander, and police administrator, as well as a volunteer firefighter and advanced cardiac emergency medical technician (NYS AEMT-III). Dr. Brown also served as the Oneida County STOP-DWI Program Administrator for eight years and as vice president for public relations, security and facilities for the former Herkimer County Trust.
Dr. Brown has also served as the director of security for the Boilermaker Roadrace and National Distance Running Hall of Fame, at the time, America's largest 15K Roadrace. In 1996 he served as a volunteer police supervisor for the Security Team Program at the Centennial Olympic Games in Atlanta, Georgia, commanding a team responsible for security at the Rhythmic Gymnastics & Volleyball venues, and Olympic Village at the University Georgia at Athens (UGA). Although unable to attend during the Games period, Dr. Brown was also selected as a member of the volunteer Police force for the Utah Public Safety Command during the 2002 Winter Olympic Games in Salt Lake City, Utah.
Dr. Brown actively teaches graduate and undergraduate classes in all areas of the Criminal Justice, Healthcare Administration, and Business/Management programs at Utica University. Dr. Brown is a member of the Academy of Criminal Justice Sciences (ACJS) and the American Society for Public Administration (ASPA). He also serves as an active/retired member of the International Association of Chiefs of Police (IACP), and New York State Association of Chiefs of Police (NYSACOP). He is also a proud associate member of the United States Marine Corps League.
Dr. Brown has co authored a textbook, The Corr of the American Criminal Justice System: Lessons and the Anatomy of an American Tragedy, and several other journal articles. Dr. Brown's research interests include public and private sector leadership, administration, mentorship, organizational design, development and change, law enforcement/American policing, and American Constitutional Law.
Education
B.S. Utica College
M.S. Sage Graduate School
Ed.D. University of Phoenix
Past Research
Brown, J.C. & Philo, R.L. (2017). The Corr of the American criminal justice system: lessons & the anatomy of an American tragedy. Dubuque, Iowa. Kendall Hunt Publishing Company. ISBN: 978-1-5249-1417-2
Brown, J.C., Philo, R.L., Callisto, A., & Smith, P.J. (2016). Command transitions in public administration: A quantitative and qualitative analysis of proactive strategies. Springer Briefs in Policing, 1(1), 1-57. doi: 10.1007/978-3-319-27844-5
Brown, J.C. (2007). Full- and part-time employee stress and job satisfaction at two upstate New York colleges. Dissertation Abstracts International, 68 (08), (UMI No. 3277201).
I would like to see logins and resources for:
For a general list of frequently used logins, you can also visit our logins page.