Collegiate Science and Technology Entry Program (CSTEP)
Collegiate Science and Technology Entry Program (CSTEP)
CSTEP's mission is to increase the number of students from under-represented groups who are pursuing professional licensure and careers in mathematics, science, technology and health-related fields.
CSTEP is funded by a grant from the New York State Education Department.
About CSTEP.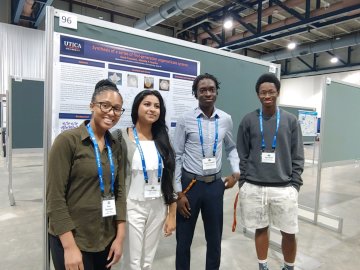 Eligible majors include:
Accounting
Biology
Biochemistry
Chemistry
Computer Science
Criminal Justice (Pre-Law, Pre-Forensics, etc.)
Cybersecurity
Dietetics and Nutrition
Geoscience
Health Studies
Health Studies/Occupational Therapy
Health Studies/Physical Therapy
Mathematics
Math/Science Education (i.e. students who major in mathematics or sciences who are also enrolled in teacher education programs)
Neuroscience
Nursing
Physics
Psychobiology
Psychology
Psychology Child Life
Sociology and Anthropology (with a career goal of social work or other similar licensed profession)
Wellness and Adventure Education - Health and Physical Education (B.S. to M.S.)
African Americans, Latinos, and Native Americans qualify for the program, as do low-income Asian Americans and Caucasians as defined by the state's income guidelines (see economic criteria, under eligibility, below). CSTEP students receive careful guidance in their major from faculty members who lend their areas of expertise as academic advisers.
Program Services
In addition to tutoring, academic advising and counseling services, program students complete an internship in their chosen field, attend conferences and workshops that aid in preparation for the profession. Students receive some financial support to cover the cost of preparatory exams for graduate studies, licensure exams and registration fees for conferences/workshops. Students also gain practical experience through job shadowing, mentoring, and internships.

CSTEP provides academic enrichment and research experience in STEM content areas. Projects consist of academic year and summer components including:
Supervised training in research methods
Graduate/professional school admissions preparation
Standardized tests preparation
Academic and career development activities
Program Details:

I would like to see logins and resources for:
For a general list of frequently used logins, you can also visit our logins page.