Utica Joins East Coast Conference Esports; State-of-the-Art On-Campus Competitive Gaming Arena to Open in Carbone Auditorium
Utica Joins East Coast Conference Esports; State-of-the-Art On-Campus Competitive Gaming Arena to Open in Carbone Auditorium
"Utica is an excellent, innovative institution and we have no doubt that they will develop their new program quickly."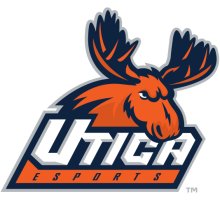 Utica's Esports Club is leveling up.
Utica has accepted an invitation to join East Coast Conference (ECC) Esports, giving UC students the opportunity to compete and represent the institution on a national stage.
President Laura Casamento also announced the institution will construct a state-of-the-art esports center on campus. The new facility, which will be located in the current Carbone Auditorium inside Bull Hall, will feature 30 computer stations with desktop gaming systems, a main stage/large screen for gaming competitions, seating for announcers and couches for spectators.
The ECC entered the world of Collegiate Esports in Spring 2019 with six institutions competing in League of Legends and has quickly expanded to 14 schools participating in a growing roster of games and championship events. Utica joins current members Daemen College, University of the District of Columbia, D'Youville College, Farmingdale State College, Hood College, Mercy College, Molloy College, New York Institute of Technology, Old Westbury College, Southern New Hampshire University, College of Staten Island, St. Thomas University (Fla.), and St. Thomas Aquinas College.
"We are pleased to bring Utica on board as a new member of ECC Esports," said East Coast Conference Commissioner Dr. Robert Dranoff. "Utica is an excellent, innovative institution and we have no doubt that they will develop their new program quickly."
Utica Esports grew from an offshoot of the College's Cybersecurity Club in 2019, and has fast become one of the most popular student organizations on campus. 
"This news is a credit to the members of the Esports Club, who took the initiative and helped us understand the benefits of adding this fast-growing sport to our institution," says Jeffery Gates, Utica Senior Vice President for Student Life and Enrollment. "It's an inclusive sport that will attract a new generation of students and bolster our recruitment and retention efforts."
The new Carbone Esports Auditorium will give students access to high-tech gaming systems, and allows the entire team to play simultaneously, which members say will be a huge boost to team morale.
"Because of the pandemic and some equipment issues members deal with, we've never been able to play together as a team in the same physical space before," says Jared Best '22, the club's webmaster and one of its founders. "Being able to high-five your teammate in person will definitely solidify that team aspect, the same way it does in traditional sports."
ECC Esports heads into its fourth season during the 2021-22 academic year. The league has offered championships in Super Smash Bros. Ultimate, Rocket League, Valorant, Overwatch, and League of Legends, and continues to explore the addition of new games to its roster.
Contact Us
Director of Media Relations