Tangerine Celebrates 75 Years with Special Edition
Tangerine Celebrates 75 Years with Special Edition
Utica College Student-Run Newspaper Has Borne Witness to History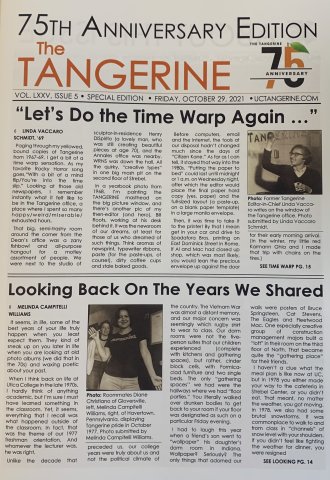 The pages of The Tangerine have documented several wars, seen 14 U.S. presidents, myriad changes in culture and technology, together with thousands of readers; it is now celebrating its 75th anniversary. Utica College's student-run newspaper recently released its anniversary edition, which includes emotional and insightful stories written by Tangerine alumni and the current editor-in-chief. These stories document many of the prominent issues and moments that have occurred over the past 75 years, both on campus and in the U.S.
After 75 years, it is no doubt a tough task to pare down hundreds if not thousands of amazing stories composed by amazing writers that were once in the positions students still hold. But, after a vigorous, yet exciting process, UC and the Tangerine were able to once again with no surprise, produce top-level stories for this incredibly special edition that is sure to leave its readers in awe.
Stories ranged from heartfelt tributes for some of the most influential people in Utica College history, such as the late emeritus professors Jack Behrens and Raymond Simon, two individuals whose dedication and passion for UC will forever be remembered and beyond appreciated, to alumni recaps of their time down to comic funnies.
Simply put, this edition is special. It recaps the rich and fascinating history of not only Utica College itself, but the students who have come and gone since the inaugural year of this school and newspaper. 
If you would like to read this extraordinary edition of the Tangerine, please visit:
Tangerine 75th Anniversary Edition
Contact Us
Director of Media Relations