Prestigious Sylvia Plath Collection Acquired by Utica University's Gannett Library
Prestigious Sylvia Plath Collection Acquired by Utica University's Gannett Library
"This is definitely a mark of distinction for our library and for students."
Utica University has acquired a valuable collection of work by and about Sylvia Plath, a noted American 20th century poet, novelist and short-story writer.
Plath is best known for two of her published collections, The Colossus and Other Poems (1960) and Ariel (1965), as well as The Bell Jar, a semi-autobiographical novel published shortly before her tragic suicide in 1963. Following her death,  many more works were published, including poems, short fiction, and writing for children. The Collected Poems were first published in 1981; the following year Plath was posthumously awarded a Pulitzer Prize in Poetry.
Gary Leising, distinguished professor of English at Utica University and Plath scholar, said, "This collection will provide our students, especially English majors, with the opportunity to do deep dives into literary research in our library by learning about one of the most important poets of the twentieth century."
The prestigious collection is one of a kind, and includes much more than just her own documents. The collection consists of individual copies of each of her published works, various correspondence, manuscripts, article clippings, and works by her family members including her husband, England's former poet laureate Ted Hughes, and their children.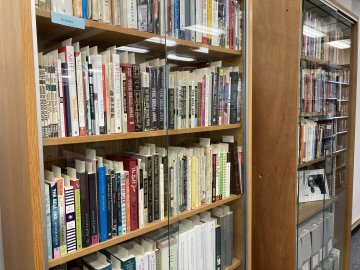 "As a unique collection, this is definitely a mark of distinction for our library and for students," said Leising. "I'm looking forward to the next time I teach my class on Sylvia Plath, when I'll be able to bring students to the library and let them browse, search, and engage with the collection."
The collection was acquired from Peter K. Steinberg, author and Plath scholar. Steinberg wrote a biography of Plath, co-edited two volumes of her complete letters, and co-authored another book about Plath's archives. He built the collection over his career as a researcher, and it includes over 300 books by or about Plath, more 1,200 print articles, and about 100 other miscellaneous pieces including audio-visual materials.
The documents are stored in locked cases on the second floor of the library. In order to use or view the books, please check with a librarian, as protocols to protect the safety of the collection are in place.
Contact Us
Director of Media Relations