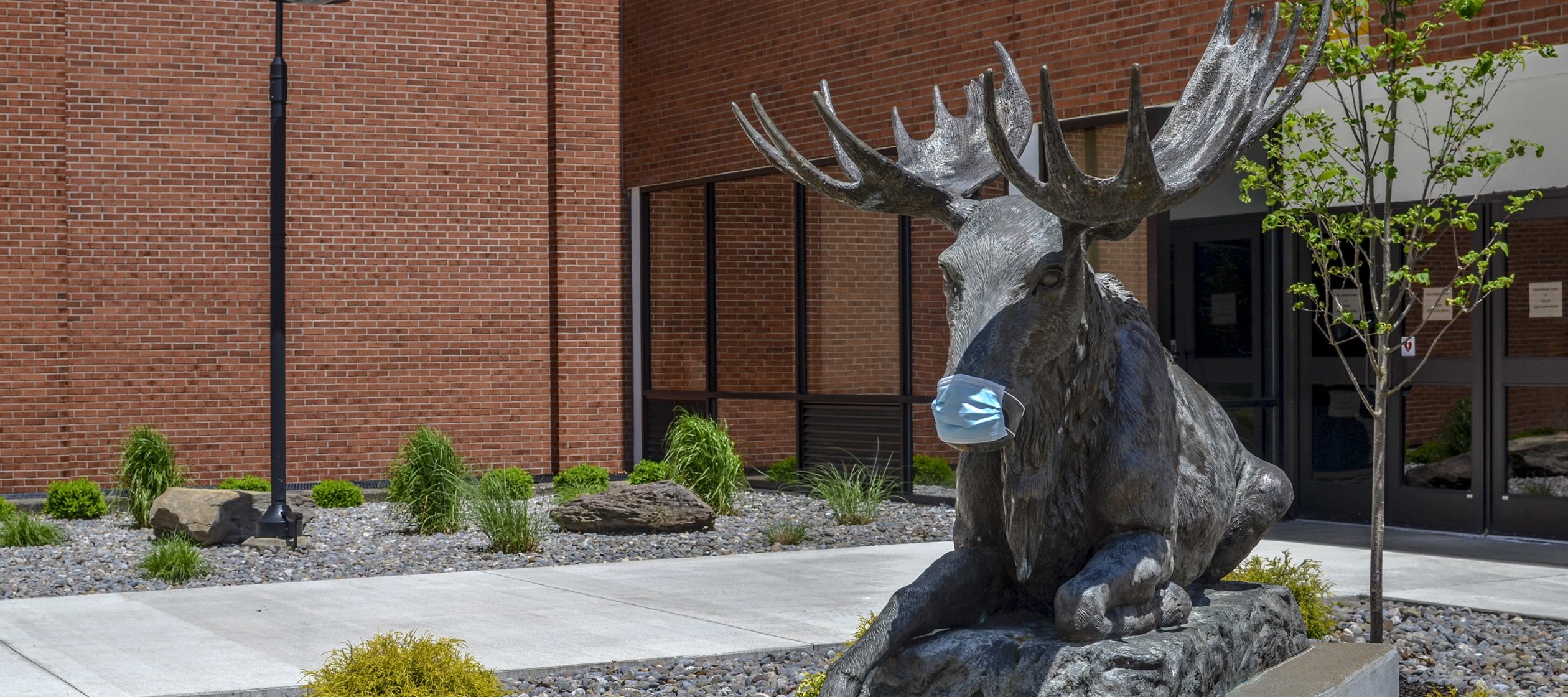 Moving forward amid COVID-19
This page is an archive of COVID-19 related information from the Spring 2021 semester. For the most updated information regarding Utica College's COVID policies and protective measures, please visit here.
As Utica College, along with other parts of the region and nation move forward with functions and activity, we continue to vigilantly monitor and respond to the worldwide coronavirus (COVID-19) pandemic and its impact on the Utica College community as developments change and new information and guidance is made available.
Deadline for Submitting Proof of Vaccination
See the June 25 memo from President Casamento, below.
View Memo
---
For an archive of Utica College's responses throughout the months of the pandemic, please visit:
Coronavirus - Spring 2020 Semester 
Moving Forward - Fall 2020 Semester
---
PLEDGE
As a Utica College student, I understand that the College has adopted the following requirements to promote the collective well-being of our community. I further understand that my ability to enter, take classes and remain on the Utica College campus is dependent on my adherence to these policies. I pledge to follow these policies not just for my own health, but also to protect and safeguard the health of those in the UC community around me, including fellow students, faculty and staff. I acknowledge and agree that these rules and guidelines may change as public health guidance across the country evolve and as new testing and tracing methods emerge. I agree to abide by any new rules and guidelines that are issued.
Required Testing, Education, and Contact Tracing Self-isolation, Quarantine, and Preventative Health
I will complete the required online COVID-19 education module prior to arriving on campus.
I will participate in frequent routine COVID-19 testing as directed by the College and will complete a daily health screening concluding taking my temperature.
If I test positive for COVID-19, I will share truthful information with the contact tracers about others who may be at risk.
If I test positive for COVID-19, I will comply with the College's and the State/County public health and self-isolation guidelines.
Promptly upon discovering any symptoms of COVID-19, I will immediately contact College Health Center (315-792-3094) and seek guidance, and comply with the medical instructions I am given.
If I am found to have been in contact with someone who has tested positive, I will comply with all testing and self-quarantine protocols.
Unless it's for health or other identified reasons, when a COVID vaccine becomes available, I will receive it.

Physical distancing, face coverings, and behavioral requirements 
I will wear a face mask or facial covering (fully covering my mouth and nose) in the presence of others, and in settings where other social distancing measures are difficult to maintain (e.g. common work spaces, meeting rooms, lounges, and classrooms), in any areas outside of my residence hall room and any public areas including, but not limited to, classrooms, hallways, laundry rooms, open field areas and dining halls.
I will follow Utica College's directives for physical distancing in residential spaces and other campus buildings and areas.
I will keep my contact information updated and current. The Office of the Registrar should be notified of any changes at 315-792-3195.
If any in-person gatherings are allowed at a future time, I will follow all current, posted guidelines at Utica College, in indoor or outdoor settings, and I will neither host nor attend any gathering that violates these requirements on or off campus. You should know that fines in the CIty of Utica and surrounding municipalities as well as the County of Oneida.
When accessing dining services, I follow all COVID-19 guidelines.
Hygiene & Sanitation
I will practice good hygiene, including thorough and frequent hand washing and the use of hand sanitizer, especially when returning from outside, after using a restroom, and before meals.
I will regularly wash any reusable cloth mask per guidelines.
I will sanitize any public space that I use prior to and at the completion of use
Travel 
I will remain in the immediate area for the spring semester. If I must travel during the spring semester, I will notify the Director of Emergency Management and comply with any return policies or directives, which may include testing and quarantine.
Guests, Security, and Access 
I will not have guests in my residence hall. I understand that "guest" herein means anyone not assigned to my residence hall. This includes Utica College students living in other residences on campus, students living off campus, or external guests, such as siblings/family or friends.
I will only access my own residence hall and will not access other residence halls.
I will not provide access to Utica College buildings to anyone.
I acknowledge that these rules and guidelines may change as life on campus and public health guidance across the country evolve and as new testing and tracing methods emerge.
I agree to abide by any and all new rules and guidelines that are issued by the College
I will respect the wishes of others who request space/social distancing and who remind me to wear my mask if I forget to do so or follow the other expectations found within this pledge.
New York State Guidelines and Information
New York State has issued guidance intended to address all types of in-person higher education institutions, including but not limited to community and junior colleges, universities, graduate and professional schools, medical schools, and technical schools. 
Previous Communications
June 25, 2021
Dear Utica College Students, Families, Faculty, and Staff,
I have some important news to share about changes we have made in the College's pandemic response plan. As we prepare for the Fall semester, we are taking steps that will, I believe, hasten our return to the kind of campus life we have so greatly missed over the past 16 months while continuing to protect the health and safety of the entire Utica College community.
The changes are as follows:
Effective as of the opening of the Fall 2021 semester, Utica College is adding the COVID-19 vaccination to the list of required immunizations for students as recommended by the Centers for Disease Control and Prevention, the American College Health Association, and other public health agencies, subject to medical and religious exemptions. New and returning students enrolled in campus-based programs in New York state will be required to submit proof of full vaccination for COVID-19 to the Student Health and Wellness Center (health@utica.edu) no later than Friday, August 6. (Those who have already submitted proof do not need to do so again.) Physician-approved medical exemptions and requests for approved religious exemptions should be e-mailed to health@utica.edu no later than Friday, July 30. Further details are available at www.utica.edu/covid-immunization.
All full- and part-time employees of the College based in New York state are required to be fully vaccinated against COVID-19. This includes faculty, staff, and auxiliary services employees. Those who have not already submitted documentation of full vaccination to the Office of Human Resources (hr@utica.edu) must do so by Friday, August 6. Physician-approved medical exemptions and requests for approved religious exemptions should be e-mailed to hr@utica.edu no later than Friday, July 30.
Effective immediately, members of the UC community who are fully vaccinated and have submitted the necessary immunization documentation to the College are no longer required to wear masks or observe social distancing while on campus. If you remain unvaccinated for any reason, masks are still required, in accordance with CDC guidelines.
Until further notice, all individuals must continue to submit the daily health screening.
I ask that you be respectful of anyone who will continue to wear a mask, whether because they have not yet received vaccination or because they are wearing a face covering due to their own comfort level.
We are making these changes because community-wide vaccination represents our best path back to the highly engaging, interactive, and personal campus experience UC has long been known for. With the new vaccination protocols in place, consistent with current guidance from the CDC, we can look forward to a Fall semester free of social distancing and weekly testing, as well as a return to a full slate of student activities, social gatherings, internships and other real-world learning opportunities, and large crowds at athletic events.
While some may question the decision to require vaccinations given some recently-lifted state mandates, we know that the vaccination rate among traditional college-age students nationwide is not yet keeping pace with the vaccination rate for the overall adult population. By most reports, only 35 percent of traditional college-age students have been fully vaccinated. Requiring vaccinations will help greatly mitigate the risks associated with an anticipated rise in infections this fall and winter, particularly among unvaccinated individuals, as more infectious variants become more prevalent. It should also be noted here that college campuses are much like other congregate, high-risk settings.
I recognize that there may be differences of opinion regarding the new vaccination requirement, however, I believe that it is the right decision. To that end, I am grateful to the AAUP-UC and the Utica College Board of Trustees for their endorsement of this policy. As a community, we have been through a great deal over the course of this pandemic. I know that everyone reading this shares a deep desire to be free of the many restrictions COVID has placed on our lives. I am confident that community-wide vaccination represents our best opportunity to reclaim in full the richness of UC's uniquely personal campus experience while keeping the health and safety of our students, faculty, staff, and families as our top priority. 
We are fortunate that multiple vaccine options are immediately available in all parts of the country. To find out where you can get a vaccine, visit covid19vaccine.health.ny.gov  or vaccines.gov. We will continue to actively assist anyone in need of help locating available vaccine options over the summer. I also encourage anyone who has questions or hesitancy about vaccination, to visit www.utica.edu/covid-forward, where we will continue to provide links to timely articles and other resources.
We are finally in the home stretch. If you haven't already done so, get your vaccinations in the coming weeks. Take this important step now so that, together, we can move forward as a community this fall.
Sincerely,
Laura M. Casamento, President
June 16, 2021
Dear Colleagues,
Governor Cuomo announced yesterday that New York state has achieved the goal of having 70 percent of adults vaccinated against COVID-19, effectively lifting the state's remaining executive orders on COVID-19 in most settings, including higher education institutions. This encouraging milestone is tempered somewhat by the news that the Mohawk Valley region is lagging behind the rest of the state in vaccination efforts, with some communities in our region well below the 70 percent threshold.
The Utica College Board of Trustees will be meeting next week to review plans for the return to fully in-person operations in time for the Fall semester. I will update you on policy changes after those discussions have concluded. Until then, I ask that you continue to observe all COVID-19 guidelines that remain in effect on campus, including wearing masks indoors when around others and completing the daily health screening.
As has been said previously, the return to normal operations will necessarily be a careful and deliberate process. Nevertheless, I remain fully confident that we will achieve something that looks a lot like normal over the course of this summer as we prepare for an academic year filled with gatherings, celebrations, and the many uplifting features of campus life we have so greatly missed.
So take heart –we have a lot to look forward to.

Sincerely,
Laura Casamento
President
March 31, 2021
Dear Pioneer,
With the arrival of warm weather and a more definitive end to the season of snow (excluding tomorrow), I am glad to be able to share some news that should greatly improve your campus experience over the coming weeks while continuing to protect the health and safety of our entire community.
Beginning Monday, April 12, residential students will be allowed to visit other residence halls during specific, designated hours. Of course, all masking, social distancing, and other COVID prevention protocols will remain in effect for these visits. Details about this change will be provided in a separate communication from SLCE.
In addition to this, students, faculty, and staff will be permitted to attend athletic events in accordance with State regulations, effective Friday, April 2. Mandated restrictions on maximum seating capacity, social distancing, and other measures will be observed at all events.
As the weather continues to improve, SLCE and other offices on campus will be providing expanded outdoor programming and activities through the end of the semester. I encourage you not only to take advantage of these opportunities, but to spend some quality time outdoors, take a walk or a run, toss a frisbee, or just relax with friends. With the proper precautions, it is the safest way to enjoy your time on campus this spring.
I am also very pleased to announce that UC will soon be hosting a COVID vaccination clinic for students on campus. The Office of Emergency Management is working with the Oneida County Health Department to make this happen and will share details in the coming days.
To a large extent, the policy changes I announced above reflect the degree of commitment you have shown this semester to acting responsibly, observing all COVID precautions, and protecting one another's well-being. We are extremely grateful for your cooperation and for the sacrifices you have made to help keep everyone at UC safe.
It is, however,important to understand that while things are improving in certain respects, we are not out of the woods yet. Significant challenges remain, particularly beyond the bounds of this campus, and we must remain vigilant amid growing expectations of yet another rise in cases across the nation. It is critical that you exercise good judgement, especially if you are traveling home this weekend.That has been the key to our success over the past year, and I am confident that we can finish strong this semester if we continue to do what we know is right.
We can do this, Pioneers.
Sincerely,
Laura Casamento
President
March 26, 2021
Dear Utica College Students, Families, Faculty, and Staff,
I am pleased to announce that planning is underway for a return to full in-person academic and administrative operations in time for the Fall semester. Of course, what this will look like when August arrives depends largely on the status of the pandemic and COVID response measures on the federal, state, and local level. That said, based on current knowledge, we are confident that a return to full on-campus operations can safely take place in August.
This has been a truly challenging year for Utica College and all of the communities we call home,but with the change of seasons has come a renewed sense of optimism and growing confidence that our lives might return to normal in the not-so-distant future. As we enjoy the arrival of spring, it is clear that we have a lot to be thankful for. We can celebrate the fact that, after a somewhat trying start to the semester, we currently have no active cases of COVID-19 on campus, thanks to the vigilance and perseverance of the entire campus community. This is a notable achievement, given recent rises in cases on other campuses. It is a testament to the effectiveness of our response plan and the commitment of our students,faculty, staff, and students to making it work. While we know this crisis is not yet behind us and significant challenges remain, the increasing availability of vaccines and effective treatment protocols offer great promise. Whereas the experience of the last year has taught us to be cautious in our expectations, there is real reason for optimism as we look ahead to the summer and beyond.
For now,we must remain vigilant. We will continue to mandate mask-wearing both indoors and outdoors, as well as social distancing and participation in weekly pool testing –in other words, all of the sensible practices that have done so much to keep us safe for the past twelve months. To the extent that we have been able to successfully navigate the shifting currents of this crisis as a community, this remains our surest path back to normalcy. Provided our testing results and the level of compliance with safety protocols remain strong,we will be reevaluating some restrictions currently in place with the intention of hopefully expanding leisure and social interaction opportunities for students during the second half of the current Spring semester.
I have said this before, but it's worth repeating –what we have accomplished together is nothing short of remarkable, and we should take pride in the fact that, thanks in no small measure to the work we've done, we have entered the home stretch of this crisis. If all of us remain fully committed to the well-being of our fellow Pioneers, we can look forward to the kind of Fall semester we have hoped for since last March. Let's make it happen.
Sincerely,
Laura Casamento
President
March 11, 2021
Dear Members of the Utica College Community,
As many of you are aware, the Centers for Disease Control and Prevention last week released updated guidance for individuals who have been fully vaccinated against COVID-19. I have received several questions about how these new guidelines affect Utica College's health and safety protocols moving forward. I want to briefly address this important issue, particularly in light of the increasing availability of vaccines and the expanding eligibility for vaccination.
Notwithstanding these encouraging developments –including our first on-campus vaccination clinic today for eligible individuals (who now include in-person college staff and student workers) – only a relatively small percentage of our on-campus population has received full vaccination. Further, it remains very uncertain whether this percentage will change substantially by the end of this semester.
Given this, and given the scientific uncertainty of whether vaccinated individuals can still infect others, we are not in a position to lift or modify our protocols around mask-wearing, social distancing, participation in weekly testing, daily health screening, and travel reporting (www.utica.edu/student-travel). On the guidance of public health authorities, these policies will remain in effect for everyone on campus through at least the end of this semester, at which time we will evaluate the situation based on public health advisement.
Next week will mark one year since COVID-19 overturned normal college life for all of us.This of course is not an anniversary that any of us wants to celebrate.We are, however, optimistic that better days are ahead. Increased vaccine administration provides hope and belief that, if we remain vigilant, a return to normalcy is on the horizon. While the idea of light at the end of the tunnel has been something we have all longed for this past year, we are not out of the woods just yet. We must temper our hope with the same sense of awareness, common sense practice, and fortitude that has allowed us to come as far as we have together, in-person, and on campus.
I have been continually impressed with the spirit and strength of the Utica College community in keeping ourselves and each other safe throughout this trying year. We must remain as committed as ever as we move closer to an eventual finish line.
Sincerely,
Laura Casamento
President
February 26, 2021
Dear Members of the Utica College Community,
I am writing to update you on the decision taken on Wednesday to pause athletic activity due to rising numbers of positive COVID-19 among student-athletes.
As I shared with you, the Offices of Campus Safety and Emergency Management have begun an investigation into behavior suspected of contributing to this rise. There is substantial evidence, based on the initial findings of this investigation as well as contact tracing, that this cluster of cases is linked to social gatherings on and off campus.
As a result, the College is taking the following steps:
Effective immediately, teams with no positive cases and no individuals in quarantine are permitted to resume practices and games. All other teams will remain on pause for the remainder of a 10-day period, after which we will reevaluate.
18 students have been transitioned to remote instruction for violating health and safety protocols.
The investigation is continuing and will lead to additional actions, including cancellations of seasons for certain individual teams. Decisions on these actions will be communicated next week, after the investigation is complete.
I am very confident that the procedures we have followed in response to these incidents enabled us to avert a much larger outbreak that might have threatened the continuance of on-campus instruction for all or a portion of the Spring semester. As it is, the irresponsible actions of a few individuals resulted in more than 20 positive cases and nearly 100studentsbeing placed in quarantine. This is unacceptable.
If nothing else, this incident clearly demonstrates the degree to which each of us is responsible for the health and safety of everyone at UC. Please bear this in mind with every decision you make as a member of this community.
Sincerely,
Laura Casamento
President
February 24, 2021
Dear Members of the Utica College Community,
On Monday, I advised you that the College was closely monitoring a rise in COVID-19 cases among our student-athletes. Earlier today, I notified our athletes and coaches of my decision to pause all athletic activity.
As I shared previously, extensive contact tracing indicates that this uptick in positive cases is the result of social interactions away from training, practice, and competition. There continues to be no evidence of transmission occurring as a result of athletic activity. Instead, we have reason to suspect that members of a small number of our teams have hosted or attended off-campus parties in violation of College health and safety protocols as well as local health orders.
Therefore, I have instructed the Offices of Campus Safety and Emergency Management to conduct an investigation and report their findings directly to my office. Any individuals found in violation will be transitioned to remote instruction and face additional possible sanctions. Individual teams will also be held accountable, including possible suspension of the entire season.
Let me be clear: I understand that the type of behavior we are investigating, in normal times and under normal circumstances, is part of the fabric of team chemistry. But these are not normal times, and right now this behavior is irresponsible, selfish, cavalier, and, most of all, dangerous.
The actions I am taking do not diminish my deep gratitude for the majority of our student-athletes and teams who continue to do everything we ask of them, nor do they reflect any lack of confidence in our Return to Play protocols. We know we can provide a safe athletic experience, including competition, and we have demonstrated as much. But we also know that this requires an all-in commitment from every member of our Athletic department, and we will continue to demand nothing less.
Sincerely,
Laura Casamento
President
February 22, 2021
Dear Utica College Students, Families, Faculty, and Staff,
As you might expect, the number of new positive COVID-19 cases last week has our full attention. Since Wednesday, we have identified 18 cases, including 13 from Wednesday's testing and five from Friday.
First, I want to provide some context for these results as well as clarity on what this means for the College. Let me begin by repeating what I have said many times: the purpose of testing is to identify and safely isolate positive cases, not to have zero cases (though of course we are always happy to see that result). During the fall semester, we saw several weeks with zero cases and others when there were spikes. There is no reason to expect markedly different results this semester.
It is important to note, also, that of the 18 cases identified over a 48-hour period, nearly half involved students who were already in quarantine.This is another trend that will inevitably continue, as it is, in many respects, further evidence of the effectiveness of our testing, contact tracing, and quarantine protocols. In fact, we can reasonably expect to see more positive cases from students in quarantine this week.
Further, a significant percentage of the positive cases identified last week involved student-athletes, all of whom we are testing three times a week. Understandably, a higher testing frequency will result in more positive tests. Contact tracing indicates that transmission has occurred through social interactions outside of athletic activity. Moreover, a majority of our athletic teams have had zero positive cases to date. Nevertheless, we have paused all athletic activity for those teams with multiple positive cases, and will continue to closely monitor the situation with regard to athletics.
For the sake of clarity, I also want to address the matter of New York state's threshold for pausing in-person instruction, as this policy has changed significantly from the Fall. The current policy, announced on Friday with guidance issued this morning,is as follows:
"If a college is testing 25 percent of its population (students, faculty, and staff) every week, they can continue in-person instruction until their positive case count equals 5 percent of their population over a two-week rolling average, eliminating the 100-case maximum threshold."
We currently have 20 active case among our campus population of approximately 2,800. Under the state's revised policy, our threshold is 140.It bears mentioning that our total positivity rate,although higher than it was in the Fall, remains very low.
In light of this, it is important to recognize that this recent uptick in cases is not an unusual event or cause for undue alarm. That said, we must remain vigilant in our efforts to prevent the spread of this virus and not let our guard down on the basis of positive vaccine news, falling case numbers nationwide, or pandemic fatigue. This is still a very active crisis, and it will take a firm commitment on the part of every member of our community to observe all relevant precautions if we are to complete this semester on-campus, as is our shared desire.
Remember –we have a comprehensive plan in place that kept us safe and fully engaged in learning throughout the Fall semester. We have demonstrated that we know how to do this, and with everyone's cooperation, we will prevail once again.
Sincerely,
Laura Casamento
President
January 29, 2021
Dear Utica College Students, Families, Faculty, and Staff,
As we welcome our students back to campus, I want to share some details on Utica College's continued response to the COVID-19 pandemic and our plan for successfully completing the Spring semester.
Our planning for the Spring semester builds on the lessons learned as well as our many successes from the Fall. As you know, our positivity rate and number of active cases on campus last semester remained consistently lower than those of the communities and broader region around us. We can also take pride in and confidence from the fact that many aspects of our approach are now being emulated at other institutions, including larger universities.
We owe our success to many factors: closely monitoring the data and pivoting when necessary, leaving nothing to chance in terms of our response and investment in health and safety measures, comprehensive strategies for identifying positive cases and containing spread, and innovations to the physical and technology infrastructure.
But unquestionably the most critical factor in our successful management of the challenges of COVID19 has been the compliance of our students. Their leadership, resilience, and cooperation, with very little exception, have been incredible. It is truly inspiring to see our students work tirelessly to overcome the many challenges of the past year and continue to pursue their academic goals.
We know that this pandemic will continue to require all of us to endure significant impositions and inconveniences. But we know we can manage the challenges of COVID-19 – we know what we must do to maintain a safe, in-person learning environment. It goes without saying that the health and safety protocols we put in place for the fall will remain in effect, including strict adherence to wearing masks, social distancing, avoiding large gatherings, mandatory weekly testing, and prohibiting visitation between residence halls.
I would like to share a few additional items of note:
Dining Commons – The Dining Commons and Pioneer Café will be open for grab-and-go as well as limited seating dine-in service. Students, faculty, and staff must observe the same health and safety protocols that were put in place for the Fall semester. In addition, in compliance with the current New York State Department of Health restrictions on dine-in service, seating will be limited to no more than four persons per table.
Weekly Testing – Mandatory weekly surveillance pooled testing will be held Monday through Thursday, from 8:00 a.m. to 3:00 p.m., in the Strebel Student Center. In accordance with the guidance of the NCAA and the protocols of our athletic conferences, student-athletes will test three times a week. Student-athletes have been provided specific instructions.
Scheduled Break Days – As I previously shared, as part of our efforts to support the mental well-being of students and faculty during what promises to be another challenging semester, the College has built two "Break Days" into the Spring semester academic calendar – one on Thursday, March 4 and one on Friday, April 2. There will be no classes held on these two days, though administrative offices will remain open as usual.
There is light at the end of the tunnel, but the tunnel is long, and we know this semester will be different and, at times, challenging. Let us continue to remain vigilant and keep the health and safety of our community at the forefront of our minds every day.
Thank you, as always, for your cooperation and understanding. Here's to a great Spring semester!
Sincerely,
Laura Casamento
President
January 20, 2021
Dear Utica College Students, Families, Faculty, and Staff,
I speak for everyone at UC when I say that we are excited to welcome our students back to campus. I want to take this opportunity to recap some of the changes we have put in place for the coming term and update you on the College's COVID safety protocols and other planning information in advance of your arrival.
Important Scheduling Reminders – As previously communicated, residence hall move-in will take place Thursday, January 28 through Sunday, January 31, by appointment. All ground campus courses (in-person, hybrid, and online) will begin in virtual format on Monday, February 1, and students will resume their classroom experiences on campus beginning Monday, February 8.
 
Spring Semester Break Days – As you recall from previous communications regarding the Spring semester calendar changes, the delayed start of the semester has made it necessary for us to eliminate Spring recess. However, as part of our efforts to support the mental well-being of students and faculty during what promises to be another challenging semester, the College has built two "Break Days" into the Spring semester academic calendar – one on Thursday, March 4 and one on Friday, April 2. There will be no classes held on these two days, though administrative offices will remain open as usual.
 
COVID Testing – To protect the health and safety of the entire campus community, our COVID testing protocols are designed to ensure that every student will have received at least three negative tests before starting in-person classes. This will include the pre-arrival test (proof of which must be submitted via the Student Health Portal), the screening test administered upon arrival, and the surveillance pooled test conducted during the week of virtual class sessions.

Be sure to read carefully (or review, if you've already done so) the Spring 2021 Testing Protocols and FAQ at www.utica.edu/covid-forward.
 
Vaccinations – Understandably, the availability of COVID-19 vaccinations has been a point of concern and confusion for many students, parents, faculty, and staff members. Just to be clear, determinations about vaccine distribution are made by relevant authorities at the county, state, and federal levels; Utica College plays no role in these decisions and does not receive prior notification of any policy changes.

As of this time, UC has not been selected by New York state or Oneida County to serve as a vaccination site, nor are we authorized to distribute COVID-19 vaccines. This is, of course, subject to change. Our current understanding is that the groups eligible to receive vaccinations under New York state guidelines include: in-person faculty and instructors, students on clinical rotations with patient-facing roles, student-health employees in patient-facing roles, employees administering COVID-19 tests, student teachers with placement in P-12 schools, and anyone who volunteers to administer COVID-19 vaccines.

To confirm that you are eligible to receive a vaccine, go to https://am-i-eligible.covid19vaccine.health.ny.gov/. If you are eligible, you can register for the vaccine at: https://ocgov.net.
 
Revisions to the Summer Academic Calendar – As I previously shared, the revisions to the Spring semester have necessitated minor changes to the Summer calendar. These changes will get the academic calendar back on track so that we do not need to push back or otherwise modify the Fall semester. The changes are as follows:
 

For the online campus, there will be no changes to the original summer schedule. The D1 semester will begin on May 10 and conclude on July 2; D2 will begin on July 5 and conclude on August 27. Both semesters remain eight weeks.
 
For the ground campus, the first Summer session will now begin on May 17 (one week later than the original start date), but it will still end, as originally scheduled, on July 2. This means the first Summer session for ground campus students, whether they are taking courses online or physically on campus, will be condensed from eight weeks to seven weeks. There are no additional changes.
 
There are no planned changes to the Fall semester, which will begin, as scheduled, on August 30.
As always, thank you for your cooperation and your continuing commitment to keeping our community safe and healthy. Let's have a great Spring semester, Pioneers!

Sincerely,
Laura Casamento
President
January 8, 2021
Dear Utica College Students, Faculty, Staff, and Families,
I am writing to update you on the College's plans for safely resuming in-person classes and activities for the Spring semester. Due to the steep rise in COVID-19 cases and hospitalizations across all parts of the country including the Mohawk Valley region, and after consultation with our faculty as well as public health experts, we are making several modifications to the academic calendar. Please carefully note the following important details.
The Spring semester start date for the ground campus has been moved from Monday, January 25 to Monday, February 1. The start date for online programs remains Monday, January 18; there are no changes to the start and end dates for the D1, D2, or D3 semesters for online programs. Likewise, there are no changes to the ABSN schedule.
All on-ground courses, including hybrid courses, will be held solely in a virtual/remote format during the week of February 1. In-person, on-campus instruction will resume on Monday, February 8.
Move-in for all residential students will take place from Thursday, January 28 to Sunday, January 31. Separate communications regarding resident assistants (RAs) and student-athletes are forthcoming. Specific move-in instructions will be provided to all residential students in subsequent communications from the Office of Student Living and College Engagement.
I ask that students please plan your travel in accordance with these move-in dates. If this presents any challenges for travel already planned, please address your concerns to Interim Dean of Students Scott Nonemaker at scnonema@utica.edu.
The final day of spring semester on-ground classes will be Friday, May 7 (original date was May 3). Final exams will end on Friday, May 14.
Commencement weekend will be held, as planned, during the weekend of May 14-16. We will provide updates on exact dates and times in future communications to assist you in planning for Commencement.
These changes may necessitate slight revisions to the Summer semester schedule to ensure the Fall 2021 semester schedule is unaffected. We will update you as we sort through those issues.
Additional details on the Spring semester schedule and rollout, including information specifically related to textbook pickup/delivery, athletics, dining services, fitness center operations, library hours and operations, resident assistant (RA) training, and new student orientation, will be addressed in an FAQ that will be posted next week at www.utica.edu/covid-forward. Please continue to monitor your College e-mail for additional information and updates.
Because of the ongoing threat posed by the pandemic, Utica College will continue to adhere to our established COVID-19 response protocols when we resume in-person classes. Preparations are underway to facilitate the safe return of students, faculty, and staff to campus, with particular focus on testing.
Over the course of this week, we administered COVID-19 tests to every College employee.
Similarly, we will test every student immediately upon their arrival to campus – as we did prior to the Fall semester – and only those students who receive a negative test result will be permitted to move into the residence halls and begin in-person classes.
Specific instructions on return-to-campus testing will be provided in a subsequent communication from the Office of Emergency Management.
Weekly surveillance pooled testing for all students and employees will continue throughout the Spring semester, following the same processes as during the Fall semester.
These measures, together with our continued strict adherence to CDC, state, and College COVID-19 guidelines on mask wearing, social distancing, and daily health monitoring, are designed specifically to ensure that the campus community will be in a strong position to continue our successful defense against the pandemic. Moreover, delaying the resumption of in-person classes will enable us to have a clearer picture of how vaccination distribution will proceed in the Mohawk Valley by the time our students, faculty, and staff return to campus.
Without question, this global health crisis has tested all of us in countless ways, both individually and as a community. The vaccines represent hope on the horizon, but we must remain focused and avoid complacency. Our experience last Fall of successfully mitigating COVID-19 and completing the semester uninterrupted gives us a measure of confidence that, together, we can safely navigate the challenges ahead.
I remain grateful for your continued resilience, trust, and extraordinary patience in the face of these very difficult circumstances.
Sincerely,
Laura Casamento
President
Contact Us
Vice President for Emergency Management
I would like to see logins and resources for:
For a general list of frequently used logins, you can also visit our logins page.