UC BFFs: Your Friendship Stories
UC BFFs: Your Friendship Stories
Last summer, we asked alumni to tell us about the friendships they formed as students at Utica College. In response, we received a flood of heartfelt, inspiring, and funny stories from alumni all over the country. We read about random roommates turned lifelong besties, teammates bonding over karaoke, a group of former pals who reconnected on Facebook to support a friend in need—and so many more. 
Here are a few of our favorite friendship tales.
'A Once-in-a-Lifetime Friend'
Utica College has brought so many amazing people into my life, from staff to coworkers, to classmates. One of these people is someone I now cannot imagine my life without. Aminah Rhode G'22 and I met on the first day of our graduate studies class for Gross Anatomy, and we have been connected ever since. I am so glad she found a home at UC because I cannot imagine not knowing her; she truly embodies everything a good friend is. Right from the start of our friendship, it had felt like we had known each other for years, which is a rare and amazing feeling. She has laughed with me, cried with me, and I cannot even tell you how many late nights we've spent studying for various classes. She is a once-in-a-lifetime kind of friend, and I am so grateful for her. 
We are bonded through our experience at UC and even though we are now geographically separated by hundreds of miles, we are never more than a call away. We would take walks on campus every day of our last summer there, and they are truly some of the best memories I have from Utica College. I cannot wait to see where our friendship grows from here, but I am so thankful that it started at UC. 
Isabella Mesturini '20, G'22 
Wallingford, Conn.

Perfectly Random 
When I was filling out my housing paperwork in the before my freshman year, so many people told me that it didn't matter who my freshman roommate was because I would change roommates before graduation. I was randomly assigned to Hilary Macomber '01. Hilary and I first met on the day we moved in to North Hall. Over the course of four years, we became close friends and remained roommates every year. We spent so many days talking about our families and friends back home and playing intramurals in the Clark Athletic Center. Hilary became a part of my family and attended holiday dinners during the school year with us. We formed a lifelong bond; she was my maid of honor at my wedding. Today I am still so grateful that a random room assignment gave me the opportunity to meet my best friend. 
Kelly Ewald Burlingame '01
Tampa, Fla.

Forever Roommates 
I met Justine Gordon '15 in the summer of 2011. We both were from the Bronx and were new freshmen in the HEOP program at UC. We lived in North Hall, a floor apart (rooms 313 and 213). That spring, Justine and I became unofficial roommates since we both had roommates who didn't return for the semester, and we took turns hanging out in the other's room. It made sense for us to be official roommates sophomore year—which then turned into junior and senior years!
After college, Justine enrolled at Binghamton University, and I started my career at Charter Communications in Syracuse. As luck would have it, after two years, I got a promotion that moved me to Binghamton. I was super excited to live in the same city as my best friend, but something even better happened: The apartment she was scheduled to move into became unavailable so, naturally, Justine and I ended up as roommates again! 
I can't believe it's been 10 years since meeting Justine. She is my best friend, my daughter Charlotte's godmother, and she will be the maid of honor in my wedding. I am grateful for all my friendships I've made at UC, and so thankful for the friends I will have for life. 
Karita Rawlins '15
Syracuse, NY

Common Bond 
Nickelle Hylton Johnson '89 and I began our friendship as children already having lots in common: Our mothers were friends, both nurses named "Joyce," and we were growing up in the same neighborhood in Cambria Heights, Queens. Nickelle and I attended elementary and high school together and, in 1985, we visited Utica College and fell in love with it. Since neither of us wanted to travel unchartered territories alone, we decided to go to Utica College together. Of course, we were roommates. We have celebrated our friendship for nearly five decades, and today we continue our friendship through our children. Nickelle will always be my "soror," my roomie, and my lifelong friend.
Michelle Everett Oxley '89
Elmont, NY

On Friendship and Facebook 
A little over 40 years ago, I bid a fond farewell to my Class of '81 classmates at the then-named Utica College of Syracuse University and drove my '76 yellow AMC Gremlin into the sunset.
Looking back, my 21-year-old self had low expectations for what continued collegiate connections might look like. Over the years, after settling 90 miles east in Albany, I wondered if experiences like many of my high-school friends had enjoyed with their college friends would have sustained the type of enduring "Big Chill" connections that I felt had eluded me. 
Still, I persevered in maintaining ties via snail mail and telephone with a handful of classmates in close proximity to the Capital Region. I attended 518-area alumni gatherings organized by the Utica College advancement office. But the strain of forging a career and raising a family took its toll. UC memories receded further and further into my rear view mirror.
And then along came Facebook.
In 2009, the social media platform sparked an immediate reconvening of a ragtag band of UC classmates, some with whom I had shared vivid memories and others I had barely known. Over the course of several years, we attended class reunions, homecomings, 518 get-togethers, and shared daily miscellany via Facebook. The tentacles of our shared experience at the newly independent and growing Utica College were suddenly recast. I began to see the inimitable beauty of memories forged in places like the Pub, Bumpers, Target (a bar before it was a big-box store), the FX Matt Brewery, the Utica Aud, the Stanley Theater, Spilka's, and the Bearded Dolphin in a new light. 
Earlier this year, I noticed on Facebook that a member of our posse appeared to be experiencing some temporary professional and health-related difficulties. So I created a Messenger thread that included all of his UC Facebook friends to see what we might do to help. The response was immediate and stunning—my cell phone pinged hundreds of times during a road trip to Cape Cod. A flurry of email exchanges, text messages, and Venmo transfers swiftly followed. What we settled on was a home-delivered locally sourced meal subscription based in Saratoga Springs and a birthday gathering for our friend at my home. 
When the day of celebration arrived, those who could came in person; those who could not participated in a Zoom session. It's difficult to capture in words the feelings that our time together engendered. For me, seeing their familiar faces rekindled memories so crystal clear they took my breath away—all set against the backdrop of a customized playlist created by the gentleman of the hour. 
Truth be told, though I knew many of the TKE brothers and Order of Diana members who formed the nucleus of the group on an individual basis through our political science classes, I was only a peripheral observer of their fraternal shenanigans. But having been there for their Old College Avenue moments, I could appreciate the palliative power of what such a gathering could unleash. So I did what I could to connect the dots to harness the love and yield tangible results. It took a village, trite as that may sound, but that is the only way to describe it.
And as it turned out, the rest of us needed the experience just as much as the beloved troubadour who brought us together in the first place. 
Thank you, Utica College. Looks like we've come full circle. Never did I ever dream that the compass of life would take me to the place I am now. For that revelation, always lighting the way, and offering the promise of places to come, I am eternally grateful.
Photo, above right:  Reconnected buddies (left to right) Joe Caruso '80, R. Scott Thomson '80, John Casellini '81, David Waples '80, Warren Heller '81 (second row, left to right) Maryann Riviello Brennan '81 and Colleen Farrell Snow '82
Maryann Riviello Brennan '81
Loudonville, NY
Our team does not have the best win-loss record, but we win AirBand with our lip-synced rendition of 'Black or White' by Michael Jackson.
Here's to 30 Years—and Counting 
We meet at Utica College in the fall of 1989, all recruited to play basketball. We are from Upstate New York, Long Island, and Massachusetts. We become teammates and roommates. We spend countless hours and four years together playing sports, traveling, crying over dumb boys, but most of all hanging out and having fun. 
Our team does not have the best win-loss record, but we win AirBand with our lip synced rendition of "Black or White" by Michael Jackson. Our team bus breaks down more times than we can count, but now we have epic stories to tell. Injuries knock a few of us down, but never out. We have bonded. We are friends.
Some of us graduate and move into starting our careers. Coaches change, and another crew of younger basketball players arrive and are woven into our story. Then most of us graduate in 1993. 
We continue to get together as much as we can as life starts to take us in different directions. There are weddings ... lots of weddings. There are babies ... lots of babies. Some of us struggle with fertility issues and job and career changes. Some of us struggle with divorce and the deaths of our parents. We continue to support one another as we realize that life gets messy sometimes. And now we know we will be there for each other, no matter what. We are best friends. 
Fast forward to the year 2020-2021. The world is changing, and it's kind of a scary place. Some of us have fought COVID-19 in our families or on the front lines. All of us are vaccinated. We have already turned or are about to turn the big 5-0. Many of our
children are in high school or going off to college themselves. We are soon to be empty-nesters. We don't get together as much as we used to, but there have been individual visits here and there. We are determined to safely celebrate our big birthday together, in person. 
We rent a beach house in North Carolina for a week in August 2021 and have the time of our lives. We play cornhole and card games. We swim and get sunburned. We dance and make TikTok videos and we laugh—a lot. We cook and we celebrate and we toast to 30-plus years of friendship. We are forever friends.
Photo, above left: (left to right) Lori McLaren Duran '93, Vicki Broschard Weyhreter '93, Kristin Ferraraccio Bassett '93, Cindy Hoffman Wiener '93, and Lucy Scalese Grande '94 in August 2021 for a North Carolina beach trip. 
Cindy Hoffman Wiener '93
Raleigh, NC
English majors all, we bonded over Shakespeare, Pound, and Chaucer.
The Three English Majors 
Friends for over 50 years—and it all started at UC. English majors all, we bonded over Shakespeare, Pound, and Chaucer. Judy Synkowski '72 and I have been in close touch for most of those years. Martha Hanson '72 vanished into the wilds of Vermont for awhile, but our stalking paid off and we finally reconnected, and for over ten years, we have had an "English Majors Reunion" at least once a year either at my farm in upstate New York or at Judy's apartment in New York City. 
During the pandemic we have had a weekly group video call and, despite our best intentions, we did NOT read Defoe's "A Journal of the Plague Year." Our annual get together generally includes some topical activity…"The Merry Wives of Windsor," "Pirates of Penzance," sometimes even a Shakespeare-themed dinner. (Oh, and yes, we are of the Woodstock generation so we did see a revival of "Hair.") Occasionally we have had a guest appearance by fellow classmate John Kawie '72. 
Our last outing was in 2019 to see "Kiss Me Kate" on Broadway. Many tales were told of our revered professors Dr. Dorothy Schneider and beloved Edith Barrett. We are always grateful for our UC bond, for our great professors, and for the many other lifelong friends we made in Utica.
Linda Griffin '72
Stephentown, NY
The Fab Five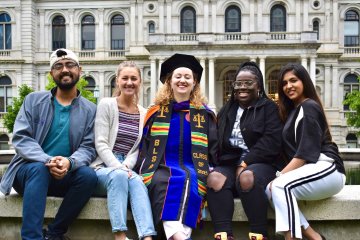 These five students have been inseparable since they first met in Fall 2015. Ann Ciancia '18, G'21 was an orientation mentor for this group and made an instant connection. Hamza Ditta '19, Ella Andronovich '19, Chantelle Boateng '19, and Sania Safdar '19 were eager first-year students looking to get involved in campus life. It did not take long for each of these students to get involved and leave a positive mark on Utica College.
 
These five students were all-around campus leaders. From orientation mentors and coordinators to resident assistants to student government, they all shared a passion to lead students on and off campus. They all held multiple executive board positions in a multitude of organizations from ASA Gray Biological Society, to Alpha Phi Omega, to the Programming Board. They all led by example and motivated one another to be their best selves. 
 
Although they were in different academic fields and from different cultural backgrounds, they came together through campus involvement and volunteering. On a weekend you could find them attending the Heart Run Walk, Relay for Life, setting up for a student organization banquet, or a UC ice hockey game. One common organization they were all involved in was the Alumni Leaders of Tomorrow (ALOT) program.  
 
Ann began her first year of law school in the Fall of 2018 at Syracuse University. Her friends were one of her biggest support systems. They would make it a point to meet up and reconnect once a month. One weekend they traveled to the Adirondacks to relax and unwind from their busy semesters. 
 
As Chantelle, Ella, Hamza, and Sania graduated in 2019, Ann traveled to Utica to cheer them on as they walked across the stage.
 
Chantelle joined the orange community with Ann by pursing her master's degree in Magazine, Newspaper and Online Journalism at the S.I. Newhouse School of Public Communications at Syracuse University. The two of them would catch up on campus in their free time. Chantelle graduated from the program in May 2020, but due to the pandemic, she did not have an in-person graduation. The group of friends made arrangements to safely gather in Chantelle's apartment in Syracuse to commemorate her accomplishment. Although they were not able to see Chantelle walk across the stage, they showered her with champagne, cake, and takeout from a local restaurant. 
 
In May 2021, Ann graduated with her law degree from Syracuse University and her MBA from Utica College, but did not have in-person graduations due to the pandemic. Chantelle, Hamza, Ella, and Sania planned a trip to Albany to celebrate Ann's accomplishments. The five celebrated with brunch and toured the city. 
 
Between the five of these motivated former student leaders are eleven degrees: eight bachelor's degrees, two master's degrees, and one law degree. 
 
Although these five students are busy with school, work, and activities, they do find time to unwind and travel together. From New York City, to Boston, to Miami, to Mexico, these students love spending time traveling to new cities, eating local food, and taking in the sites. Their favorite place to travel every year is back to Utica, for UC's annual homecoming celebration!
 
As Ella begins to pursue her medical degree, the group has their next trip planned to Kentucky, to celebrate her graduation in 2025 at the University of Pikeville - Kentucky College of Osteopathic Medicine.
 
This group of students has something special, they continue to support one another for the past six years, and continue to do so every day. They thank UC for their life-long connection. 
Photo, above right: The crew came together for Ann Ciancia's (center) graduation from Syracuse University in 2021: (left to right) Hazma Ditta '19, Ella Andronovich '19, Ciancia '18, Chantelle Boateng '19, and Sania Safdar '19.
Ann Ciancia '18, G'21
Glassboro, NJ
Even in the years before cell phones and Facebook, we kept in touch.
'I Love Us' 
Our story begins at freshman orientation in the summer of 1998. Randomly assigned roommates for the weekend, Chelsea Johnson Witt '02, another incoming freshman from Vermont, and I stayed up all night talking, laughing, and getting to know each other. We just clicked. By the end of orientation weekend, we had put in our request to be roommates for our freshman year at UC.
With a foot in height difference between us, Chelsea and I moved into North Hall and soon met our neighbor Katie Voelker Kelley '04 from Connecticut. Classes began and, through Katie, we met Melissa Migliaro Booth '04 from Connecticut and Lisa Shafer Gennett '02, G'04, DPT '06 from New York. We enjoyed sharing stories, clothes, and getting to know each other. We became fast friends.
One day while walking to the cafeteria, I noticed a fast-walking girl behind me, walking alone. I turned around and asked if she was headed to the cafeteria for lunch and if she'd like to join me. Nicole West Peckham '02, G'04 was the friend I made that day, and I am so glad I turned around. Our circle of friends began to grow larger.
I was still homesick though, and struggling through those first two weeks of college. One night, while lonely and sitting on a picnic table outside North Hall looking at the stars and thinking of my small, country home, a familiar face approached me. A man I had met at freshman orientation named Charles "Chuck" Alexander '02 gave me a pep talk and encouraged me to hang in there. He asked if we could hang out so we watched some sports back in his room while I talked and he listened. The door opened and in walked his roommate Robert Masterman '02, G'04. Mysterious and quiet (yet hilarious), Rob checked on his "science experiment"— a fly he had trapped under a cup to see if it was still alive. 
Study groups, classes together, cafeteria meals, and weekend shenanigans solidified our friendships over the next few years. Chelsea and I moved from North Hall to Alumni Hall in the 2000-2001 semesters. That was when the six girls moved in to C3 and the guys moved to B3. Our room was our home away from home and the place for all of us to hang out and have fun. 
I thought my circle of friends was complete, but there was room for one more. Sarah Cencetti Fudala '02, G'04, a commuter student, appeared my junior year. C3 became the meeting place for all of us to hang out with her. It was like she had always been there from the start. 
I graduated a semester earlier than planned with a bachelor's in therapeutic recreation and a minor in gerontology in December of 2001, and many in our group went on to earn master's and doctorate degrees from Utica College. Some of us married our college sweethearts; others found their soul mates after UC. We had babies and excelled in our careers. Even in the years before everyone had cell phones and Facebook, we kept in touch.
Over the past 20-plus years, we have met as often as we can for "C3 weekends" and gatherings—whatever all of our busy family schedules will allow. We've shared the good times and the bad times, celebrated and supported each other through many moments. Having our kids grow up knowing each other and forming friendships with our spouses has been a blessing. Our most recent C3 moms' weekend was this past July. After catching up with each other, then FaceTiming with Chuck and Rob, we walked to the beach. We took a group photo to celebrate 23 years of friendship. As we took the photo, Katie expressed what we were all thinking: "I love us," she said.
They say if a friendship lasts longer than seven years, you are no longer just friends—you are family. These eight people are forever my family and my eternal friends. Utica College brought all of us together and created a bond we will always share. 
Photo, above right: (left to right) Lisa Shafer Gennett '02, G'04, DPT '06, Nicole West Peckham '02, G'04, Chelsea Johnson Witt '02, Robert Masterman '02, G'04, Katie Voelker Kelly '04, Patricia Dewey Frangella '01, Charles Alexander '02, Sarah Cencetti Fudala '02, G'04, and Melissa Migliaro Booth '04.
Patricia Dewey Frangella '01
Factoryville, PA

Pandemic Pals 
I met my three best friends at Utica College in the nursing program. We graduated in 1996 and have remained good friends. Over the years we have stayed in touch and continued to meet up when we could. It was a lifesaver to have these friendships during the first phase of the pandemic. Once everyone was allowed to travel again, we got together to debrief, laugh, and cry about we had had seen and experienced as fellow nurses.
Photo, left: It was a well-deserved "nurses' day out" for BFFs (left to right) Danielle Nicholson Silverberg '96, Heather Washburn Lukas '96, Lou-Ellen Hontz Lallier '96, and Jennifer Martin '96.
Jennifer Martin '96
Wethersfield, CT
I would like to see logins and resources for:
For a general list of frequently used logins, you can also visit our logins page.