Core Curriculum
Core Curriculum
At Utica University, we believe that a college education is about more than preparing yourself for success in the professional world. It's also about understanding the world around you and how it works.
Institutional Learning Goals
Students will develop abilities foundational to a liberal arts education and professional study.
Students will explore multiple disciplinary perspectives to understand the world.
The Core program fulfills the University's mission to provide undergraduate students with diverse experiences and cultivate lifelong learning through a liberal arts education. Core curricular offerings develop students' foundational abilities and enhance their knowledge and understanding of multiple disciplinary perspectives.
---
Learning at Utica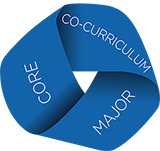 ---
There are three aspects of learning at Utica:
CORE PROGRAM
ACADEMIC MAJOR
CO-CURRICULUM
The three components of core curriculum are:
Written Communication, Oral Communication, Foreign Language, Quantitative Reasoning, and Computer Use; (0-24 credits)
Humanities, Natural Sciences, and Social Sciences; (25 credits)
Writing intensive coursework; (6 credits)
What is the purpose of Core?
Core is a sequence of required or recommended introductory courses designed to ensure a breadth and depth of knowledge for all students. The Core at Utica can be thought of as a shared experience brought to life by the accessibly collaborative nature we are known for.
Core FAQ
Making Sense of Everything
"It's nice to be able to apply knowledge you learned in one class to another class. Things that I learned in my biology classes I might have discussed in my psych class or my history class. It's all very coherent and it helps you make sense of everything."
Cody Plasterer '16
Biology Alumnus
Video Interview
I would like to see logins and resources for:
For a general list of frequently used logins, you can also visit our logins page.