Polish Americans
[
Back to Ethnic Heritage Studies Center
]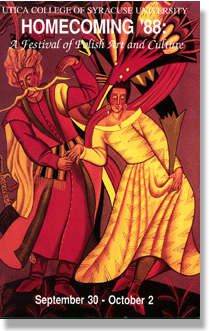 Early Polish movement into central New York began in the 1880s, attracted by work opportunities in the textile mills and other smaller businesses. Migration slowed significantly following enactment of the discriminatory immigration acts of 1921 and 1924.
Poles began arriving in larger numbers again as refugees of World War II and veterans of the Polish Armed Forces in Exile unwilling to return to a Communist dominated Poland in the post-war period. The years of Communist domination also witnessed the movement of Poles to the area for both political and economic reasons, while the years following the triumph of Solidarity brought new skilled and professional people seeking an opportunity to expand their careers.
By 1990, Polish Americans comprised the third largest ethnic group in Oneida County. A vibrant community, Utica Polonia is represented by many organizations. For example, the Kopernik Memorial Association promotes and preserves Polish culture and traditions. The White Eagle Association serves as a communication link for post-World War II immigrants, and the General Casimir Pulaski Memorial Association Inc., sponsors the annual Pulaski Day celebration. EMS Global provides medical and other assistance to Poland while the Little Poland Dance Ensemble teaches children Polish culture. The Polish Community Inc., which maintains meeting rooms, banquet facilities, and a collection of books and other materials, provides a central gathering place. Numerous veterans' organizations and special interest groups provide outlets for other interests. Polish radio programs are broadcast regularly on WIBX (950 AM), WTLB (1310 AM), and WUTQ (155 AM).
Utica College and the Ethnic Heritage Studies Center supports Polish studies in several ways.
The Joseph P. Furgal Endowed Library Fund supports Utica College's collection of books and other materials relating to the history and culture of Poles and Polish Americans.

The College maintains an active faculty exchange program with Jagellonian University in Cracow, enrolls Polish students on its campus, and hosts various lectures, exhibits, and other activities focusing on Polish topics.

The award-winning monograph

United We Stand: The Role of Polish Workers in the New York Mills Textile Strikes, 1912 and 1916

, is available through the Ethnic Heritage Studies Center.
More Information
Please contact Corporate Programs & Conference Services by phone: (315) 792-3344.