Academics at Utica College
Italian Americans
[
Back to Ethnic Heritage Studies Center
]
The largest nationality group of the great migration to America between 1880 and 1920, Italians trace their presence in Utica to the arrival of Dr. John B. Marchisi in 1817. A prosperous pharmacist, he was the first of thousands of Italians to arrive in Oneida County over the next century.
Centered around the parishes of St. Mary of Mount Carmel and St. Anthony of Padua, Italian life and culture flourished, spreading throughout the county to cities, towns and small villages alike. While the immigrants arriving in the great migration usually found jobs in the local textile mills, brickyards, construction companies and unskilled manufacturing occupations, numerous entrepreneurs soon began small businesses running the spectrum of economic activity from push-cart peddlers and olive oil merchants to haberdashers, bankers and insurance agents. Italian language newspapers such as
Il Pensiero Italiano
,
La Luce,
and
Il Messagero dell'Ordine
, along with the humorous
Il Pagliaccio
and various organizational and cultural publications reflected the richness of Italian life in Oneida County.
From a small group of early immigrants, the Italian community rapidly grew to political prominence, forming an important voting block in elections as early as 1888. By 1910 Italians were being regularly elected to office in Utica, while historians generally credit the East Utica Italian community as the spark that ignited Franklin D. Roosevelt's campaign for governor of New York in 1928. From the early 1940's the Italian community has played a dominant role in Utica and area politics.
Today, Italians constitute one of the largest and most active ethnic groups in the county, enjoying strong parishes, a varied cultural life, and prominence in virtually every field of endeavor.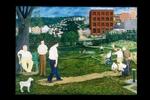 More Information
Please contact Corporate Programs & Conference Services by phone: (315) 792-3344.