Bosnians
[
Back to Ethnic Heritage Studies Center
]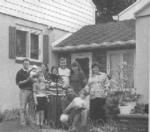 Throughout its history, Oneida County has been a destination for many groups seeking opportunities for better lives. The largest recent wave of immigrants to the community is from Bosnia. Many Bosnians have arrived as refugees of that war-torn area and have been assisted in their relocation by local churches, civic groups, or the Refugee Center.
More than 4,200 Bosnians now live in the Utica area, one of the largest concentrations in the country and a significant addition to the city's population. Recently, a member of the Bosnian community was appointed to the Utica Common Council, and Bosnians, despite their relatively brief residence in the area, have already emerged as entrepreneurs, built solid cultural organizations, and taken part in the varied life of the community.
More Information
Please contact Corporate Programs & Conference Services by phone: (315) 792-3344.