Major in Geoscience
Bachelor of Arts / Bachelor of Arts Degree • School of Arts and Sciences

Geoscience Major
Program Details

The Geoscience program offers two degree options:
BACHELOR OF SCIENCE OPTION


The bachelor of science option is designed to prepare students to work in applied earth and environmental science or pursue graduate studies in geoscience or related disciplines. A capstone experience such as a field course, directed research, or internship will be required of students receiving the B.S. to integrate liberal and professional study.



ACADEMIC REQUIREMENTS (BS)




See catalog listing




BACHELOR OF ARTS OPTION


The bachelor of arts option is designed to provide substantial breadth in science preparation by also including coursework in biology, environmental issues, and astronomy, allowing students greater flexibility in tailoring the degree to meet their needs and interests.



ACADEMIC REQUIREMENTS (BA)


See catalog listing
Facilities and location

The Utica College campus offers excellent facilities and resources for the study of geoscience. Recent NASA and NSF grants have supported the installation of additional advanced technology and instrumentation (see below).
The proximity of Utica College to the Adirondack and Catskill Mountains, Mohawk Valley, Utica Marsh, and Great Lakes and Finger Lakes makes its geographic location ideal to provide ample learning opportunities vital to advanced learning in geoscience.
Technology and Instrumentation

Housed in UC's Gordon Science Center, the Geology Department equipment includes:
sieves,
a Ro-Tap shaker,
hydrometers,
a current meter, and
microscopes
...for sedimentological analysis;
rock cutting and thin-sectioning equipment and microscopes for petrographic analysis;
a gravimeter and a collection of local- to continental-scale topographic and geologic maps and aerial photographs for structural geologic studies.
The Department maintains extensive fossil and mineral collections that include numerous specimens from the local area and the Adirondack Mountains.
A $1.7 million grant from NASA to UC was used to update and expand the college's science teaching and research resources. From this the geology department added instrumentation to support coursework and faculty and student research in paleolimnology, paleoceanography and paleoclimatology; including
sediment coring equipment and a small inflatable raft for lake and wetland sampling and monitoring,
a YSI in-situ multisensor water quality probe,
an integrated suspended sediment sampler and bottom sediment grab sampler,
a Malvern automated sediment grain size analyzer,
Bartington whole-core and discrete-sample magnetic susceptibility meter,
Ortec gamma detection system for radiometric dating of sediment cores, and
ArcGIS geographic information systems (GIS) software.
A grant from the National Science Foundation to a Geology Department faculty member enabled purchase of a large-format plotter. And, reflecting the College's commitment to providing opportunities to work hands-on with modern technology, UC recently provided the Geology Department funds to purchase new geophysical equipment, including instrumentation for seismic profiling.

Total credit hours required for degree: 120 (BA), 128 (BS)
Top
---
Admissions Events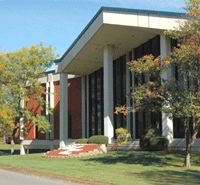 JOIN US ON CAMPUS:

EXPERIENCE UC

Meet students and faculty, tour campus, and join us for lunch.
Learn more / register


SATURDAY INFO SESSIONS
Q&A with staff followed by a campus tour.
Learn more / register
OPEN HOUSE
Learn more about programs, financial aid, student life, more.
Learn more / register
Upcoming events >