ABSN Nursing - Curriculum
ABSN Curriculum
The Utica ABSN curriculum follows a logical, effective sequence of online coursework, hands-on learning, and real-world clinical practice over four semesters. The full-time program comprises 62 credit hours—including 225 hours of labs and 588 hours of clinical rotations, which begin during the first semester.
Online coursework teaches important nursing theory concepts such as cultural diversity, nursing informatics, and evidence-based practice.
Skills and nursing simulation labs provide hands-on learning with faculty in a controlled, risk-free environment.
Clinical rotations provide diverse patient care experiences in specialty areas such as adult health, obstetrics, intensive care, mental health, and health management.
---
Program Requirements
Total Required Nursing Credits: 62
Semester I
Credits
NUR 311 Socialization to Professional Nursing

Sets the foundation for professional practice that is built upon throughout the curriculum. Students are introduced to all aspects of the nursing profession, including an overview of nursing roles, theory and professional practice.

3 credits
NUR 321 Foundations for Nursing Care

Foundations of nursing practice and the nurse-patient relationship. The essential elements of caring, critical thinking, teaching, assessment, communication and professionalism are addressed.

45 lab hours; 42 clinical hours

4 credits
NUR 326 Health Assessment

Provides opportunity through classroom and laboratory sessions for students to learn the theories and skills involved with assessment of physical, psychological, social, cultural and environmental aspects of clients across the life span.

45 lab hours

3 credits
NUR 332 Pathophysiology

Basic principles and processes of pathophysiology including cellular communication, genetics, forms of cellular injury, fluid and electrolytes, acid-base balance, immunity, stress, coping, illness and tumor biology.

3 credits
Semester II
Credits
NUR 312 Leadership and Informatics in Professional Nursing

Differentiates nursing leadership from nursing management and describes how nurses lead professionally. This course will also explore the impact of informatics and technology on nursing, patient care and health care delivery.

3 credits
NUR 371 Medical/Surgical Nursing Care I

Builds upon theoretical concepts, integrating the nursing process to facilitate individual and family adaptation to acute stressors within medical-surgical nursing. Common physiological and psychosocial stressors and related principles of care management are explored.

45 lab hours; 84 clinical hours

5 credits
NUR 444 Care of Populations with Psychiatric Concerns

The nurse-client relationship and therapeutic communication techniques as they relate to those with mental health considerations. Includes neurobiological processes and therapeutic techniques.

8 weeks; 42 clinical hours

3 credits
NUR 366 Care of the Aging Population

In-depth look at older adults who constitute a majority and growing proportion of people who receive nursing care. Includes learning strategies to assist the aging population to maintain optimal health with chronic illness.

8 weeks; 42 clinical hours

3 credits
NUR 333 Pharmacology

Information for safe, effective nursing care related to pharmacology. Covers actions, uses, administration alerts, pharmacokinetics, pharmacodynamics, adverse effects, contraindications, interactions with other drugs, herbs and food, and treatment of overdose and antidotes.

3 credits
Semester III
Credits
NUR 411 Management in Professional Nursing

Expands the knowledge of nursing management in practice, education, and political and community settings. It emphasizes the essential elements of management, including different management techniques and routine tasks such as budgeting, planning, supervision and delegation.

2 credits
NUR 421 Medical/Surgical Nursing Care II

Focuses on increasing complexity of illness, nursing process in the adult population, complex physiological and psychosocial stressors, and related principles of patient care management.

84 clinical hours

4 credits
NUR 423 Senior Nursing Care Seminar Lab I

Seminar-based course that explores patient scenarios through case studies, laboratory experiences and simulation. Students work in teams to analyze patient situations and develop critical-thinking skills in the effective delivery of holistic patient care.

45 lab hours

1 credit
NUR 365 Care of the Obstetric Population

Focuses on maternal, paternal, fetal/neonatal physiologic and psychosocial responses to childbearing. Family theory provides framework for interpreting and understanding the way the family adjusts to pregnancy, birth and the addition of the newborn.

8 weeks; 42 clinical hours

3 credits
NUR 446 Care of the Pediatric Population

The nurse's role in promoting adaptation in the childbearing family. Particular stressors include perinatal complications, well-child health promotion and childhood illness.

42 clinical hours

3 credits
NUR 445 Clinical Research

Research methods employed in clinical settings. Quantitative and qualitative methods; research designs related to clinical situations.

3 credits
Semester IV
Credits
NUR 412 Trends in Professional Nursing

Focuses on preparation for the transition from student to professional baccalaureate generalist nurse. Trends and issues regarding nursing education, research and practice are analyzed within a historical, social and multicultural systems framework.

84 clinical hours

5 credits
NUR 465 End-of-Life and Palliative Care Practice

Physical, psychological, social and spiritual concerns of patients and families as they relate to pain and comfort care, and end-of-life decisions.

2 credits
NUR 471 Advanced Medical/Surgical Nursing

Integration of theoretical, clinical and professional concepts to provide care for patients with complex health issues. Emphasis on assessment, differential diagnosis, pathophysiology, pharmacology, critical-thinking skills and clinical judgment.

84 clinical hours

5 credits
NUR 473 Senior Nursing Care Seminar Lab II

Seminar course with an on-campus residency allows students to analyze unique and complex patient scenarios through case studies, laboratory experiences, and grand rounds presentations. Case studies draw upon previous learning, experiences and knowledge, linking theory to practice. The focus is on nursing care, communication within the health care team, delegation of care, and cultural, legal and ethical implications. Emphasis is placed on the role of the registered professional nurse as leader in the management of patient care.

45 lab hours

1 credit
NUR 346 Care of Populations and Communities

Health of populations and communities through study of epidemiology, health promotion and disease prevention across the life span. The influences of environment, genetics, culture, economics and access to care are analyzed.

42 clinical hours

3 credits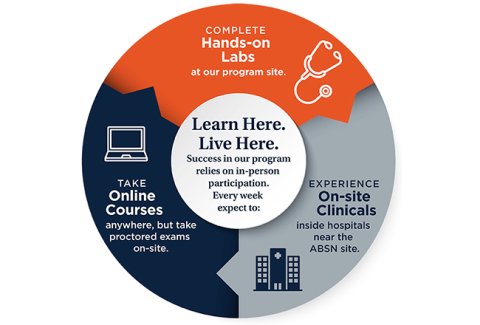 I would like to see logins and resources for:
For a general list of frequently used logins, you can also visit our logins page.