The Micro Art Gallery

The Micro Art Gallery is open to Student Organizations throughout the year to showcase events, the purpose of the organization, and other various information the organization wants to advertise.

Reserving the Micro Art Gallery
The Micro Art Gallery is now being reserved through EMS. Reserving the Micro Art Gallery is just like reserving space for events:
Log into EMS with your banner username and password and hover over "reservations" on the tool bar to the right.
Select "Room Request" and fill-in the request form.
The Micro Art Gallery space is labeled "Left Side of Micro Art Gallery" in the drop down menu.


Micro Art Gallery Policy
Only organizations can reserve the Micro Art Gallery.

An organization can reserve up to 2 weeks per semester. Whether they are consecutive or not.

At the end of the reservation (in most cases this is a Friday), the organization must clear out the Micro Art Gallery. This needs to happen during Student Activities Office business hours. Hours can be found to the right of this page.

We ask that you leave the gallery the way you received it or better. In order for a smooth transition into the next reservation.

Organizations are responsible for what they put in and take out of the Micro Art Gallery. Student Activities does not store any items.

If you have any further questions feel free to contact The Student Activities Office at (315)792-3037 or email us at sactivities@utica.edu
Student Activities
Office Hours
SCHOOL YEAR HOURS
Monday - Thursday

8:30am to 6:30pm

Friday

8:30am to 5:00pm

Saturday - Sunday

CLOSED
SUMMER HOURS
Monday - Friday

8:30am to 4:30pm

Saturday - Sunday

CLOSED

STREBEL STUDENT CENTER

24 hours, 7 days
SafeZone Program:
The Gay Alliance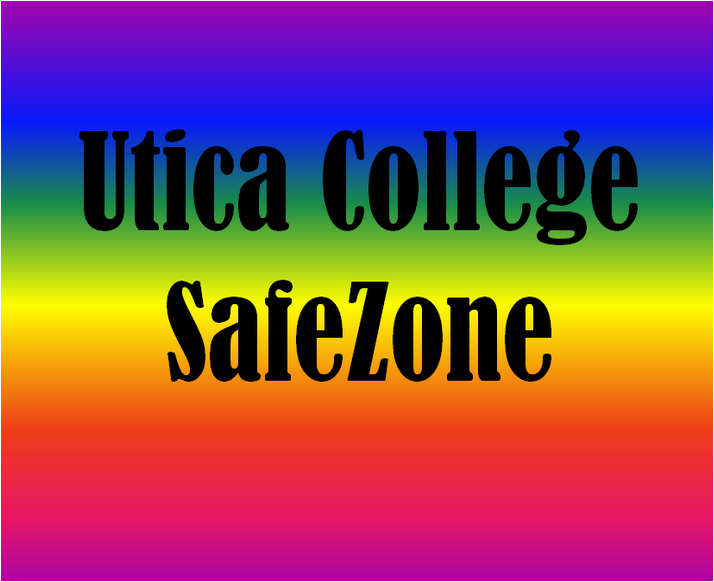 Adapted from www.GayAlliance.org
The SafeZone program was created to develop, enhance and maintain environments in workplaces, schools and other social settings that are culturally competent and supportive to LGBTQ (lesbian, gay, bisexual, transgender and queer/questioning) individuals, as well as straight, cisgender people who care about diversity, equality and inclusion.


What is a SafeZone?
A safe zone or a safe space is a place where all people feel welcome and safe. It may be a room, a car, or an entire college campus. The Gay Alliance SafeZone program aims to increase the awareness, knowledge, and skills for individuals and address the challenges that exist when one wants to advocate for their LGBTQ peers, family members, friends and co-workers. Creating safe zones or safe spaces is a proactive step that schools, agencies and corporations can take to create welcoming, inclusive spaces so that all people are empowered to reach their full potential.

Sponsored by the Diversity Committee
Contact Marissa Finch
mmfinch@utica.edu
or Fran Lucia
flucia@utica.edu
for more information or how to become SafeZone Certified
Share
|