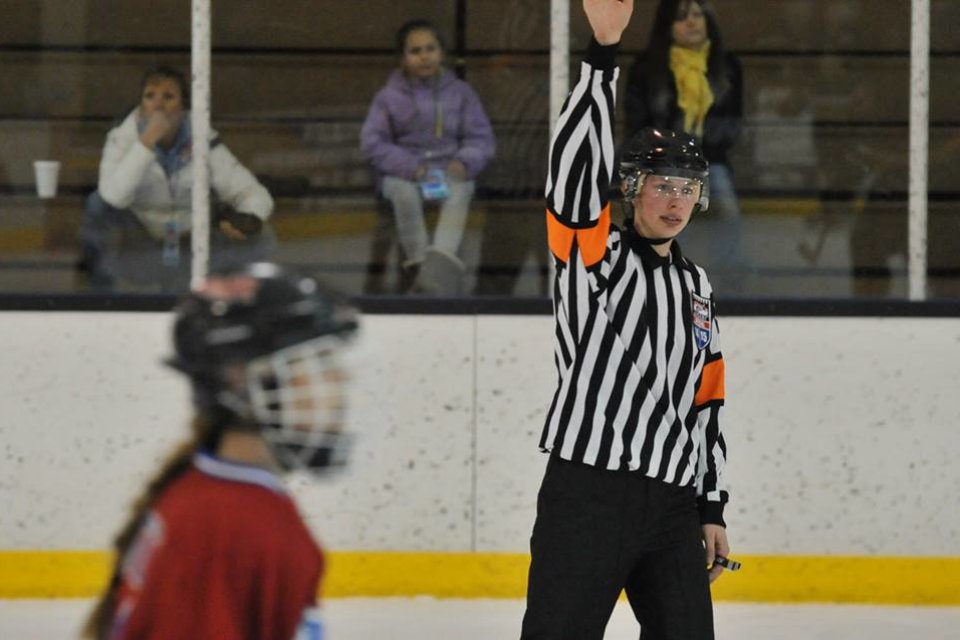 Jessica Leclerc '09 is one of only four American women who will be officiating the women's ice hockey tournament during next month's historic Winter Olympics in PyeongChang, South Korea.
The Winter Olympic Games aren't just proving ground for the world's best athletes—they're the highest level of competition for the officials, too. Jessica Leclerc '09 is one of only four American women (19 women total) who will be officiating the women's ice hockey tournament during next month's Winter Olympics in PyeongChang, South Korea. The Maine native, former UC hockey captain, and graduate of UC's Therapeutic Recreation program shared the details:
 
How long have you been officiating women's hockey?
Since I was 12. I've done youth hockey, college hockey, and then a few years ago I got licensed internationally as a linesman, which goes through U.S. Hockey. From there I was chosen to officiate the women's world championships in Buffalo in 2015, which put me in the running to officiate Olympic hockey. I received good evaluations from the International Ice Hockey Federation (IIHF) at tournaments and worked my way up the ladder, the Olympics obviously being top rung. It's the IIHF's job to recommend officials for the Olympics, and in late November, I got the call and learned that I'd been chosen.
 
Exciting! How did you react to the news?
I wasn't expecting it! I knew that I was in the running for the Olympics. In August, I went out to Switzerland and participated in IIHF pre-Olympic training camp. In October, I was told I made the long list for the Olympics. When I got the call, it was still a shock. It's still surreal. I think it won't set in until I get to South Korea and have my skates on and step on the ice.
Has officiating the Olympics always been a goal for you?
My goal has always been to officiate the highest level of hockey I can. Last year I performed well at the tournaments so I realized I could make a run for the Olympics. I've worked extremely hard and dedicated a lot of time and energy to training, but I've also been at the right place at the right time.
 
What makes a great hockey official?
Obviously skating ability and game awareness are key, because you have to be able to keep up. A big component is your willingness to learn and accept criticism. The level of critique from the IIHF evaluations is something I've never experienced; one wrong call or wrong move can steer you in the wrong direction. How do you interact with your teammates and the players? Do you have a positive attitude? It's all stuff they look at very closely.
 
So it's about more than your performance on the ice.
Absolutely. They evaluate how you contribute to officiating and give back off the ice. I mentor younger officials and supervise youth hockey whenever I can.
 
What challenges or differences do you expect when officiating at the Olympic level?
The main language at that level is English, so that makes it easier. There are sometimes cultural or language barriers you have to work your way around as a referee. The teams will communicate with each other in their own language. Russian players may be yelling at each other, they may be swearing at you, and you have no idea. Some of the different cultural norms are interesting, too. In Japan, they bow when they get on the ice and circle up and bow after a goal. It's amazing to me that you're on the ice with people who may not speak your language, but you can all understand the same exact game. We all have that level of respect for the game.
You were captain of the UC women's hockey team for two years. How did that experience prepare you for what you do now?
I learned quickly how to be a leader through sports and, actually, through academics at UC. I was a Therapeutic Recreation major, and since I was a non-traditional student being a few years older than my peers, I took on a leadership role for a lot of projects. I learned how to take the lead. Same thing on the hockey team. Those leadership skills really shined through in having that confidence on the ice. My experience at UC gave me the confidence to say, "I can be a leader in whatever situation I'm thrown into."
 
What motivates you?
For me, officiating is a way to be involved in the game and be competitive. As much as I respect the officials I skate with, when it comes to these levels, it is incredibly competitive. I want to be the one who gets the best assignment. It's my competitive streak. Plus the people I've met along this journey are some of the most amazing people I know. That's the biggest drive: meeting new people, having these experiences with them in a game that I love. I just think hockey is the greatest game on Earth.
I would like to see logins and resources for:
For a general list of frequently used logins, you can also visit our logins page.