A Temporary Refuge
A Temporary Refuge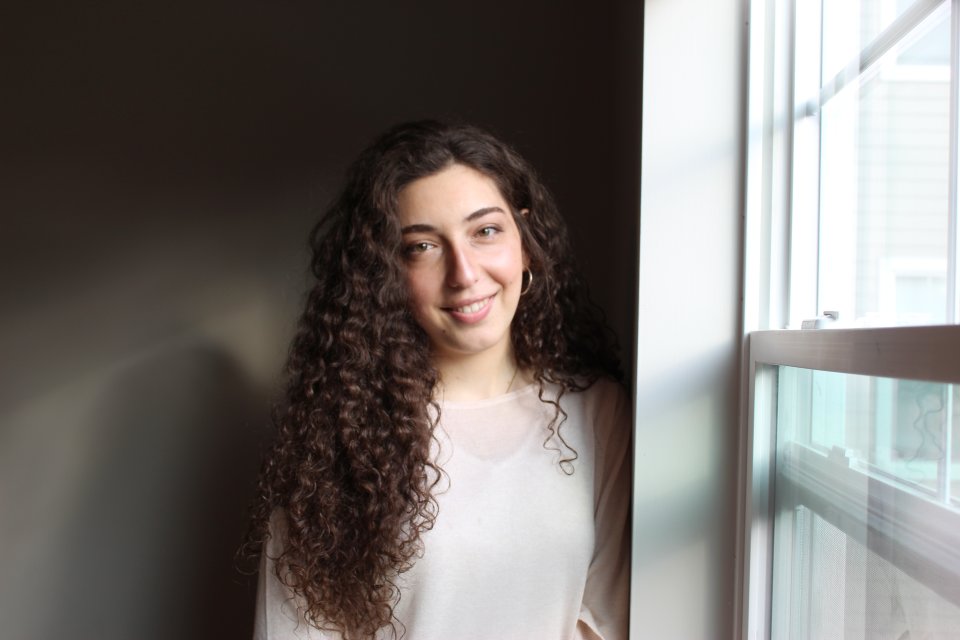 When the coronavirus shuttered UC residence halls in March, going home wasn't an option for international students like Maria Montero Silva '20. She's one of six students living on UC's nearly empty campus—and learning to adjust to a strange new version of college life.
Barely three weeks have passed since Maria Montero Silva moved from her dorm room in Tower Hall to an apartment in Pioneer Village, yet the space is already filled with the personal touches that make a new place feel like home.
Photos of friends and family in Spain, her home country. A vintage print from The New York Times—an homage to her dream of becoming an international reporter. Her Tangerine press pass (she's currently the newspaper's editor in chief). A special coffee mug, a gift from her twin sister.
These days, in the midst of the coronavirus pandemic that has upended daily life for so many, Silva's bedroom isn't just a living space—it's a refuge.
Silva, a senior, is one of six Utica College students living on campus during the spring semester. For various reasons, UC's campus was deemed the safest place for these students—all international students from outside the U.S.—to study and live during the evolving crisis. Today, as logistics are sorted out and routines beginning to emerge, residents like Silva are adjusting to their new apartments, the empty campus, and this strange new version of college life.
No Place Like Home
"I felt lost," says Silva, remembering the moment she read President Laura Casamento's announcement that residence halls would close on March 16. "I felt like I had nowhere to go."
As most of her peers hastily made plans to return to their parents' homes in the U.S., Silva knew her options were limited. Spain was, and remains, one of the countries hardest hit by the coronavirus pandemic, and limits on travel to Europe were becoming more restrictive by the day. A friend offered up her parents' home in the state of Georgia, but Silva was hesitant to accept, not knowing how long the social distancing order would last, nor what her presence would mean for her friend's family.
"It's not like being a regular houseguest," Silva says. "You're choosing to go into quarantine with someone's family, and that felt like too much to ask."
Soon after Casamento made the residence hall announcement, Dean of Students Tim Ecklund contacted Silva to devise a plan. He assured her that campus housing would remain available to her and other students in extenuating circumstances. After weighing offers from friends and faculty—including her Tangerine adviser and mentor, Mary Christopher—Silva made a decision: Aside from returning home to her family in Spain, staying at Utica College represented the best chance for familiarity and comfort in a time of increasing uncertainty worldwide.
Staying at Utica College represented the best chance for familiarity and comfort in a time of increasing uncertainty worldwide.
So on March 18, Silva packed up her room in Tower Hall and moved to a four-bedroom, two-bathroom apartment in Pioneer Village, which she shares with another international student, a friend from Ghana.
Learning and Logistics
Of all the places to ride out a pandemic, Pioneer Village would top most anyone's list. UC's newest residence hall features all the amenities of a luxury apartment: single bedrooms and bathrooms, a washer and dryer, granite countertops, and a full kitchen with brand-new appliances.
It's those creature comforts that made the decision to transition all remaining campus residents to Pioneer Village an easy one, says Scott Nonemaker, Executive Director for Student Living and College Engagement.
"Logistically, it works best," he says, explaining that, unlike typical dorm rooms, Pioneer Village's full kitchens allow students to keep and prepare food without leaving their apartments.
As for food, General Manager of Dining Services Damian Boehlert helped arrange for deliveries to Pioneer Village from Sodexo, UC's food service. On a weekly basis, students can order staples, like milk, eggs, bread, fruits and vegetables, and have the items delivered to their doors. (One silver lining, says Silva: "It's actually been a good opportunity to practice my cooking skills.")
And to dispel the idea that students are trapped in their apartments, Nonemaker explains: "Students who are healthy and who follow distancing protocols are permitted to leave campus for a short time to get basic needs," he says. "They may also have things delivered to them and pick them up at the Welcome Center."

'We're OK. We're Safe.'
Something nearly everyone is struggling with during this pandemic seems to come easy to Silva: She's keeping it all in perspective.
"Compared to so many people right now, we are fine," says Silva, who finds herself calling on her journalism background to see the global picture.
"There are people suffering all over the world because of this, and what we're going through is nothing in comparison," she says. "We're OK, we're safe, we have everything we need."
She's staying connected to her mom, stepdad, and sister back home through daily FaceTime chats. She's growing closer to her roommate every day. And she's grateful for the support of the UC community, including President Casamento.
"On one of my first nights in Pioneer Village, I got a text from President Casamento asking how I was doing," she says. "That kind of thing means a lot."
"On one of my first nights in Pioneer Village, I got a text from President Casamento asking how I was doing," she says. "That kind of thing means a lot."
Still, the uncertainty of the future looms large. Like all graduating seniors, she's watching the economy spiral downward, fearing for her job prospects. And for Silva, the stakes are even higher: she's studying at UC on an Optional Practical Training (OPT) Visa, which means her future in the country is contingent on her ability to secure a job in journalism, her field of study. It's a tall order in any economy, and despite her outward optimism, Silva is struggling to accept that her childhood dream of living and working in the U.S. may be cut short.
"Living abroad has given me a broader perspective on the world. I've gained so much maturity and independence here," she says.
"I'm not ready for this journey to end."
Journalism in the age of COVID-19 from Utica College on Vimeo.
I would like to see logins and resources for:
For a general list of frequently used logins, you can also visit our logins page.