Intensive Caring: Opeyemi Ogunwomoju '16
Intensive Caring: Opeyemi Ogunwomoju '16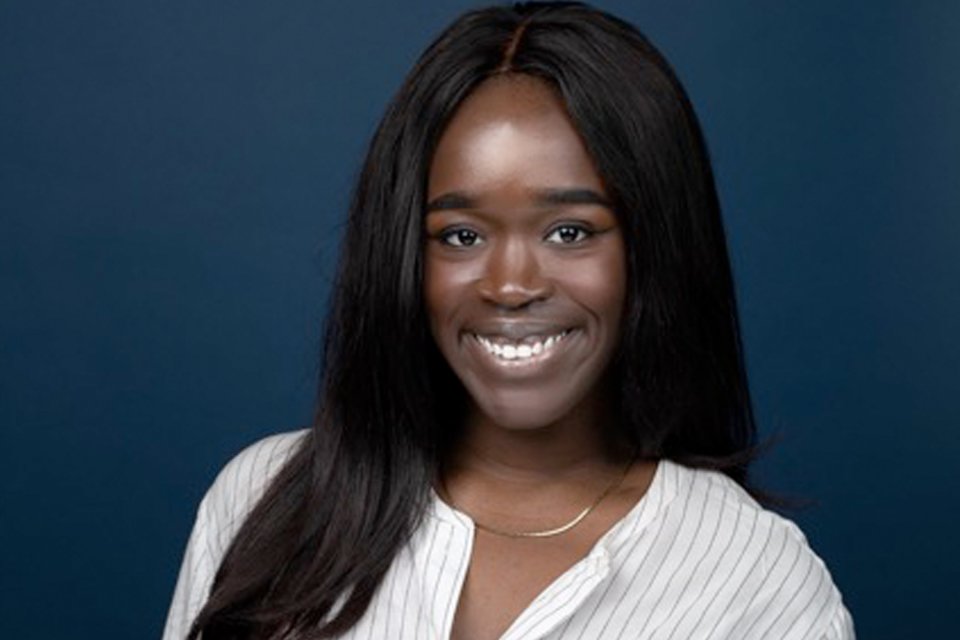 "My UC nursing professors helped mold me into the nurse I am today."
When she remembers being hospitalized as a child, Opeyemi Ogunwomoju '16 doesn't recall scary needles or intimidating doctors. She remembers the nice men and women in scrubs who played games at her bedside, brought her snacks, and made her laugh on "joy rides" through the children's unit in a wheelchair. Only later did Ogunwomoju realize those special friends had a name: They were nurses.
"Those interactions would shape the rest of my life," she says.
They would also shape her career path.
After earning a B.S. in nursing from Utica College in 2016, Ogunwomoju went on to secure a position as a clinical nurse at The Mount Sinai Hospital in New York City. In December 2018, she was promoted to the hospital's Cardiac Intensive Care Unit, one of the country's best and busiest ICUs, where she cares for patients experiencing the most dire cardiac emergencies.
We talked with Ogunwomoju to learn more about her journey to a nursing career, and the most rewarding parts of her often overwhelming (and sometimes underappreciated) job:
Looking Upstate
Determined to earn a nursing degree since childhood, Ogunwomoju, a Bronx native, looked at several nursing schools close to home in NYC when it came time to apply for college. "But I decided I wanted to break off on my own," she says. She liked the idea of going upstate—still within a few hours' drive from the Bronx, but far enough to foster her independence. A serendipitous online search led her to UC. "I Googled 'Best Nursing Programs in New York State,' and one of the top schools was Utica College." After visiting campus with her mom, she recalls, "We were sold!"
I Googled 'Best Nursing Programs in New York State,' and one of the top schools was Utica College.
Doing Her Homework—and Then Some
"My favorite class at UC was Critical Care Nursing with Professor Cynthia Love Williams," says Ogunwomoju, recalling a particular time when she was confused by the material in the textbook. "I met with Professor Williams, and she looked at me and said, 'You're going too far in the book.' I had read way beyond what we were assigned and started to study things we hadn't even discussed in class yet, but I was determined to understand it. I should have know that ICU life would be my future in that moment!"
A Nursing Family
Coming from a large high school, Ogunwomoju was happily surprised by the close sense of community she discovered within UC's nursing program. "Each and every one of my nursing professors allowed students to call them by their first names and text them on their personal phones. I had never experienced anything like that before, and to be able to build such a close bond with my professors motivated me even more." Today, she still considers Professors Love Williams, Danielle O'Connor, Linda Culyer, Ellen Smith, Claudette Abounader, and Libby Gleasman as friends and mentors. "They all helped mold me into the nurse I am today."
Why Words Matter
The most rewarding part of Ogunwomoju's job is talking with her patients—and as an ICU nurse, it's something she doesn't take for granted. "Most of my patients are intubated or sedated when they come to the ICU, and some patients are even paralyzed through medications. So it's incredibly rewarding when a patient recovers enough to talk with me," she says. "Working as a nurse can leave you stressed and not feeling appreciated, but seeing your hard work pay off through the health of your patients makes it all worth it."
I would like to see logins and resources for:
For a general list of frequently used logins, you can also visit our logins page.