Instructor Biography

An Instructor Biography can be part of an introduction. It may provide your students with useful information about your career, research interests, and publication history. You may also use this to let your students know other courses you teach, and why you find these topics interesting. If you wish, you can also include more personal information about hobbies, family, or anything else you want to share! For online classes especially, this might be the only chance your students have to put a face with the name, so please include a picture!

The easiest way to include an up-to-date instructor biography may be to update your Engage profile. This way, your picture and any biographical information you share in the "description" will display on your profile, linked from all of your courses.

Hint: Older versions of the "template" asked you to create a syllabus in each course, but you may then have to create/update that information in many different places. Instead, put the same information in your "profile" which is linked from your name in the "instructor block" of every course you teach!

First, click on your image in the top right of your course. Then click "Profile".



Next, click "Edit Profile".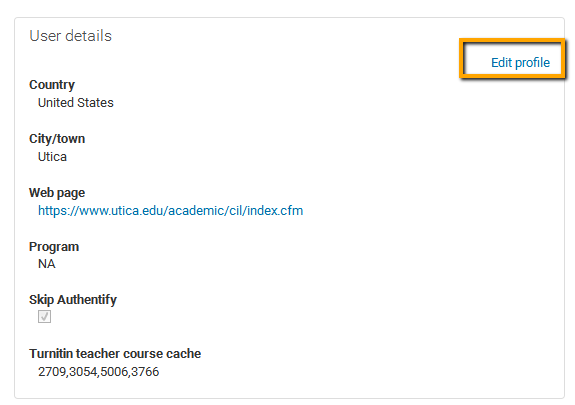 Pay special attention to the "Description" section where you can include biographical information.

You can also update your personal picture here.

Make sure to scroll down and Save!