Major in Geoscience
Bachelor of Arts / Bachelor of Arts Degree • School of Arts and Sciences

Geoscience Major
Career Prospects

The Geosciences have undergone a fundamental shift in areas of employment opportunity. While exploration for oil, gas, and other earth resources remains a career avenue for geologists, there has also been an increase in employment opportunities in positions that work to protect the environment, such as hydrology. There is also a growing need for Geoscience specialists in education.
Environmentally Applied Fields - Relative to other fields of employment, the Bureau of Labor projects job opportunities in hydrology and environmental science will grow much faster than average. For more information on these emerging trends, visit the Bureau of Labor Statistics Web site at http://www.bls.gov/oco/ocos050.htm#outlook

Education - There is a national need for earth science teachers. The National Center for Educational Statistics (NCES) predicted in 1999 a need for over 1.7 million new teachers in the ensuing decade to fill positions in all disciplines (Source: National Center for Education Statistics report http://nces.ed.gov/pubs99/1999026.pdf ). With the National Science Teachers Association reporting that in 1998 earth science teachers made up 4% of all teachers, this translated to a need for 68,000 new earth science teachers over that time period.

The shortage is made worse by the prevalence of high school "out-of-field" teaching - teaching a subject area without having a major and certification in that subject. The problem is particularly acute in earth science. According to NCES2, fully 79% of students were taught by out-of-field teachers*.

What are UC Geoscience Graduates Doing?

The major in Geosciences is very new to UC and so we have had a fairly small number of graduates so far. However, they are doing quite well following graduation. One student's internship position she held while a student at UC became a long-term position following graduation, another student interested in teaching earth science continued on to pursue a master's degree in education, and another is employed as a quality assurance officer with a local company. As part of the major in Geoscience at UC, you will participate in a capstone experience including either an internship, a 6-8 week long geology field camp, or guided research under the supervision of a faculty member. All of these experiences can really help make you stand out from the crowd when you graduate from UC!
---
Admissions Events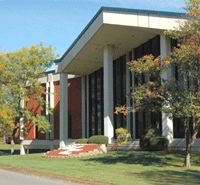 JOIN US ON CAMPUS:

EXPERIENCE UC

Meet students and faculty, tour campus, and join us for lunch.
Learn more / register


SATURDAY INFO SESSIONS
Q&A with staff followed by a campus tour.
Learn more / register
OPEN HOUSE
Learn more about programs, financial aid, student life, more.
Learn more / register
Upcoming events >