Campus Theme 2005-06


Dissent In A Free Society


Exhibit:
Faces of Liberty
Monday, Oct. 3 through Thursday, Oct. 27, 2005

Frank E. Gannett Memorial Library
Faces of Liberty
is a photo-journal display that puts human faces on complex civil liberties issues by documenting the challenges of ordinary men, women and students who faced upopularity and adversity when standing up for their beliefs.
The display focuses on:
The successful challenge to the institutionalization of children and adults at Willowbrook State School


The fight against housing and employment ordinances which discriminated against immigrants


Two key U.S. Supreme Court decisions dealing with the right to vote and censorship in schools
Faces of Liberty will be on display in the Frank E. Gannett Memorial Library from October 3 to October 27, 2005. The photo-journal is presented by the New York Civil Liberties Union (NYLCU), and was created by NYCLU Nassau Chapter board member Donald Parker.

Preview the display online:
(Click on an image to enlarge.)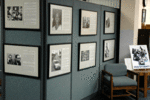 ---
Featured Speaker:
Bob Barr












Tues., March 28, 2006
7:30 to 9:00 p.m.

Former member of the House of Representatives from Georgia Bob Barr will be the featured Campus Theme speaker for the Spring 2006. A published author and syndicated columnist, Barr is a frequent contributor to CNN and has worked with a broad range of organizations, from the National Rifle Association to the ACLU.
Featured Speaker:
Alexander Cockburn
Thursday, September 29
7:30 to 9:00 p.m.

Noted columnist for The Nation Alexander Cockburn will be the featured speaker on campus during Banned Books Week. One of America's best-known political journalists, he writes a nationally syndicated column for the Los Angeles Times and co-edits the newsletter CounterPunch.
Featured Speaker:
Barrie Gewanter












Tues., Oct. 25, 2006
11:30 a.m. to 12:30 p.m.

Barrie Gewanter, Director of the Central New York chapter of the New York Civil Liberties Union (the New York affiliate of the ACLU), will give an introductory talk at the opening of the "Faces of Liberty" exhibit. Gewanter is a long-time community activist who currently heads the Central New York Civil Rights Defense Campaign for the NYCLU.

Read more.