Academics at Utica College
New Faculty 2013-2014

Tim Ball
,
Assistant Professor of Cybersecurity
, has worked in the field of computer electronics and data communications while he tinkered with computer hardware and software on the side. Finally deciding to get serious about the computer industry, Tim returned to school, earned his Bachelor's degree in Computer Science, and took a job as a Software Engineer designing and coding Navy weather analysis systems. Shortly thereafter, Tim once again returned to school and earned a Master's degree in Computer Science and a Graduate Certificate in Digital Forensics from the University of Rhode Island and started work at the Naval Undersea Warfare Center. At NUWC, Tim was the lead Information System Security Engineer, and as such was responsible for the Information Assurance of periscope systems on Navy submarines. While working at NUWC, Tim was recruited by the Air Force to work at the Air Force Research Laboratory (AFRL) in Rome, NY. During this time, Tim continued his studies at URI and earned his Ph.D. in Computer Science shortly after taking the job at AFRL. At AFRL, Tim was the in-house research lead for Offensive Cyber Operations and Subject Matter Expert for many DARPA programs. He has also sat on multiple scientific review boards for the Defense Advanced Research Projects Agency (DARPA). When Tim isn't in the classroom or lab, he can usually be found in the gym where he loves to lift things up and put them down. Tim also holds certifications as a Certified Ethical Hacker and Certified Information System Security Professional. Tim is also a Microsoft Certified System Engineer and a Microsoft Certified Professional. Tim has received the National Collegiate Computer Science Award and the United States Achievement Academy's All-American Scholar Award. He is a member of the Academic Honors Society and the Computer Science Honors Society.
Daniel Shank Cruz
,
Assistant Professor of English
, grew up in New York City and Lancaster, Pennsylvania. He is a graduate of Goshen College (B.A.) and Northern Illinois University (M.A., Ph.D.). Cruz has published scholarship on a variety of contemporary American and Canadian authors in journals such as
Crítica Hispánica, Italian Americana, Short Story,
and the
Journal of Contemporary Thought
, and has published poetry in various magazines such as
Rhubarb
and
The Tenth Muse
. His current research interests include the intersections between ethnic minority literatures and LGBT literatures as well as the role of geographical space in American literature. These interests are motivated by a fascination with the hybridity inherent in twenty-first century concepts of "identity."
Kathleen Cullen,
Assistant Professor of Education
, received her C.A.S. in Educational Administration, M.S. in Reading Education and B.S. in Elementary Education from State University College at Oswego. Prior to coming to Utica College, Kathleen was a teaching associate in the Reading and Language Arts Department at Syracuse University, where in addition to teaching literacy courses, she supervised preservice teachers during their practicum and student teaching field placements. Kathleen has experience in school, district, and county educational administration and special education. Her research interests include identifying factors that influence the literacy of students from differing socioeconomic and racial groups.
Diep (N.D.) Duong
,
Assistant Professor of Finance
, earned his Ph.D. and M.A. in Economics with concentrations in Financial Economics and Econometrics from Rutgers University, and his M.S. degree in Financial Engineering from Polytechnic University. He also spent 2 semesters at Princeton University as a graduate exchange student. His primary areas of research are asset pricing, financial econometrics, market microstructure, and fixed income. His papers have been presented at various conferences, universities and central banks and been published and forthcoming in
Advances in Econometrics
and
Handbook in Financial Econometrics and Statistics
. Prof. Duong won the University/Bevier dissertation fellowship award, the Peter Asch Memorial outstanding research award and the Sidney Brown outstanding performance prize during his time at Rutgers. He taught numerous classes including economic principles, econometrics, finance for undergraduate and math camp for graduate students at Rutgers. At Utica College, he teaches classes in finance and business economics for undergraduate and MBA students. He loves playing tennis and soccer, and is learning winter sports during his free time.
Leonore Fleming,
Assistant Professor of Philosophy
, received her Ph.D. in philosophy and M.S. in biology from Duke University, and her B.A. in Philosophy and Biology at Bucknell University. While she was at Duke, Leonore was also the Associate Director for the Center for Philosophy, Arts and Literature. She enjoys classical music, opera, old movies from the 1930s and 40s, and improving her graphic design skills.
Aaron Mallace
-
Assistant Professor of Health Studies
,
was born in Utica, NY and raised in the Mohawk Valley. After receiving his Associates Degree in Athletic Training from HCCC in 2002 he transferred to Alfred University where he completed his Bachelors Degree in Athletic Training with a minor in Biology. He then went on to complete his Masters Degree in Exercise Physiology from Ithaca College in 2005. Shortly after graduation he also obtained the highly esteemed credential of Certified Strength and Conditioning Specialist (CSCS) via the National Strength and Conditioning Association (NSCA). Since 2005 Aaron has been working as a Clinical Exercise Physiologist, assisting hundreds of people towards achieving their health and wellness goals. In 2010 Aaron joined UC as an adjunct instructor in the Health Studies program. With him comes a tremendous amount of passion, energy and enthusiasm for academia. He currently resides in Herkimer, NY where he lives with his wife Megan.
Denise Nepveux
,
Assistant Professor of Occupational Therapy
, received her Ph.D. in Disability Studies from the University of Illinois at Chicago, an MSOT from Washington University in St. Louis, and a BS in Communications from University of Texas at Austin. Denise is a Fulbright Scholar to Ghana and a Future of Minority Studies Mellon Fellow. Her research focuses on disability organizing and activism. She taught for four years in the Critical Disability Studies Program at York University and completed a two-year postdoctoral fellowship at the Center on Human Policy at Syracuse University. Recently she served as an Americorps VISTA with Syracuse's Northside Urban Partnership. She enjoys rabble-rousing with the Dream Freedom Revival of Central New York and the Ida Benderson Seniors Action Group.
Domenica Newell-Amato
,
Assistant Professor of French & Italian
, received her PhD in French Literature from Emory University in Atlanta and her MA in French from Syracuse University. Prior to coming to Utica College, Domenica taught French and Italian at Eastern Illinois University and French at Emory University & Agnes Scott College. Her research interests include 17th century French theatre and postcolonial studies. Domenica loves painting, poetry, cooking, the Adirondacks, traveling, coffee, and meeting great new people.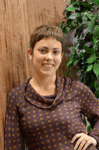 Stephanie Selvick
,
Assistant Professor of English
, with a focus on world literature, received her MA from Simmons College and PhD from the University of Miami. She also spent one semester at the University of Cape Town, South Africa on a study abroad program while enrolled as an undergraduate student at the University of Wisconsin-Oshkosh. Stephanie specializes in African literature and sexuality studies. She enjoys traveling on the cheap, finding eclectic thrift shops, and running.
Katarzyna Zielińska
is
Visiting Professor in Sociology
from the Jagiellonian University in Krakow. She completed both her MA and PhD at Jagiellonian University. She has taught as a visiting professor at Ljubljana University (2011) and as a guest lecturer at Glasgow University in UK (2009), Sabanci University in Istanbul, Turkey (2010). Her academic interests focus on religion in contemporary societies, gender in Central Eastern European societies and transformations of collective identities. She has participated in several research projects such as 'Religion at the European Parliament' (RelEP) and 'Reconstituting Democracy in Europe' (RECON). Currently she is a leader of the project 'Religion in Polish Politics in the Context of the European Integration'. Her recent publications include:
Collective Identity and Democracy in the Enlarging Europe
(Peter Lang, 2012, co-edited with M. Góra and Z. Mach
); Democracy, State and Society: European Integration in Central and Eastern Europe
(Jagiellonian University Press, 2011, co-edited with M. Góra).