Academics at Utica College
New Faculty 2012-2013
Peter DeSimone
,
Assistant Professor of History,
received his Ph.D. and M.A. from Ohio State University and his B.A. from Grand Valley State University. Prior to coming to Utica College he was a Graduate Research Associate at Hilander Library and Resource Center for Medieval Slavic Studies as well as adjunct faculty at Columbus State Community College. Peter enjoys playing and watching hockey, baseball, and traveling with family.
Deanna Errico
,
Assistant Professor of Physical Therapy
, received her DPT from Simmons College, an MPT from Clarkson University, and an MS.Ed. from Alfred University. Deanna came to Utica last year as an adjunct instructor and prior to that was an assistant clinical professor at Clarkson University. She is a licensed physical therapist and a certified athletic trainer and is currently the President of the New York State Athletic Trainers' Association. She enjoys bicycling, hiking, and yoga.
Christopher Fobare, Assistant Professor of History, received his M. A. from the University of Massachusetts, Amherst and his B.A. from Utica College. He has served as adjunct faculty at Utica College. His research focuses on the political history of the Civil War, Reconstruction, and the late nineteenth century American West. Chris enjoys golf in his spare time.
Alan Goldenbach, Assistant Professor of Journalism, received his M.A. in Journalism from the University of Maryland and his B.A. in History from the University of Michigan. He has eight years' experience as an adjunct professor and frequent lecturer at various colleges and universities, teaching a variety of journalism courses to both graduate and undergraduate students. He has twelve years' experience as a staff writer in the sports department The Washington Post and various innovative multimedia outlets.
Annmarie Kinsella, Assistant Professor of Occupational Therapy, received her MS in the field of health service management from The New School for Social Research and her B.S. in Occupational Therapy from Utica College of Syracuse University. She has worked for the past three years as an adjunct in the occupational therapy program at Utica College. She has worked in the local area as a school-based occupational therapist servicing children from several area schools. In her spare time, she enjoys reading and taking long walks.




Catherine Malele,
Visiting Assistant Professor of Chemistry,
received her B.Ed., and M.Sc., from Kenyatta University in Kenya and her Ph.D. from Binghamton University. Her areas of research include Organic Synthesis: Medicinal Metabolites. She enjoys reading scientific articles and reality novels.
Stephanie Nesbitt, Assistant Professor and Director of Risk Management and Insurance, received her J.D. from the University at Buffalo School of Law, her M.B.A. from Syracuse University and her B.A. in Speech Communication from Ithaca College. Stephanie has 18+ years of experience working in the risk management and insurance industry and as an attorney, and is licensed to practice law in the State of New York. Prior to joining UC, she was Risk Manager and Associate Counsel for Faxton-St. Luke's Healthcare. Stephanie holds a 1st degree black belt in karate and is an avid, albeit slow, runner.


John Peter, Assistant Professor of Mathematics received his Ph.D. from Wayne State University. Dr. Peter also holds an M.A. in mathematics from Wayne State, and a B.S. in mathematics from the University of Michigan – Dearborn. In his spare time, he is a crossword puzzle junkie and enjoys traveling with his wife.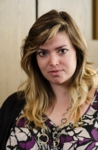 Suzanne Richardson, Assistant Professor of English, with a focus on creative nonfiction, received her MFA in fiction/non fiction at the University of New Mexico and her B.A. in Literature and Creative Writing from Bard College. Suzanne has taught at the University of New Mexico and is published in various literary journals. She enjoys hiking, running, reading, kayaking and old bookstores.
Christopher Riddle,
Assistant Professor of Philosophy
received his Ph.D. and B.A in Philosophy from Queen's University at Kingston, and his M.A. in Critical Disability Studies from York University. Chris taught at Queen's University at Kingston, and Concordia University in Montreal prior to coming to Utica College. He enjoys golf, skiing, squash, running, cycling, wine, and cooking.

Jessica Singer, Assistant Professor of Sociology received her Ph.D. from the University at Albany, State University of New York and her B.A. from Canisius College in Buffalo, NY. She has previously taught at SUNY Albany and Skidmore College. Her areas of research are in social support, family violence, families, and crime.
Jessica Thomas, Assistant Professor of Biology, received her Ph.D. in Biomedical Sciences, Genetics and Developmental Biology from the University of Connecticut Health Center and her B.S. in Biology from Union College. Jessica taught full-time at Eastern Connecticut State University for the past two years. She enjoys cooking and outdoor activities.
Lauren Wynne,
Assistant Professor of Anthropology,
received her Ph.D. and M. A. in anthropology from the University of Chicago and her B.A. in Women's and Gender Studies from Columbia. Lauren has conducted research in Brooklyn, NY, Oaxaca, Mexico, and Yucatan, Mexico, and plans to develop a new research project on food and agriculture in Central New York. In her spare time she is exploring the food cultures of the Utica area.
Gail Young
,
Online
Assistant Professor in Health Care Administration
, received her Ph.D. from the University of Florida in Health Behavior, her M.A. in psychology from Columbia University Teachers College and her dual degrees B.S. in Psychology and B.A. in Spanish, from Howard University where she also received an International Relations Fellowship to study abroad in Spain at the University of Salamanca and is a member of the Golden Key Honor Society. She was formally the Coordinator for a Bachelor's degree program in Health Administration and head of the Sigma Beta Delta International Honor Society, Fort Lauderdale Chapter at Keiser University. She has served as an Adjunct professor for Kaplan University Masters in Health Care Administration/Health Sciences Program. Dr. Young is currently affiliated with the Leadership Institute at Utica College. Her hobbies include reading, swimming, scrap booking, volunteering, traveling and spending time with family and friends.