Science Fair
Utica College Regional Science Fair


The 35th Annual Utica College Regional Science Fair took place on Saturday March 9th, 2013.




View list of winners.

Science Fair 2013.
Click to enlarge.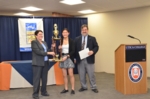 For additional information call
(315) 792-3057.
Purpose
To stimulate an active interest in science and engineering.
To provide an educational experience.
To give public recognition to talented students.
Eligibility
To be eligible students must have been declared winners of their school's science fair. Up to ten junior high (grades 7-8) students and ten senior high (9-12) students from public and private schools in Oneida County can participate in the regional fair. If your school does not host a science fair, contact Kyle Riecker at (315) 792-3057 or
kyriecke@utica.edu
about eligibility.
Categories
Behavioral and Social Science
Biochemistry
Botany
Chemistry
Computer Science
Earth and Space Sciences
Engineering
Environmental Science
Gerontology
Mathematics
Medicine and Health
Microbiology
Physics
Zoology


Apply Today!
The documents below are required for admission to the Utica College Regional Science Fair. These documents require Adobe® Acrobat* Reader.
A version of Adobe can be downloaded from the Web.
http://www.adobe.com/products/acrobat/readstep2.html
All rules and regulations can be found in the ISEF Document Library online at:

http://www.societyforscience.org/isef/rulesandguidelines


THANK YOU TO ALL PARTICIPANTS AND JUDGES!






Important Links
2013 Schedule of Events
2013 Science Fair Flier
Application to the Utica College Regional Science Fair
Form 1: Checklist for Adult Sponsor/Safety Assessment Form
Form 1A: Student Checklist / Research Plan
Form 1B: Approval Form
Form 1C: Regulated Research Institutional/Industrial Setting
Form
Form 2: Qualified Scientist Form
Form 3: Risk Assessment Form
Form 4: Human Subjects and Informed Consent Form
Form 5: Vertebrate Animal Form (5A and 5B)

Form 6A: Potentially Hazardous Biological Agents Form
Form 6B: Human and Vertebrate Animal Tissue Form

Form 7: Continuation Projects form

Abstract Form (for Regional Science Fair Use ONLY)
---
The 2013 The Intel® International Science and Engineering Fair® will be held in Phoenix, Arizona on Sunday May 12th-Friday May 17th.
Share
|